Born in Bury in 1920 Reg Harris started riding for Manchester Wheelers in 1938. in 1954 at the age of 34 he became the World Professional Sprint Championship for the first of 4 occassions. During his career he held a number of national and world speed records including the indoor and outdoor kilometre records. Much of his racing took place at his own outddoor velodrome in Fallowfield.
The photograph below claims to be of the Reg Harris Velodrome but seems to pre-date Reg Harris although the bikes seem similar to the one he is riding in the statue.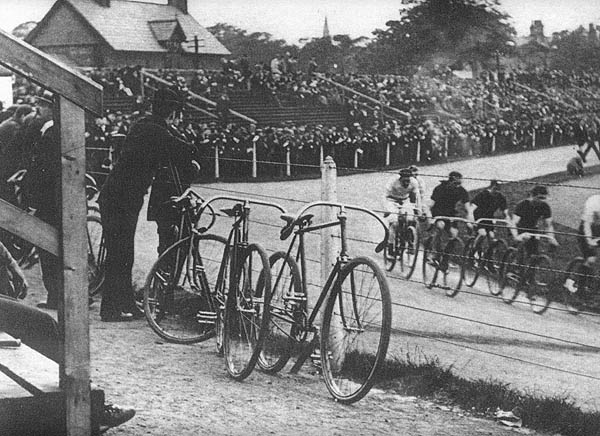 The image below is definitely the Fallowfield Velodrome. My sister is one of the spectators in the photograph and you can see the College of Domestic Science under construction - the famous Toast Rack.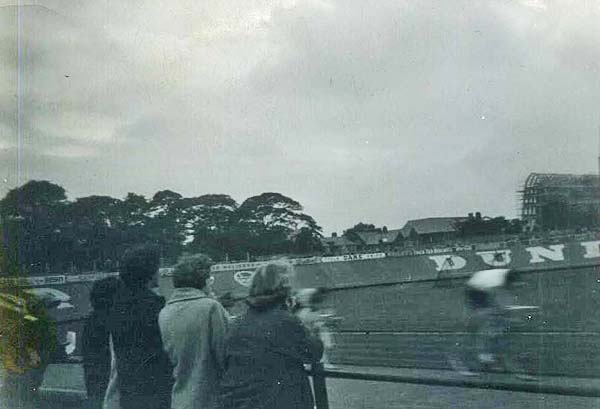 At the age of 54, he won the British Professional Sprint Championship. On two occasions he was voted the BBC's 'Sports Personality of the Year'. Reg Harris died in 1992.
The bronze statue of Harris was commissioned by the Reg Harris Memorial Fund and paid for by donations from individuals and clubs. The sculptor was James Butler and it shows Harris in the familiar hump-backed sprinter pose on a symbolic stainless steel bike. Raleigh, for long Harris's sponsor assisted Butler in building the bike. The statue sits on a plinth of Welsh slate which is mounted on a much larger rectangular pedestal faced in green tiles. Additional plaques outlining his achievements have been added.
The sculpture sits by the south bend of the Manchester Velodrome which is now the National Cycling Centre and home to the British National Team. It was unveiled by Reg's wife Jennifer in 1994.