William Gladstone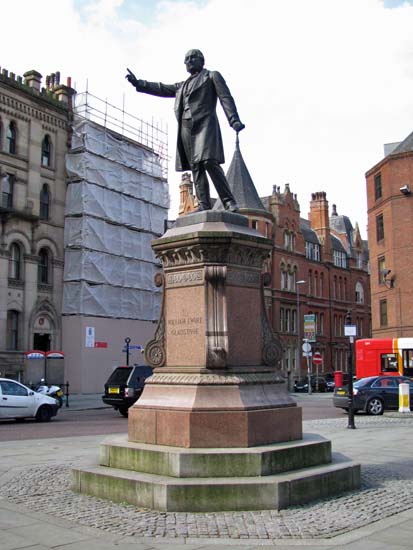 The statue of William Gladstone stands at the south end of Albert Square. Gladstone was born in Liverpool in 1809, the son of a successful Liverpool merchant and MP. He was educated at Eton and Oxford before running himself for parliament in Newark. He was appointed by Sir Robert Peel to a post in the Treasury. In 1852 he became the Chancellor of the Exchequer and in 1868 he became Prime Minister. He was to hold that position on four occasions between 1868 and 1874, 1880 and 1885, 1886 and finally between 1892 and 1894. He resigned in 1894 and died two years later.

Gladstone spoke in Manchester on a number of occasions and once ran unsuccessfully for the Conservative Party in one of the Manchester boroughs.

The bronze statue of Gladstone on an ornate hexagonal shaped granite pedestal depicts him speaking in the House of Commons on the question of Home Rule. It was erected after his death and paid for by a legacy left by William Roberts, a local architect and surveyor.