When the image above was taken, in April of 2012, this statue of Joseph Brotherton, stood on the Salford side of the Albert Bridge.
Joseph was the son of John Brotherton, a schoolmaster and exciseman. John went on to establish a cotton spinning mill in Manchester in 1789 and Joseph became a partner in the firm. Success in business allowed Joseph to retire early and to devote himself to public affairs in Salford. A successful career in local politics led to him being elected as the MP for Salford a position he held until his death in 1857.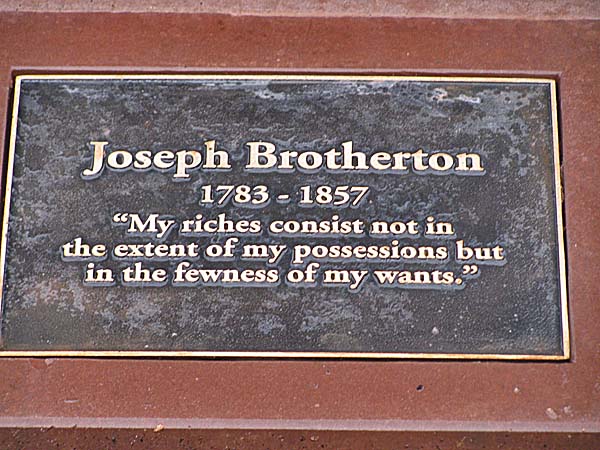 After his death a fund was raised to pay for two memorials, a bust to be placed in Manchester Twon Hall and a statue to be erected in Peel Park in Salford. In 1954 the statue was taken down to make way for a new technical college. It was placed in storage until 1969 when it was sold to Christopher Richards who placed it in the grounds of his home at Gawsworth Hall. It remaind there for 15 years until Manchester City Council purchased it for £5,000. The council decided to locate on Manchester side of the River Irwell beside the recently-created Riverside Walk near the Albert Bridge. Brotherton stood looking across the river towards Salford.