Albert Memorial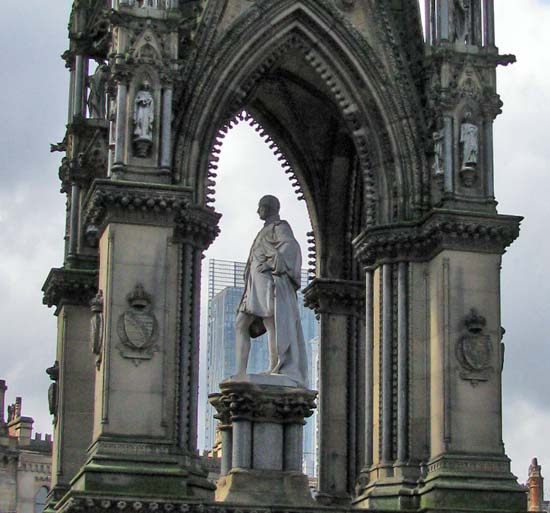 Queen Victoria's consort, Albert died in December of 1861. Following his death there was a great deal of discussion in Manchester about an appropriate memorial. There were those who thought that a practical memorial like a hospital or a School of Art might be the best choice but in the end Thomas Goadsby, the Mayor of Manchester, offered to donate £500 to finance the creation of a statue of the prince on the condition that it be housed in a "proper temple" somewhere in the city. The sculptor commissioned to create the statue was Mathew Noble, who in 1857 had donated a marble bust of the prince to the city following the Art Treasures Exhibition held in Old Trafford. Noble created the 9 foot high statue from Sicilian marble.

The task of creating a "proper temple" fell to Thomas Worthington and the memorial that sits in front of the town hall in Albert Square is his first important Gothic work.

It comprises a grand canopy on top of a granite base with the statue resting on a pedistal of red and grey polished granite. Worthington incorporated into his elaborate canopy a number of carved medallions containing the faces of Michaelangelo, Wren, Inigo Jones, Raphael, Beethoven, Mendelssohn, Goethe, Schiller, Milton, Shakespeare, Tasso and Dante. Near the top of the canopy are four winged angels holding gilt trumpets. To commemorate the things that Albert felt passionately about Worthington added figures representing Art, Science, Agriculture and Commerce.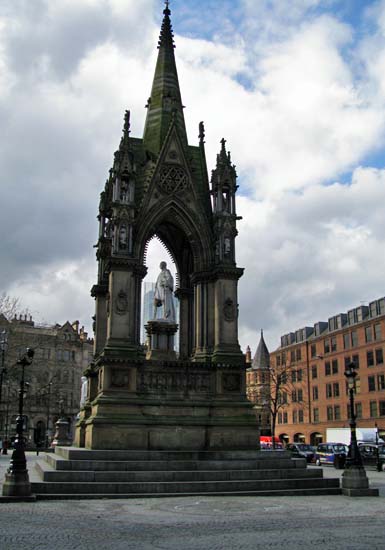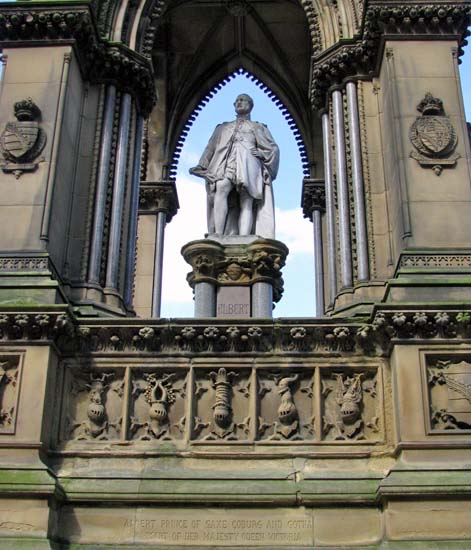 The inscription on the monument reads as follows:



"In Grateful Acknowledgement of Private and Public Virtues - Albert, Prince of Saxe Coberg and Gotha, Consort of Her Majesty, Queen Victoria - Erected by the Inhabitants of Manchester A.D. 1866 - This Statue was Presented to his Fellow Citizens by Thomas Goadsby, Mayor of Manchester 1861-2"