Public Monument and Sculpture Association National Recording Project web site says this about the sculpture:
"Bronze sculpture of a family clinging to a raft in a stormy sea. The central figure is a half-naked man, holding a sheet aloft in his raised right hand, calling for help. Arranged around him are the figures of his wife and three children. His wife is shown leaning over and kissing their infant son. To the left, is the daughter, her raised arm held in her father's left hand. At the rear is the prone figure of a youth, the elder son, holding his breast. Parts of the raft are visible in the waves which make up the base."
Adrift is the work of the sculpture John Cassidy who had a studio on Plymouth Grove in Manchester. The positive reactions to his work at the Jubilee Exhibition of 1878 led to commissions to do statues of among others John and Enriqueta Rylands (exhibited today in their library on Deansgate). Adrift was modelled in Manchester and completed in 1907. It was purchased by James Gresham a London & Manchester engineering manufacturer. The original plan was for it to be exhibited in the new art gallery to be built in Piccadilly after the Infirmary was demolished. You can see a model of the proposed gallery below.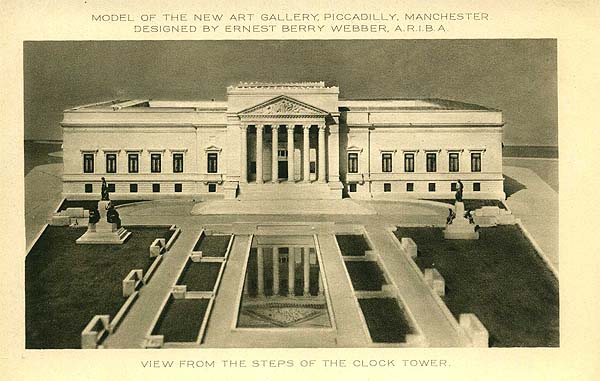 However the art gallery never materialized and a garden was built instead. The statue was placed in the centre of the new garden as you can see below.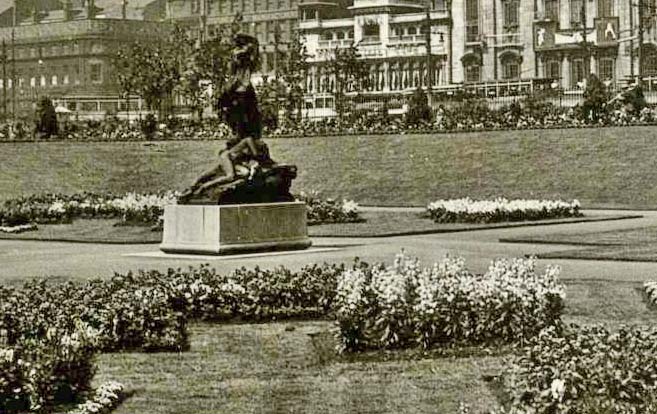 It was later replaced by the Coronation Fountain.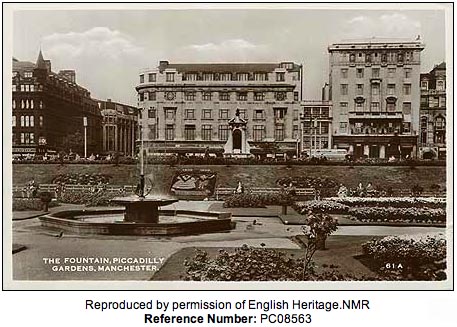 Adrift was moved to the side of the garden but once again removed when in 1999 the plans emerged to build One Portland Street. In 2009 Adrift was given a new home in St Peter's Square near the Town Hall Extension replacing the "Struggle for Peace" statue by Philip Jackson.
This area outside the Central Library and the Town Hall Extension was later involved in a 3 year redevelopment project and Adrift was once again been moved into storage. However, by 2015 Adrift was once again on display, this time on the Peter Street side of the library.