The Dock & Pulpit Pub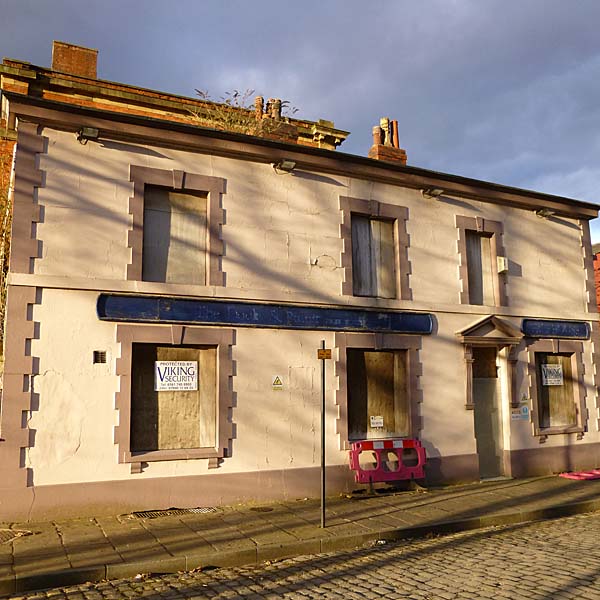 The Dock and Pulpit pub occupies an interesting site near St Philip's Church in Encombe Place, Salford. It sits adjacent to the former County Court. When both the court house and the pub were operating, it must have been a convenient place to acquire some Dutch courage or celebrate a success. As you can see, when I took this image in March 2013, the pub was boarded up apparently awaiting either conversion or demolition.

The "Lost Pubs Project" website has a description of the pub donated by Donna Benjamin in September of 2011. She said of it that, "This was a great little pub hidden behind St Philips church, no juke box, pool table or one arm bandits, just good conversation and plenty of banter. It had old gas lights above the range fireplace, where customers could gather round the roaring fire on cold winters nights cooking chestnuts and toasting crumpets, the pubs managers were Steve and Eve Porter, who worked very hard to keep the customers happy, organising trips to beer festivals and brewery visits, they also made Christmas special, inviting regulars to enjoy a feast of food and drink during Boxing Day."

According to the "Pubs of Manchester" website the name "Dock and Pulpit" is relatively new. The site explains that it started out as the "Borough Arms" in 1860 with John Norbury as the landlord. "In 1890 the Altrincham Brewery Company. sold the pub to Chesters Brewery before it went to Whitbread then Burtonwood Brewery in 1977. ..... In the 1975 guide the Borough is described as a quiet (empty), two room pub with good cask Trophy. The Borough's last owners were Jo and Andy Davies, before it reopened as the Dock & Pulpit in 1994."

Close Window