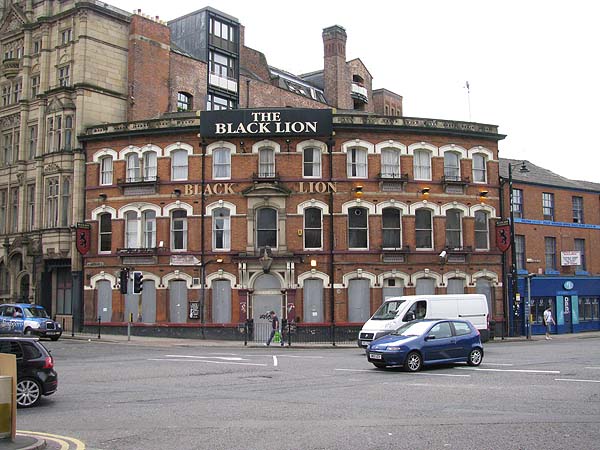 The Black Lion occupies a prominent position on the corner of Blackfriars Street and Chapel Street in Salford. It sits across from Sacred Trinity Church. It apparently began life in 1776 when John Kinnaston kept an alehouse here. It appears in Manchester and Salford Directory for 1841, by which time the landlord was William Bird. Strangely, the OS map published circa 1844 shows a number of public houses around the corner of Blackfriars Street and Chapel Street but the Black Lion isn't mentioned. Its location is indicated by the red shading that I added to the map segment below.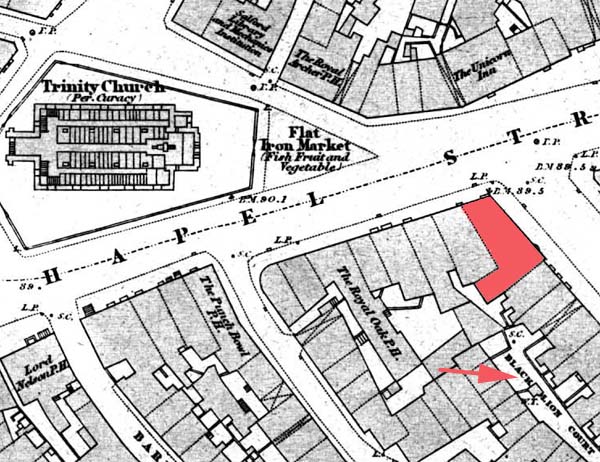 Despite the absence of any name on that building, it is interesting that nearby is "Black Lion Court". That original building was apparently replaced circa 1876 by the one we see today.
The images on this page were taken in August of 2011 when the pub was closed and looking for a tenant. It apparently closed in 2010 but reopened later 20111 An article in the Manchester Evening News on September 30th said this about the reopening,
"The Black Lion pub in Salford, which closed down last year, has thrown open its doors after a £4,000 revamp. New landlords FutureArtists, a film-making company, want to create a venue to show their own and other people's films – so they plan to transform the upstairs into a cinema. The bar downstairs will exhibit work from local artists, as well as serving pints."
The pub's own website describes itself as a,
"
fabulous traditional pub with a twist - a counterculture arts venue, on Chapel Street, Salford.
"