National Cycling Centre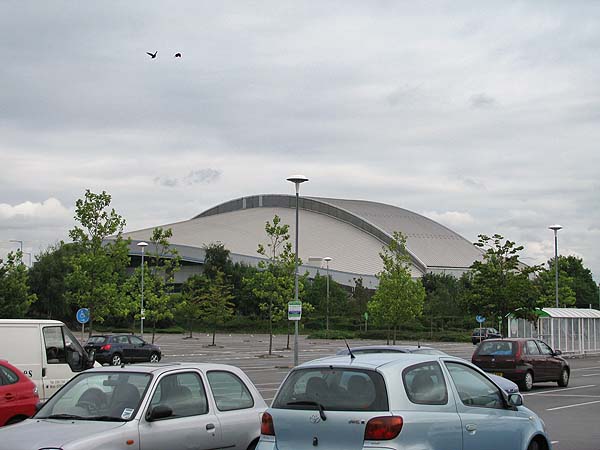 The Manchester Velodrome sits across the Alan Turing Way from the City of Manchester Stadium in Beswick. Completed in September 1994 it has a track that is 250 metres long with bankings that reach 42% in the middle. The original track was designed and built by R V Webb Ltd. Its surface was supported by approximately 380 trusses upon which 80 kilometres of 40mm square Siberian pine were laid. Over time the surface of the track became a problem and some cyclists who fell came up with serious splinters in their bodies. In May of 2007 the velodrome closed so that the track could be resurfaced. It reopened in July of 2007 and it is considered to be a much smoother ride. The venue has permanent seating for 3,500 spectators, hospitality boxes and facilities for VIPs, officials and media. It also provides management accommodation, competitor, spectator and technical services and extensive car and coach parking.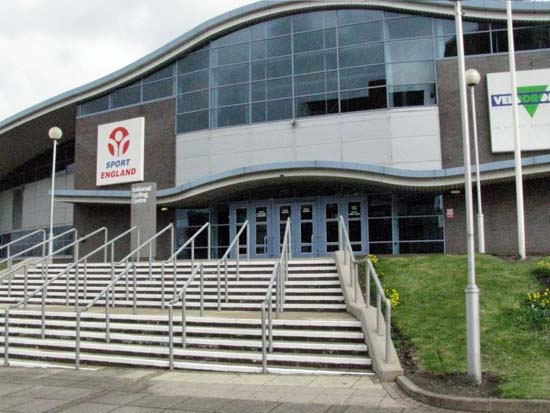 The Velodrome is the National Cycling Centre and home to the British Track Cycling Team. In 2002 it hosted the track cycling in the Commonwealth Games, and the UCI World Championships were held there in 1996, 2000 and 2008.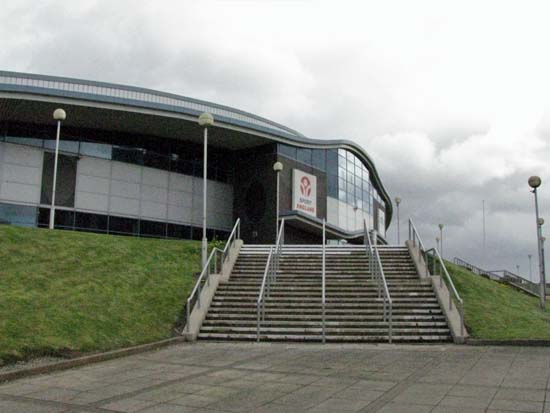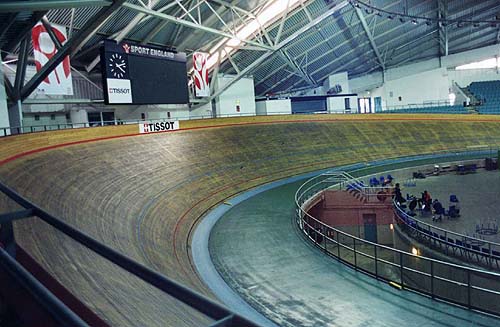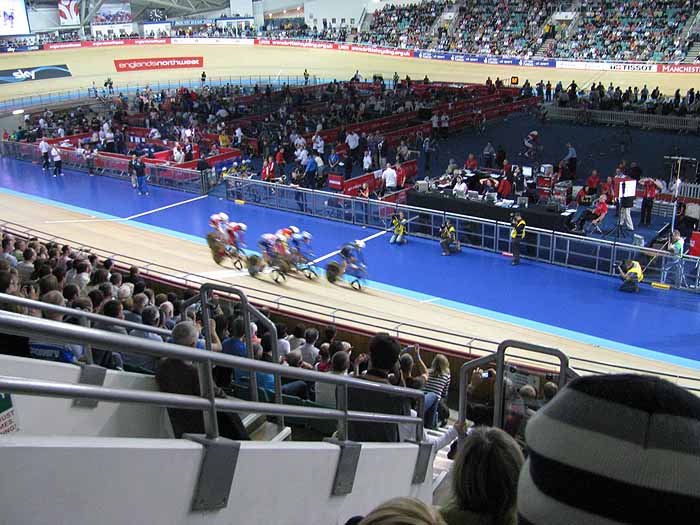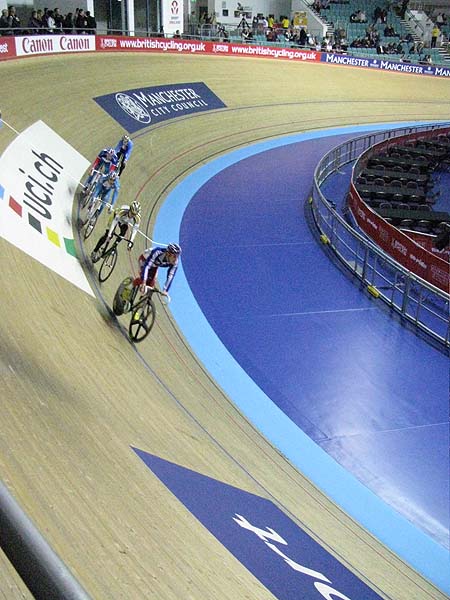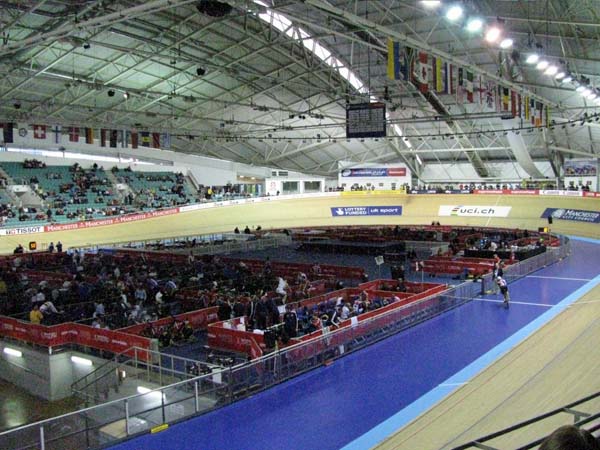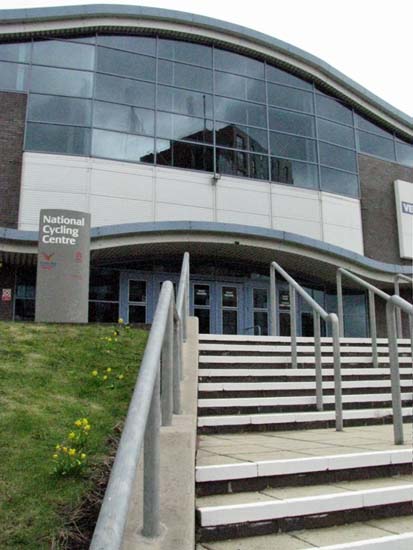 The Velodrome is home to a statue commemorating one of the legends of British cycling, Reg Harris. Born in Bury in 1920 Reg Harris started riding for Manchester Wheelers in 1938. in 1954 at the age of 34 he became the World Professional Sprint Championship for the first of 4 ocassions. During his career he held a number of national and world speed records including the indoor and outdoor kilometre records. Much of his racing took place at his own outddoor velodrome in Fallowfield.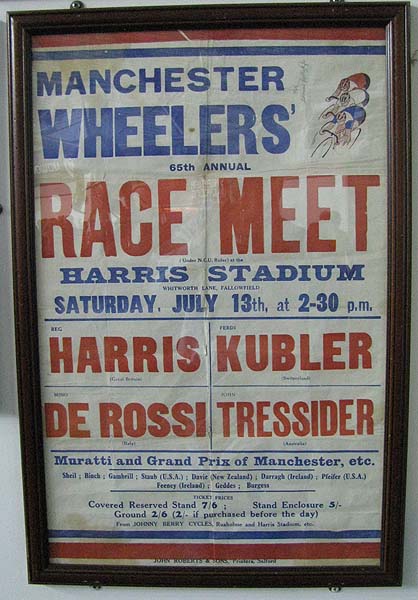 At the age of 54, he won the British Professional Sprint Championship. On two ocassions he was voted the BBC's 'Sports Personality of the Year'. Reg Harris died in 1992.
This bronze statue of Harris was commissioned by the Reg Harris Memorial Fund and paid for by donations from individuals and clubs. The sculptor was James Butler and it shows Harris in the familiar hump-backed sprinter pose on a symbolic stainless steel bike. Raleigh, for long Harris's sponsor assisted Butler in building the bike. The statue sits on a plinth of Welsh slate which is mounted on a much larger rectangular pedestal faced in green tiles. Additional plaques outlining his achievements have been added.
The sculpture sits by the south bend of the track. It was unveiled by Reg's wife Jennifer in 1994.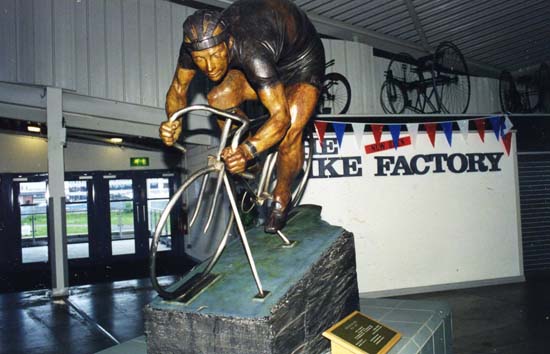 Although primarily a cycle stadium, the Manchester Velodrome offers first class facilities and services for other activities including basketball, netball and badminton.