Nicholl's Campus of City College - The former Nicholl's Hospital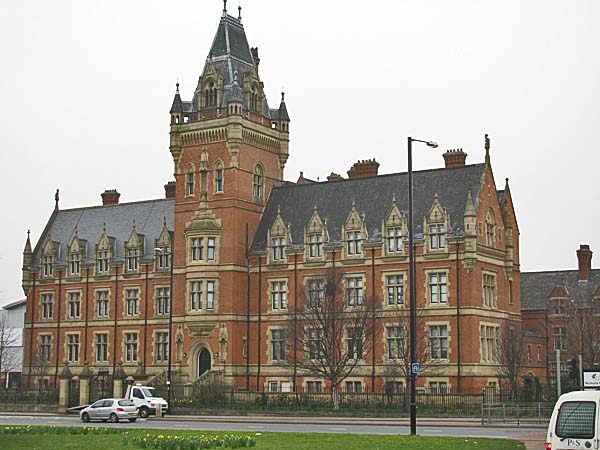 This rather magnificent gothic building on the corner of Hyde Road and Devonshire Street, in Ardwick, is the former Nicholl's Hospital. It was designed by the architect Thomas Worthington and built in 1879.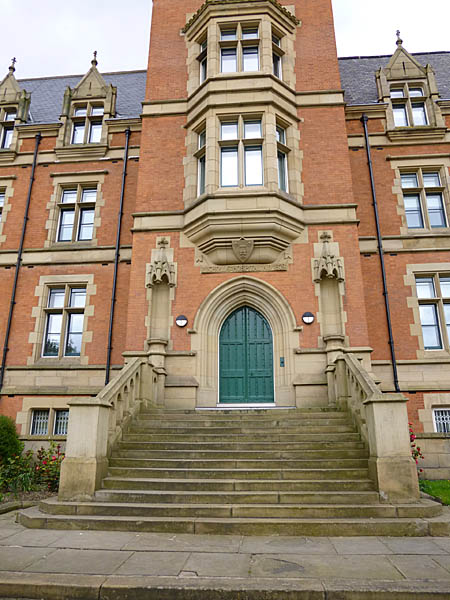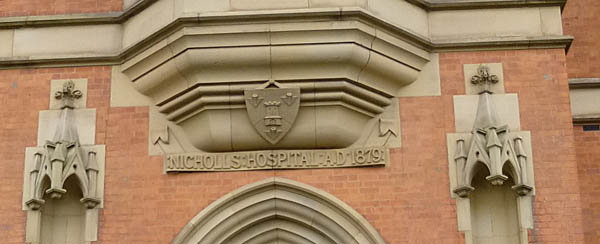 Worthington was the son of a Salford cotton merchant active in the Unitarian Church.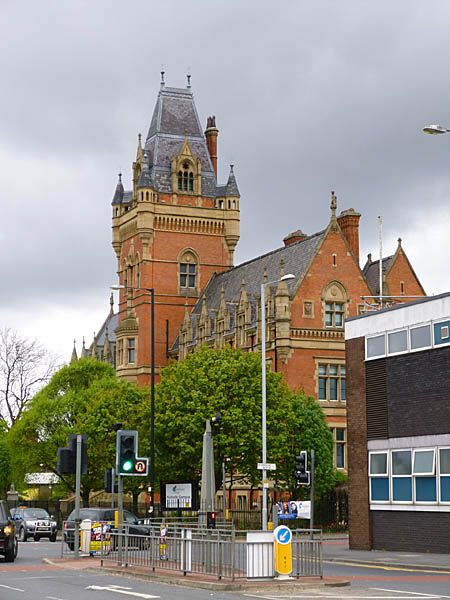 He was articled as an architect to Henry Bowman and set up his own practice in Manchester in 1849. I went to school in Ardwick a stone's throw away from his Nicholl's Hospital and I remember it as an ominous black building that seemed to loom over 1950s Hyde Road. Today it can be seen in all its colourful glory.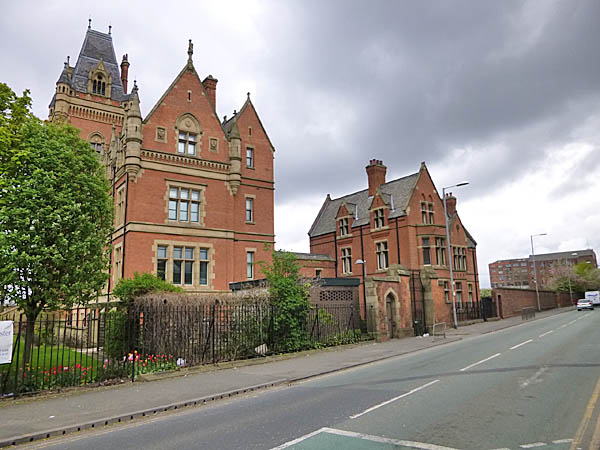 Worthington competed for the design of Manchester Town Hall loosing out to Waterhouse but he left behind some fine gothic buildings including the Law Courts on Minshull Street and the Albert Memorial.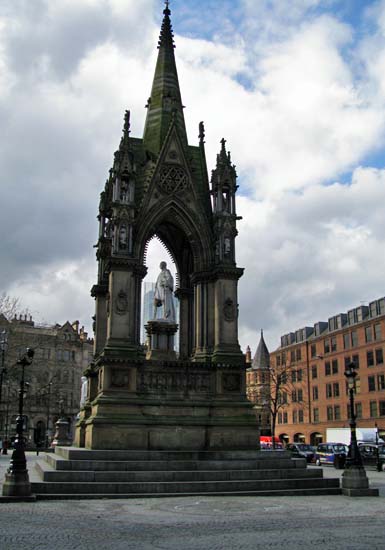 Nicholls' Hospital was founded by the bequest of Alderman Benjamin Nicholls, millowner, as a "memorial of his son John Ashton Nicholls. A plaque inside the building declares that John Nicholls was , "was dedicated to who had the improvement of the humbler classes deeply at heart and laboured earnestly to promote it, and whose mother testified her interest in the object of this institution by a supplementary bequest". John Aston Nicholls had died in 1859. Benjamin Nicholls became the Mayor of Manchester in 1887.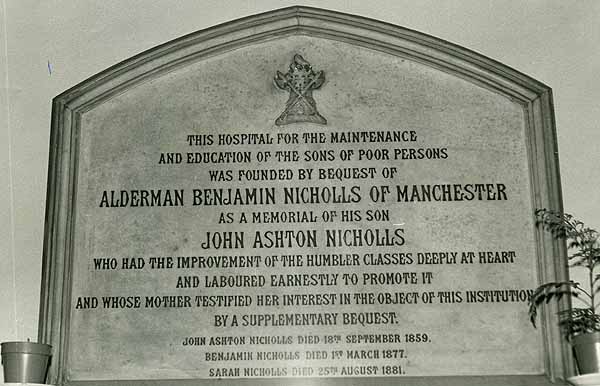 Outside the building there are more memorials.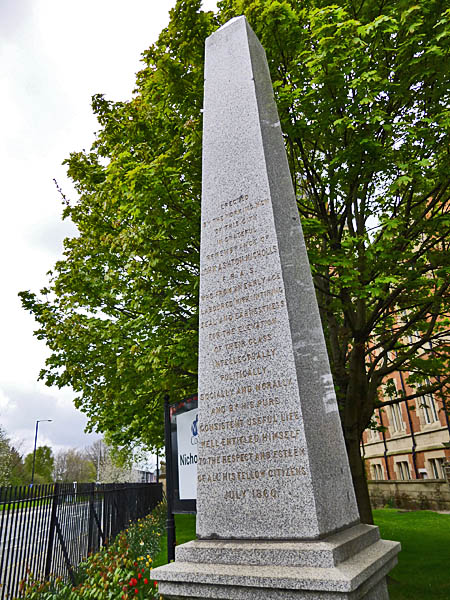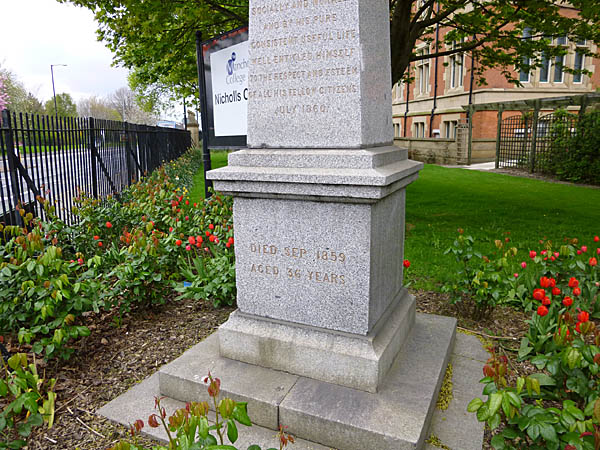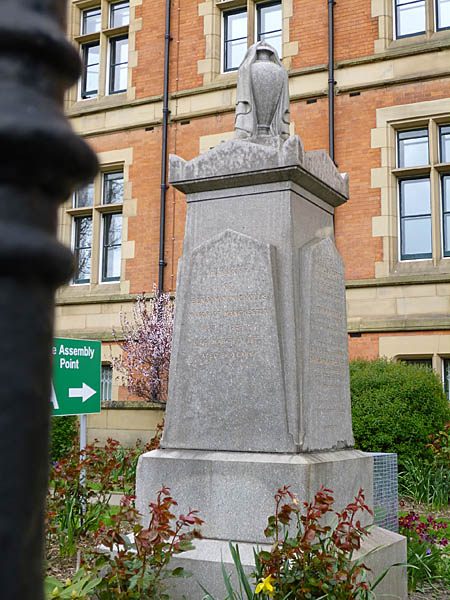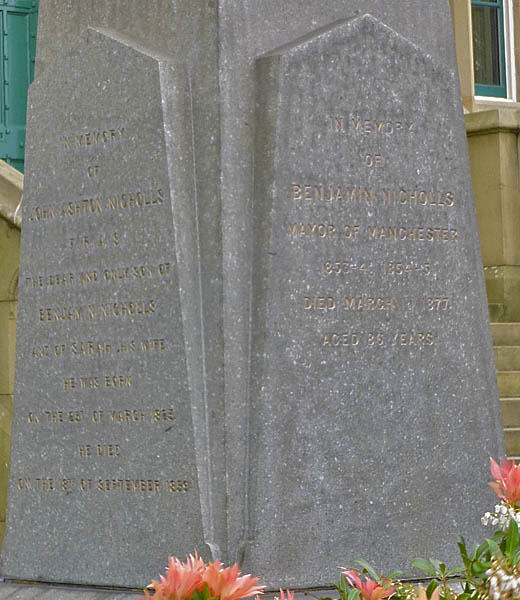 In 1952, under the Charitable Trusts Act, the Minister of Education made schemes for the Nicholls Hospital Foundation and for the Chetham's Hosptal School Foundation, by which the Nicholls Hospital School was no longer to be carried on as such, and the boys were to be transferred to Chetham's Hospital School. The Nicholls Building was rented by the Education Committee and later purchased in 1953 to be used as a County Secondary School for Boys. This was the first change of direction for the building.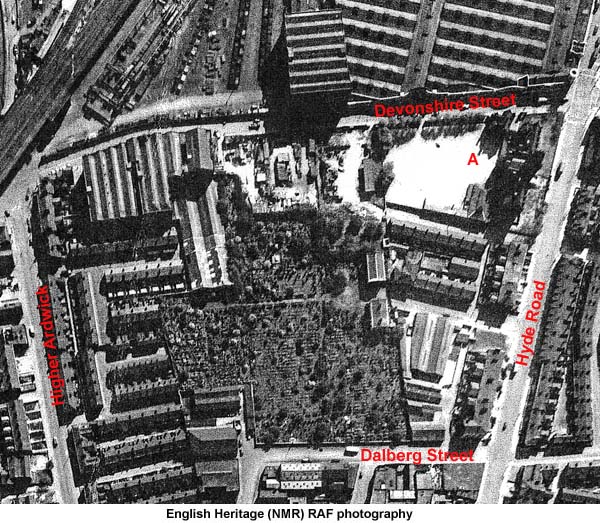 Originally, playing space with some form of hard surface area for football was available at the back of the school (marked A in the image above), bordering up to Ardwick Cemetery, but this was taken over by extensions to the old building. The Ardwick Cemetery itself, covering about 5 acres, had been opened in 1838 when there were no local authority cemeteries.

Below you can see the original stone gate posts that stood at the entrance to Ardwick Cemetery.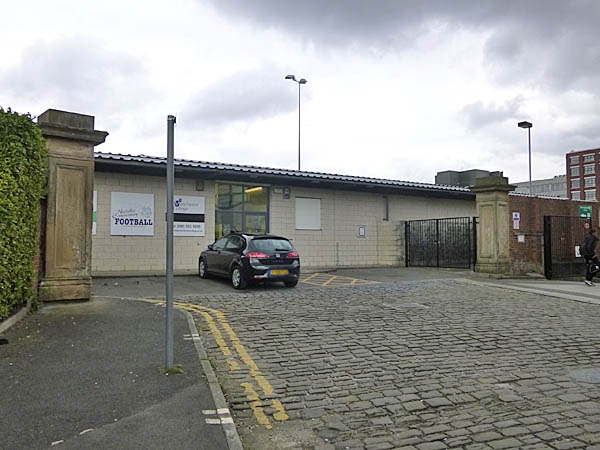 By 1950, all further burials were prohibitied and the cemetery was transferred to the Corporation which was empowered to use the land for school playing fields or as an open space. A record of the inscriptions on the tombstones was deposited with the Registrar General, and a copy placed in the Local History Library of the Central Library. The burial registers were handed over into the custody of the Town Clerk. It was decided to develop the land as a playing field for Nicholls Secondary School, which, according to a brochure published at that time, thus became the first Secondary School in the inner area of the city to be extended to bring its accommodation up to modern standards and to have a playing field on its own site. The work was carried out in 1963/4 and cost £18,275.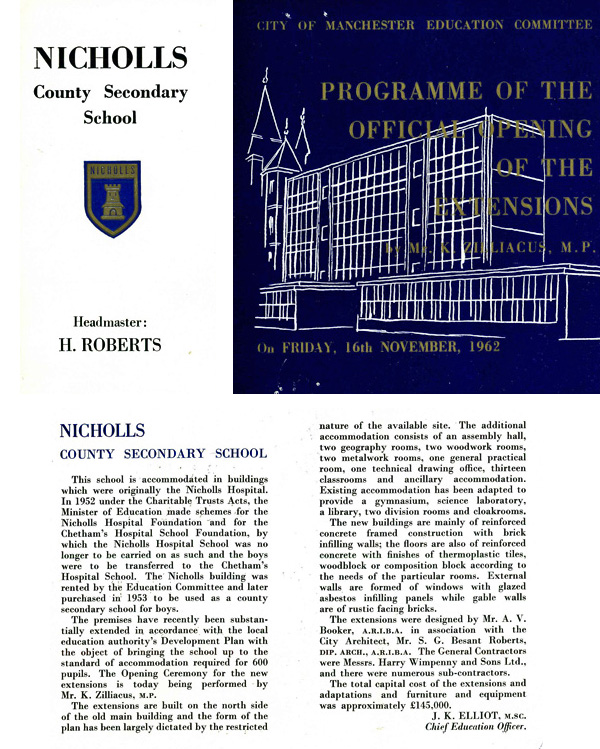 In 1967 Nicholls County Secondary School combined with Ardwick Secondary Girls School and Ardwick Technical High School to become the Nicholls Ardwick High School. All three schools were locaed in close proximity.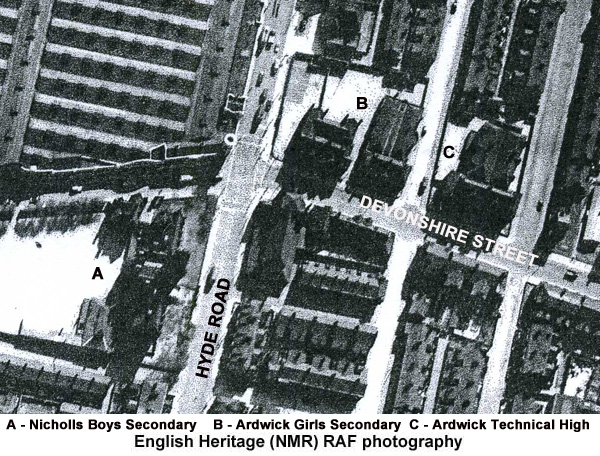 The new school began its life on 1st September, 1967 using all three buildings, known as "H" Building (former Technical High School); "A" Building (Ardwick Girls) and "N" Building (Nicholls Secondary Boys). The Nicholls Building became the administrative centre of the school. Later buildings H and A were demolished and the school moved onto a single site. There was another name change along the way when it was named in honour of a former pupil of Ardwick Higher Grade School (the precursor of Ardwick Technical High) Ellen Wilkinson.

Ellen Wilkinson entered Ardwick Higher Grade School in 1902. The daughter of Richard and Ellen Wilkinson of 41 Coral Street in Chorlton-upon-Medlock, Ellen was a diminuative red-head. As an adult she was only 4 foot 10 inches tall but she became known as Red Ellen and she had a formidable personality. The photograph below, shown with the permission of Peter Harden, shows the young Ellen with her mother and her brothers Richard and Harold. Clearly evident is the firery red hair that became her trade-mark. She inherited it from her maternal grandmother who had red hair long enough that she could sit on it. Ellen had ambitions to grow hers long too but eventually tired of it and had it cut short.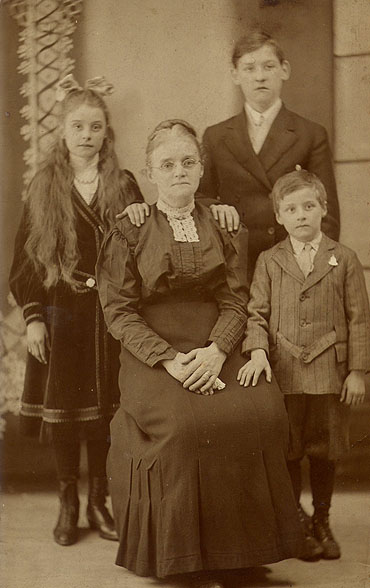 She can be see third from the left on the back row in this photograph of the Ardwick Higher Grade School Girls' Form taken sometime between 1902 and 1906.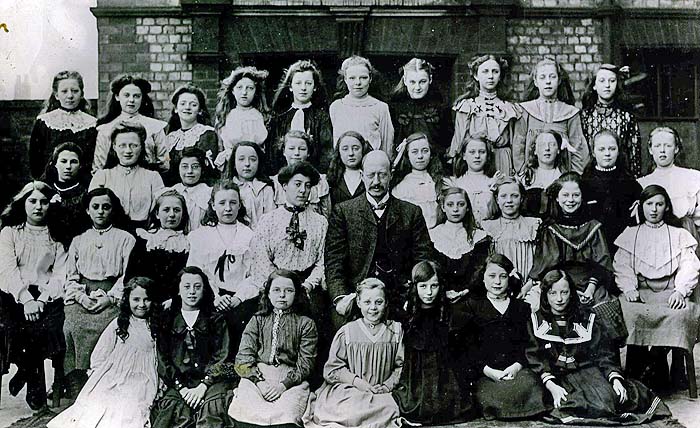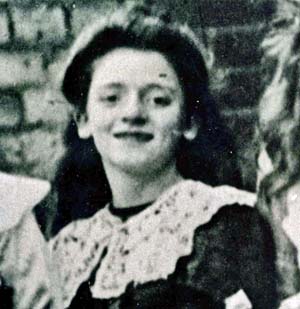 In 1906 Ellen won a £25 pupil teaching bursary which enabled her to attend the Manchester Day Training College on Princess Street in central Manchester. She attended College for half of the week and in the other half taught at Oswald Road Elementary School. In 1910 Ellen became a student at Manchester University where she developed her interest in socialism and politics. A plaque in her honour was placed in the quad of old university buildings.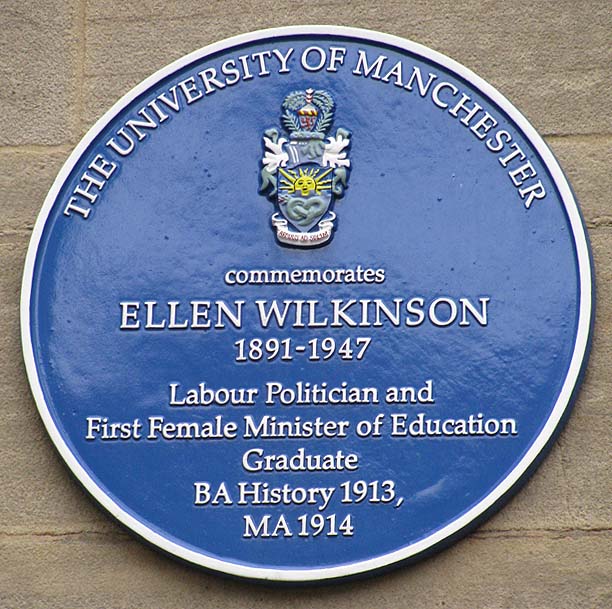 In 1912 she joined the National Union of Women's Suffrage Societies later becoming a district organizer. She also ran the local branch of the Fabian Society. At the age of 24 she was the women's organiser of the Co-operative Employees, eventually gaining pre-eminence within NUDAW - a shopworkers' union. After being active in the women's sufferage movement she was elected as Labour member of Middlesbrough East in 1924. Identified with the far left, in fact Wilkinson was involved with various forms of labour movement activism. She was a tough character and resilient to jibes as both an orator and hardened union negotiator. She lost her seat in 1931. In 1935 she was elected MP for Jarrow, a seat she held until her death in 1947. In 1936 she was one of the leaders of the Jarrow March.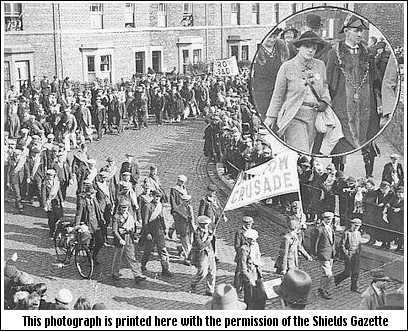 In 1940 Ellen was appointed Parliamentary Secretary Minister of Pensions, and Joint Parliamentary Secretary Ministry of Home Security 1940 - 1945. In 1945 she became Minister of Education.

So it was appropriate that this Ardwick School should be named the Ellen Wilkinson High School.


However, once again the winds of change were blowing in Manchester in 2000 when Ellen Wilkinson was merged with Spurley Hey to create a new school called Cedar Mount located in Gorton.

Today the Nicholls Hospital building is the Nicholls Campus of the Manchester City College. It is the base for sports academies in football, rugby, cricket and basketball. The college offers excellent sports facilities including a football centre with a full size grassed pitch and synthetic five-a-side pitches, a sports hall and fully equipped gym. The campuse is also equipped with: IT suites, science labs, a learning resource centre, a canteen and a student common room.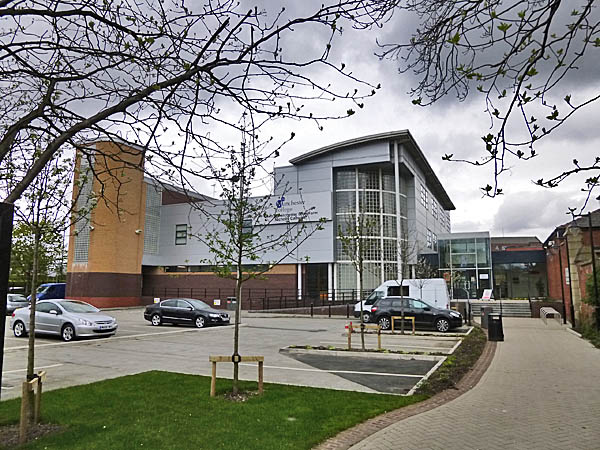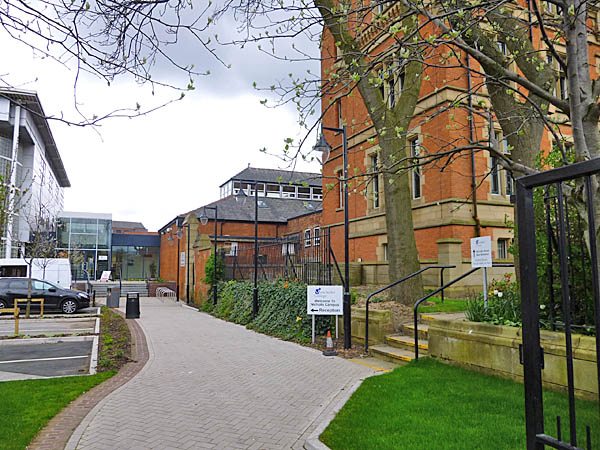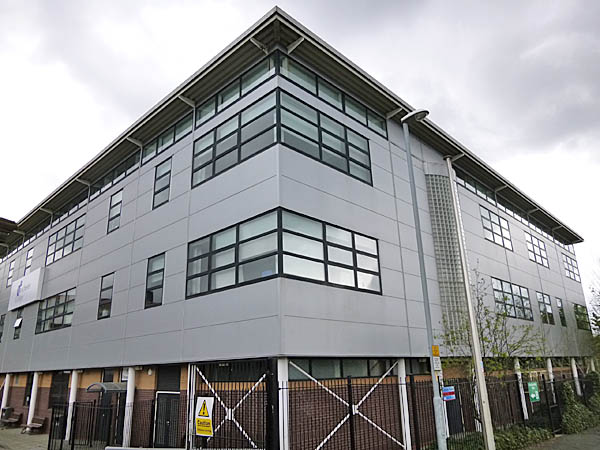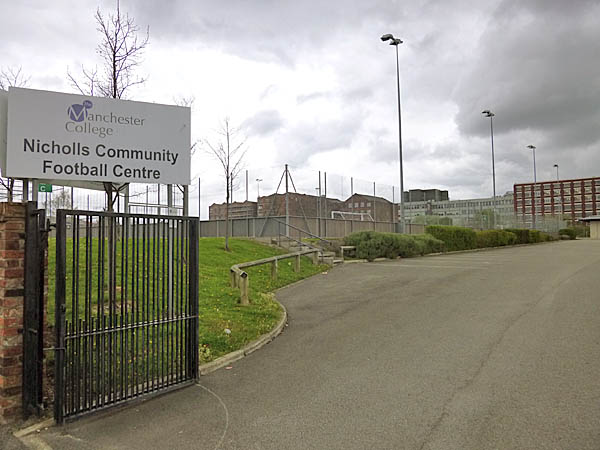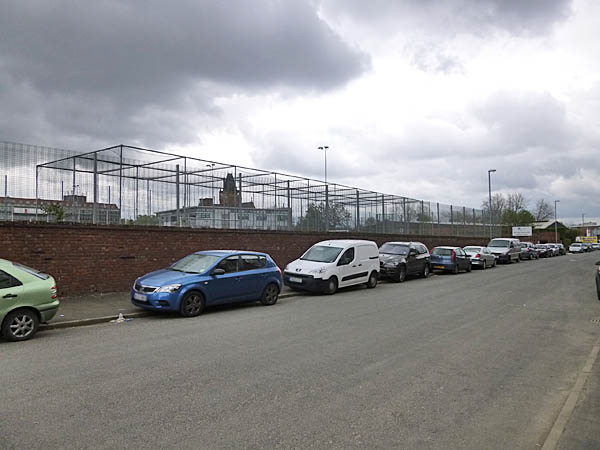 The Nicholls Hospital building is now 132 years old but it seems to have found a way of reinventing itself for succeeding generations.