Located on the south-west corner of Warwick Road and Talbot Road stands the Old Trafford Cricket Ground home to the Lancashire County Cricket Club. In 1857 this site was two fields adjacent to the Botanic Gardens. Originally the Manchester Cricket Club had their ground inside the Botanic Gardens site but in 1857 the Botanic Gardens were needed for the Art Treasures Exhibition and the cricket club needed to look for a new home. They leased these fields for £37.6s.6d a year. The new cricket ground was the subject of a newpaper article:
"OPENING OF THE MANCHESTER NEW CRICKET GROUND:-

The ground which, for many years, was occupied by the Manchester Cricket Club, is now covered by the Art Treasures Palace. The new ground is situated to the west of the Exhibition buildings, and consists of about eight acres of good, level, sandy land. The pavilion is erected on the north side; and while it is a great ornament to the ground, it is well adapted for the purposes for which it will be used. It consists of a centre compartment (intended for a dining hall) and two wings, a turret surmounting the centre. The dining hall is 36 feet long by 22 feet wide." There was a residence for the professional bowler, Thomas Hunt, and also the caterer for the club, a Mr Johnson."


*********************

Below you can see the Old Trafford Cricket Ground in 1953 with Warwick Road Railway Station to the left and Stretford Townhall to the right.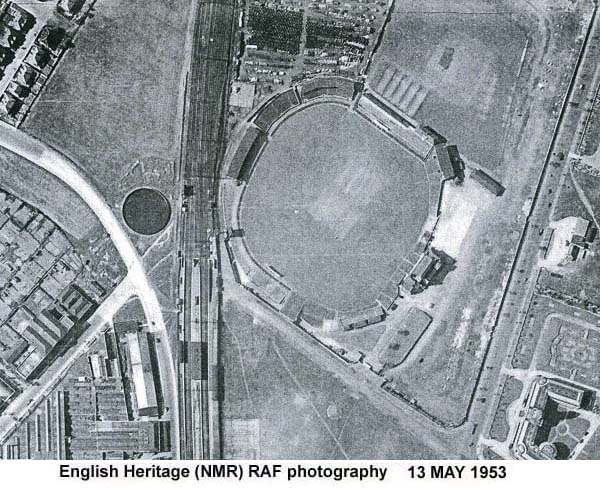 In 2003, it was suggested that the LCCC should sell Old Trafford, and move to a new purpose-built stadium in East Manchester. In the end relocation was ruled out in favour of upgrading the current ground.
The LCCC web site says this of the ground today:
"Old Trafford is acknowledged throughout the world as one of the prime Test arenas and is set for major redevelopment in the near future. Credit must go to those who have helped in the building and development of the ground and the players who have taken part in the matches played on this historic field."
Among the developments is the addition of The Point (the red building just glimpsed in the photograph above). The Point is a £12Million facility due to be completed in June of 2010. It will provide an elevated glass-fronted suite overlooking the pitch. It will offer a sit-down dinner capacity of up to 1,000, or 850 with a dance floor. It also provides conference facilities and a 68-bedroom Lodge.