The end came for the Victoria Buildings on December 22, 1940, when at 6:38 p.m. air raid sirens began wailing across Manchester City Centre. What follows is an extract from "Manchester at War - A Pictorial Account of 1939-45" published by Archive Publications.
"Within two minutes incendiaries were falling on and around Albert Square and a building on the corner of Princess Street and Clarence Street soon caught fire. Incendiaries were also reported in the area around Bridgewater Street. The main threat seemed to be developing in the vicinity of Deansgate, where the top of the Royal Exchange was ablaze. Fire had taken hold of Victoria Buildings and a fractured gas main outside Hailwood's Creamery in St. Mary's Gate was alight. To add to the already mounting problem for the emergency services was the fact that 200 men and 30 pumps were still in Liverpool where they had been sent the night before to reinforce that city's hard pressed fire-fighters. By 8:00 pm the Exchange Hotel was well and truly on fire and shops in Market Street were threatened. Part of Victoria Buildings collapsed into Deansgate, blocking the thoroughfare from Blackfriar's Street to Victoria Bridge."
"Within a mile of Albert Square, 31.3 acres were in ruins, 165 warehouses, 150 offices, 5 banks and 200 other business premises were destroyed or severely damaged and 300 warehouses, 220 offices, 20 banks and 500 other businesses premises damaged to a lesser degree. 30,000 houses had been damaged and 5,049 people had been made homeless.
Only a shell of the Victoria Buildings remained. You can glimpse it beyond the Shambles in the image below.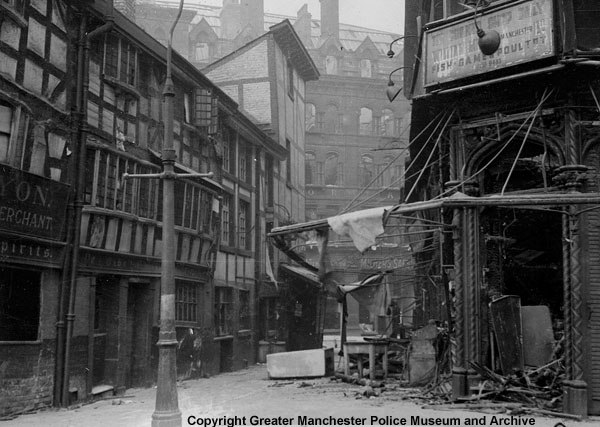 (The image above is shown with the permission of the Greater Manchester Police Museum and Archive. If you follow this link
you can see more historic photographs in their Flickr Photostream.)
Eventually the building's shell was demolished and subsequently the land was transformed into the park that I knew. Today that park itself is gone and standing on it are 1 Deansgate, Ian Simpson's glass apartment building and the retail block that includes Harvey Nicks and others.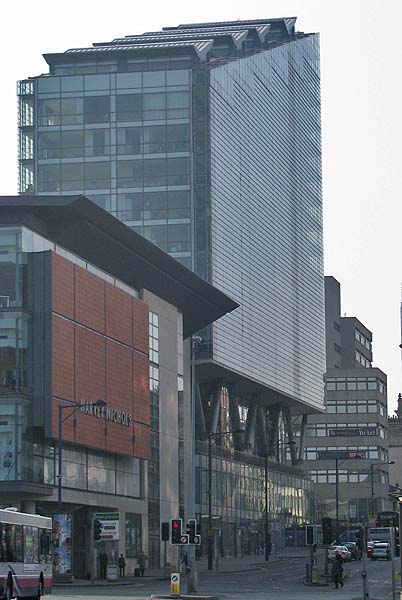 The view along Deansgate in 2009 with St. Mary's Gate just to the left of the double-decker bus.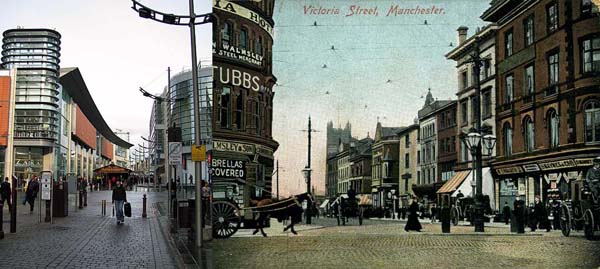 The image above is roughly a comparison of the site of the Market Street end of the Victoria Buildings and that same view today. Because of the reconfiguration of some streets and the location of new buildings it isn't possible to make an exact comparison. Today's Zara shop sits approximetly where the you see the lamp-post in the old image.