(Dedicated to Arthur Lloyd) says that a hotel on Bridge Street was converted into The London Music Hall, by the India Rubber manufactorer, Mr. Helliwell. Judging by the position of the theatre on maps of that period, the hotel must have been the Commercial Hotel located on Bridge Stereet across from Windmill Street.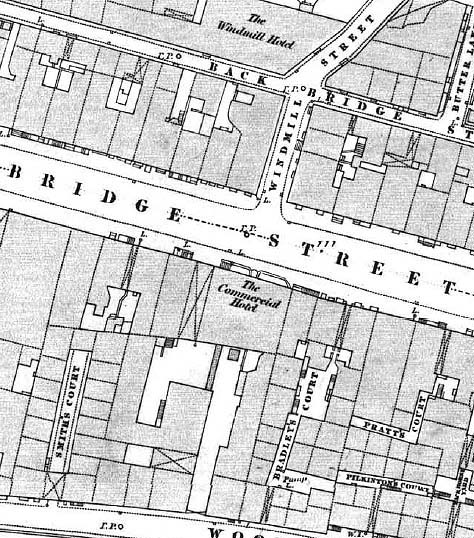 - map above dated 1844 - 1849 -
The web site explains, "Further alterations transformed the building into a circus and amphitheatre, and Mr Garcia, its lessee, subsequently succeeded in getting the place licensed for the performance of stage plays, and the first piece enacted under the new order was Formosa." Below you can see the transformed building circa 1888, by which time it had become The Queen's Theatre.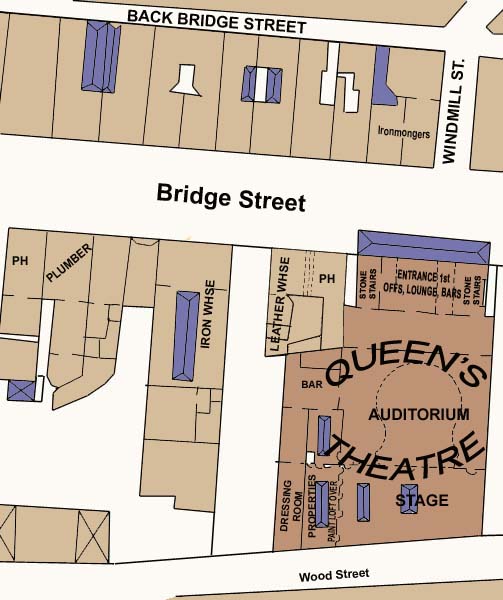 Apparently the theatre went through a number of adventures. "The theatre was carried on successfully until the expiration of a nine years' lease, when some dispute arose on the question of rent, which ended in the house remaining unoccupied for some time. Mr Richard Mansell was the first lessee to place the theatre on the popular basis"......"The theatre was destroyed by fire on Aug. 17th, 1890, and a new building erected by Booth and Chadwick, architects, which was opened on March 28th, 1891.." .... "The building in its final years was eventually known as the Royal Amphitheatre & Circus but was sold in 1911 when its lease expired." It was later demolished and the site became home to the Masonic Hall, which opened in 1929.