Paulden's 1925
Three years after that photograph was taken the store was taken over by Debenham's although it continued to trade as Paulden's. The building was rebuilt in 1930 and it apparently escaped disaster in 1941 when it received a direct hit from a bomb that went straight though the lift shaft doing little damage.
In 1957 the store had a major refurbishment and on the Sunday before it was due to re-open a fire broke out that completely gutted the building.
The links below show the scene as firemen were fighting the blaze and the front of the building collapsed.
Initially Pauldens moved next door and set up business in the neighbouring Drill Hall. Another incident occured at the site after the fire when a double-decker bus was involved in a crash and ended up falling into the exposed basement of the store. In 1959 Paulden's reopened in Market Street in the former Rylands Warehouse that today is home to Debenhams. You can see their name on the side of the building.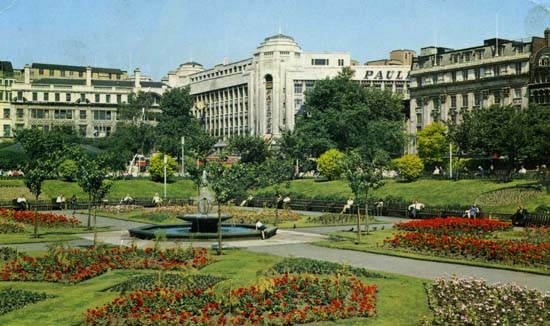 Today the site of the original Paulden's Department Store, that burned to the ground, is occupied by the Manchester Metropolitan University's Cambridge Hall of Residence, see below.