The General Post office seen in the image above once stood on Spring Gardens. It was designed by the architect J Williams and it was built between 1881 and 1887.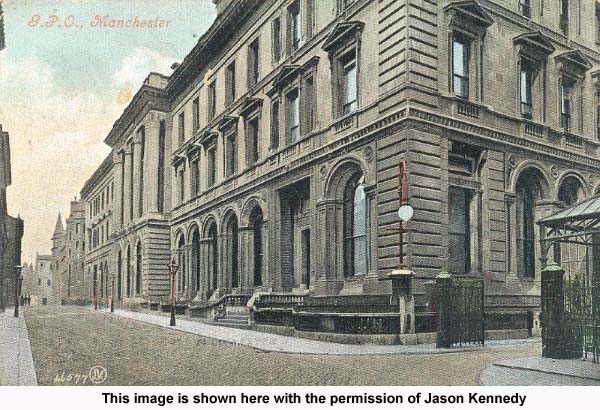 Pevsner described it as
"a tremendous palazzaccio, like a Ministry building in Rome,"
he made mention of its,
"central upper giant portico."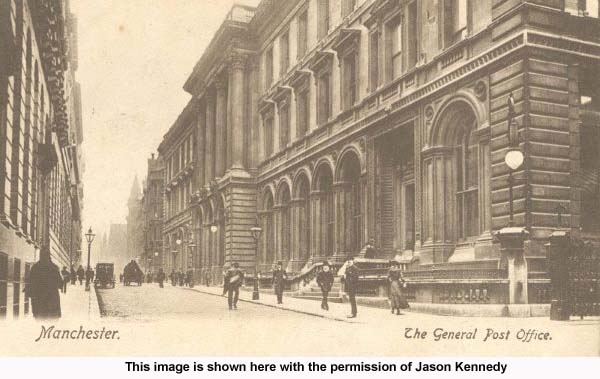 You can see the building below on my version the 1889 map of the area.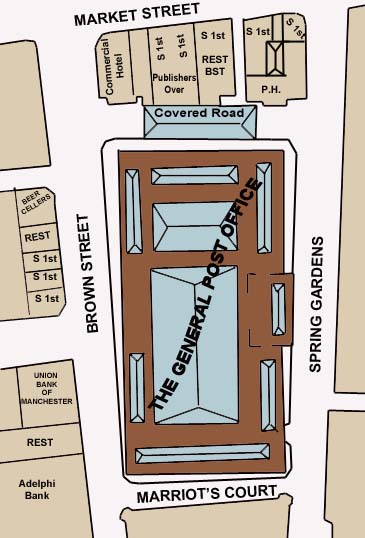 If you click on the links below, you can see the inside of the building. The first one show customers and staff at the telegraph counter. Unfortunately, the image is strangely oriented sideways but it is interesting. The link entitled "Memorial Statue" shows a statue erected in honour of the men of Manchester's Post Office who died in World War One. As you can see, it sat in the centre of the rather grand main hall.


The memorial was created by the Manchester sculptor John Ashton Floyd. It was originally erected in 1929 in the main hall of the Spring Gardens general post office. When this building closed in the 1960s, the statue was moved to the new sorting facility on St. Andrew's Street, behind Piccadilly Station. Then in 1995 it made its second move to its present site at the entrance to the Royal Mail Sorting Depot on Oldham Road. The statue depicts a group of three figures. Winged Victory is at the centre, holding a flaming torch. She is flanked by a young boy and girl and at their feet are the symbols of war including a helmet and a sword.

You can see the post office, indicated by a red arrow in the aerial photograph below, dated 1953.