The Gaumont - Oxford Street
This NCP car parkon Oxford Street was once the site of the Gaumont Cinema.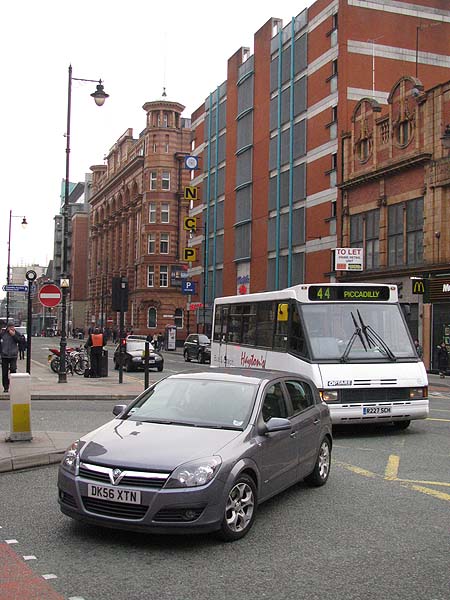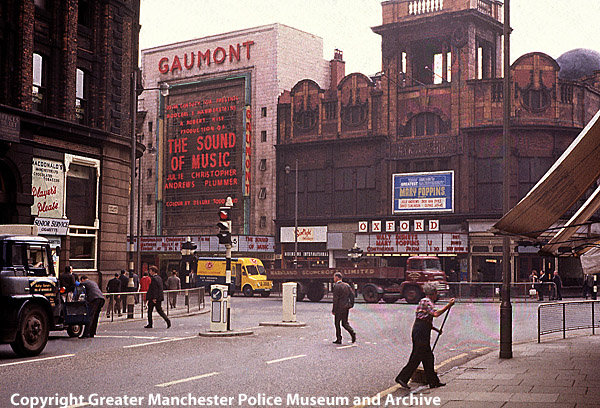 (The image above is shown with the permission of the Greater Manchester Police Museum and Archive.
If you click on this link you can see more historic images from their
Flickr Photostream
)
I must have visited the Gaumont on more than one occasion but the one film that I remember seeing there was Lawrence of Arabia. I particularly remember the length of the queues in the intermission as people sought drinks, "drinks on a stick" and ice creams to quench their terrible thirst. As the huge auditorium filled up, the great Hammond Organ rose up out of the floor infront of the screen to keep us entertained. This was in the days when a full house meant an audience of more than 2000 people and the house was regularly full.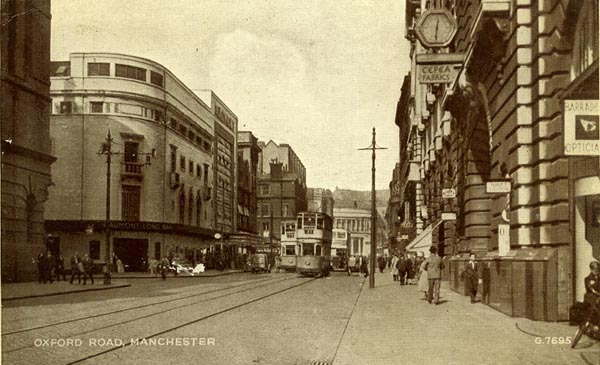 The cinema was designed by the architectural practice of William T. Benslyn and James Morrison. The "Cinema Treasures" website says that its exterior was
"...in the Italian Renaissance style and clad in faiance tiles. The entrance portion was dominated by one of the largest neon displays in the city, the Gaumont name alone was four foot high, and below this there was a triple bordered panel which could take up to 12 rows of 18 inch letters in red neon announcing the attractions."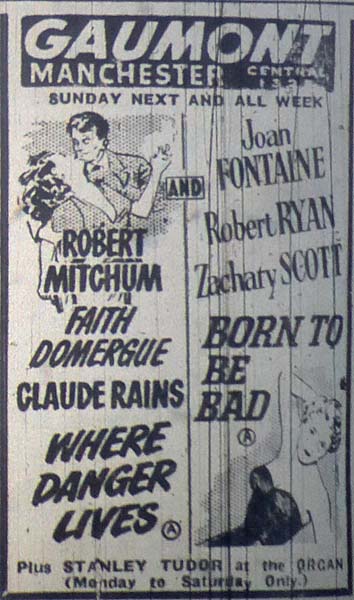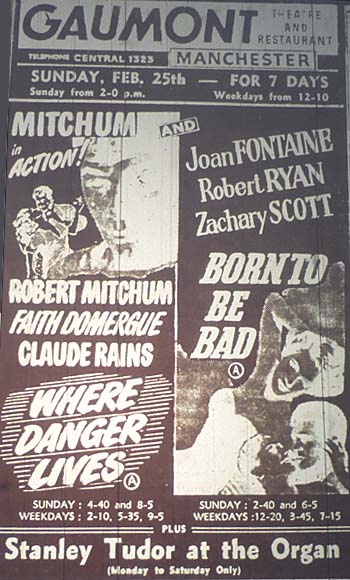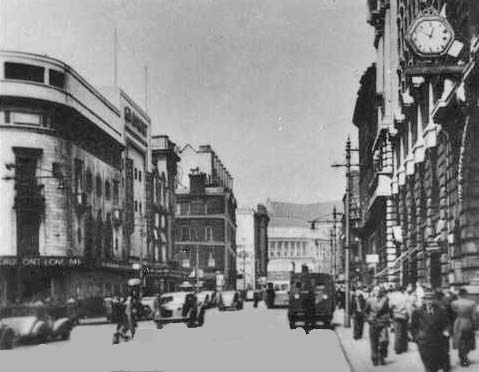 If the outside was impressive the inside was lush. Designed by Theodore Komisarjevsky, the Russian theatrical director who had an interest in architecture, it featured a coffered ceiling and gold grillwork on the side walls. The front of the circle was curved and fluted. There were 1000 seats in the circle and another 1300 in the stalls. The
"Long Bar"
was located on the Great Bridgewater Street side of the building and at 60 feet in length it was aptly named.
The Gaumont is seen below (labeled D) in this RAF aerial photograph taken in May of 1946.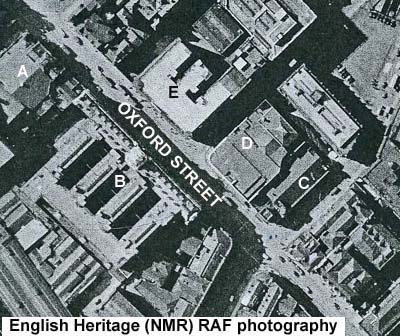 A - Palace Theatre B - St. James Building C - The Picture House
D - The Gaumont E - The Tootal Broadhust Building
It sat on the site of the former Hippodrome Theatre (see below) which had been demolished just 6 months before the completed Gaumont opened in December of 1935.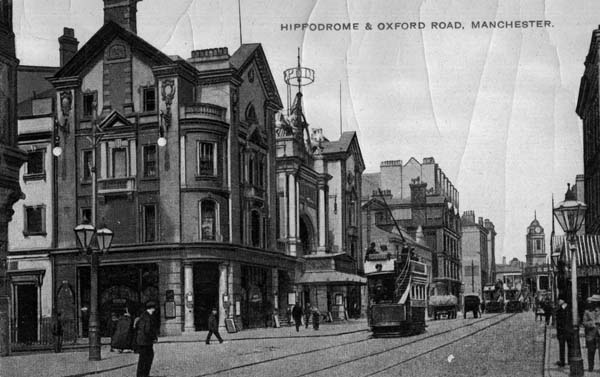 However, in 1973, the Odeon (former Paramount Theatre) nearly opposite the Gaumont, closed for twinning, reopening on the 25 January 1974 and less than one week later, on the 28 January, the Gaumont closed. It lay boarded up until the
Rotters
Nightclub opened in the ground and basement levels with the circle area disused and with a false ceiling at the balcony level. This too closed and in 1990, arguably the finest cinema in Manchester was completely demolished.