Cavendish Street School
The Forty Seventh Municipal School - All Saints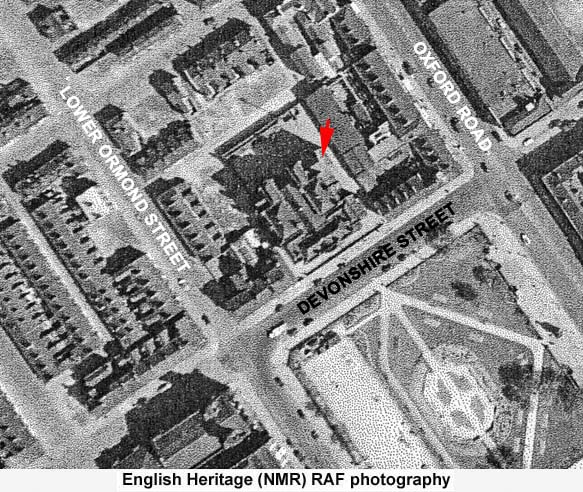 The park in the middle of Grosvenor Square is the former churchyard of All Saints Church. To the north of the park there used to be a street called Devonshire Street and in the middle of the block between Oxford Street and Lower Ormond Street a typical Municipal School used to stand. (indicated by the red arrow on the image above taken in 1953). The memorial stone on the front of the school, laid on June 17th, 1908, declared that it was the Forty Seventh Municipal School. Strangely, it seems that it was called the Cavendish Street School despite the fact that it wasn't on Cavendish Street. If you follow the links below you can see two images of it.

If you had visited the site prior to 1908, the view would have been quite different, as you can see in the old postcard image below. The photograph was taken from Oxford Road, looking north across the corner of All Saints churchyard. I have been unable to identify what these buildings were but Slater's Directory of Manchester and Salford for that period lists a number of possibilities on Devonshire Street. These include: Presbyterian Church Sessional School; Manchester Carriage & Tramways Company Central Office, 14 Devonshire Street; The Victoria Dental Hospital of Manchester, 16 Devonshire Street; and Cohen Gustavus & Co. patentees and manufacturers of medical electrical batteries, 18 Devonshire Street.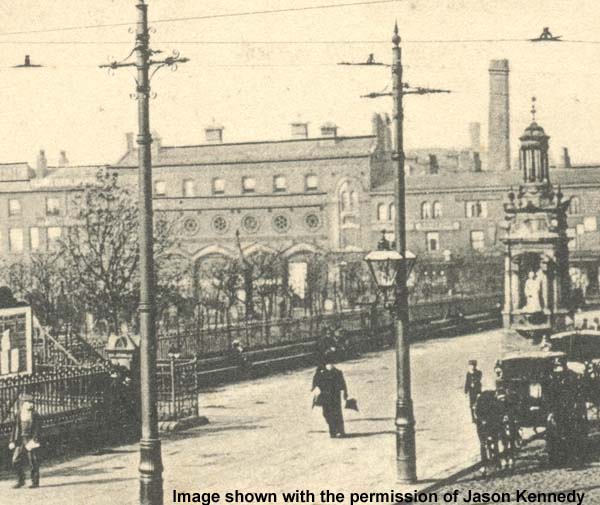 The Municipal School must have been demolished at some point around the end of the 1960s and the beginning of the 70s because the Manchester Polytechnic's (now the MMU) All Saints Building was erected on this site in 1978. The image below shows the All Saints Building in 2010 looking along the pedestrianised area that occupies the former route of Devonshire Street.