Bratby & Hinchcliffe - Ancoats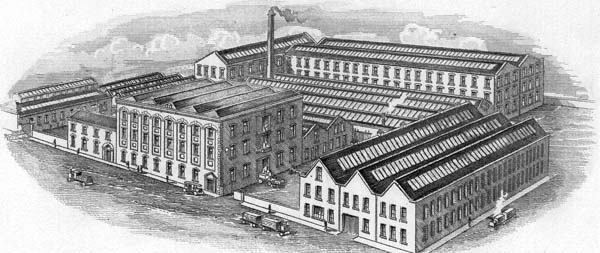 Bratby and Hinchcliffe had an engineering company in Ancoats on the corner of Sanford and Pott Street. As their letterhead indicated, they were engineers to the bottling trade and essence distillers. The company was founded in 1864 and they continued trading into the 1960s.

They operated in the carbonated soft drinks business which even in the 19th Century was a major industry. This extract from "Carbonated Soft Drinks - Formulation and Manufacture", edited by David P. Steen and Philip R. Ashurst, says this about the industry:
"Continuous improvement in production and packaging of carbonated soft drinks
meant that by the middle of the nineteenth century a manual bottling line was
capable of filling 100 dozen bottles per day, but the introduction of steam power
increased that to 300 dozen per day. By 1900, it was estimated that 70,000 people
were directly employed in the UK soft drinks industry and 22,000 horses were used
for product delivery. Total UK production was estimated by

Bratby

& Hinchcliffe
to be almost 300 million dozen half pints (ca. 900 million litres). For comparison, in
1990, government statistics show that almost 18,000 people were employed in the
soft drinks industry (manufacturing, distribution, sales and marketing) producing
6717 million litres of drinks."

It appears that Bratby and Hinchcliffe must have had another factory in Gorton because in a biography of Myra Hindley it claims that at one point she worked for them in Gorton for 6 months before she was fired for absenteeism.
The aerial photograph below, taken in 1953, shows the Ancoats factory although somewhat changed from the engraving above.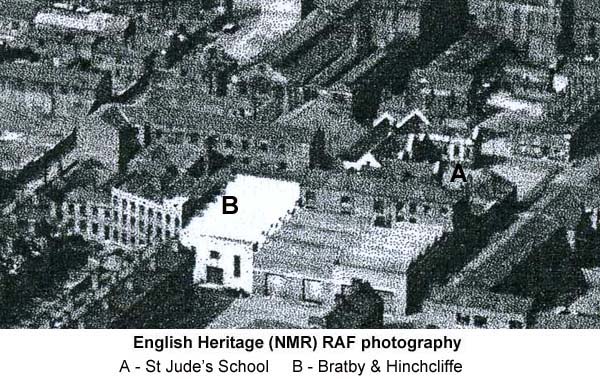 Below is my version of a map drawn of the site in 1928. It shows that Bratby and Hinchcliffe are neighbours to Westmacott & Son, the Chemists and Mineral Water Manufacturers and to St. Jude's School.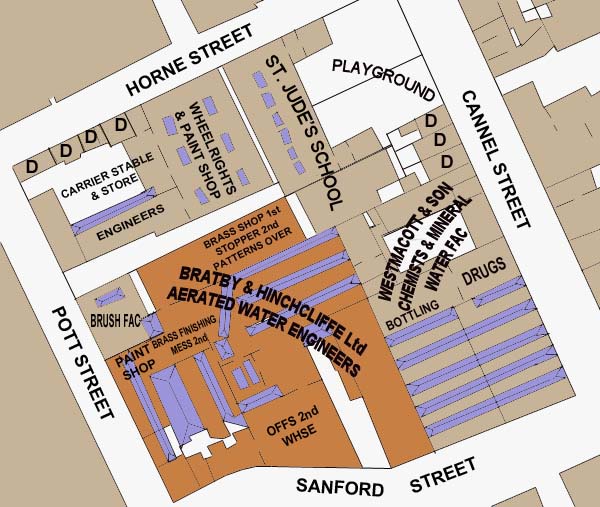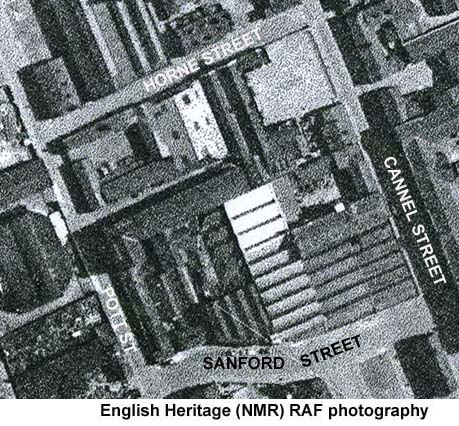 In later years the factory was demolished prior to the building of the Cardroom Estate. Built in the 1970s, the Cardroom Estate took in its first residents in 1978. An article in the Guardian dated,
"Built with an eye on the failings of previous working-class housing, the estate was low-rise, with two-storey houses in a landscaped, villagey cluster. It was pedestrianised, so children could play outside. For several years it all worked well. The first tenants were locals, and knew and looked out for each other."
....
"But, gradually, other forms of social interaction began to arrive. Drug dealers discovered the estate, with its central location and bushes and blind corners. 'They used to sell nearly at my front garden gate,' says Agnes Lewis. 'When you went to the shop, you couldn't get to the door for all the gangs that were waiting outside.' The estate's layout was also a gift to burglars and joyriders."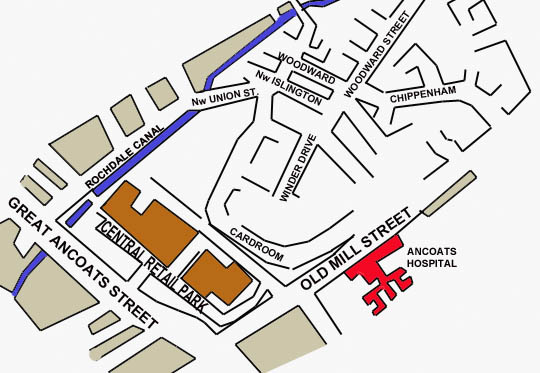 The area between Old Mill Street and the Rochdale Canal and behind the Central Shopping Mall has since been cleared as part of the redevelopment of the area by Urban Splash.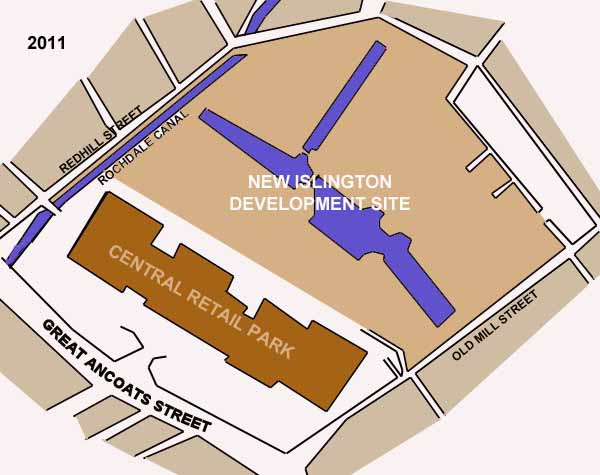 New waterways have been constructed around which the plan is to build innovative housing and a new school. The area has been rechristened "New Islington", which is in fact its earlier name.
The plan was for the redevelopment to be completed by 2012 but the recession has slowed progress. Below you can see images of the site in March of 2011 where Bratby & Hinchcliffe once had their factory.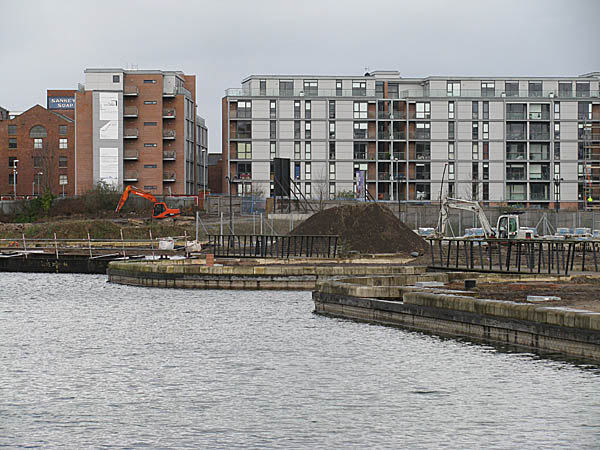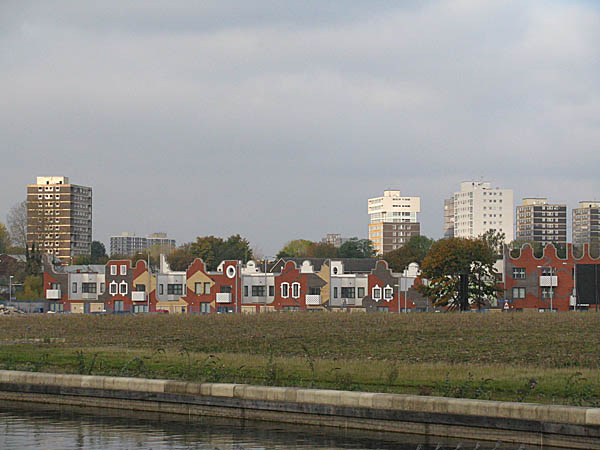 Close Window