Portland Street Warehouse - Numbers 43 to 61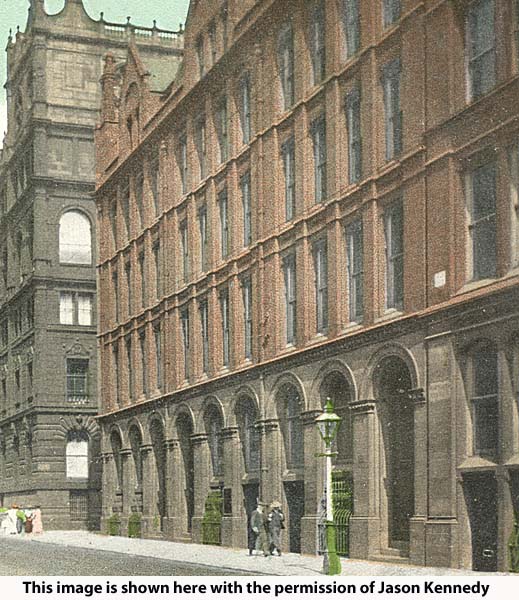 In the 1880s a large warehouse occupied a block of Portland Street between Chorlton Street and Sackville Street. At that time the premises in the warehouse were numbered 43 to 61. The warehouse extended over four and a half storeys with a basement. As you can see from the plan below it was made up of a variety of businesses from the Thornlie Bank at the Chorlton Street end to a Linoleum Warehouse at the other.


The Slaters Directory of Manchester and Salford from 1927 shows that most of the occupants of the building were engaged in aspects of the textile industry. For instance Number 61 was home to:
Charles E. Sharp - Velvet Manufacturer

Stewart, Moir & Muir Ltd. - Muslin Manufacturer

Whitworth Ashton & Co. - General merchants, stockbuyers - grey, white, prints and fancies

John Wilkinson - coloured cotton goods

Denham Mees & Co. - Shipping Merchant

Parker Lord & Co. - Manufacturer of glissades, mercerized artificial silk linings & art silk shirting

Fras. Edwd. Fletcher - cotton merchant



The companies occupying Number 55 were:
Brintons Ltd - Carpet manufacturer

E. Clucas & Co - Grey cloth agents

J. Arthur de Souza - Calico printer.

W. Hunt & Co. Ltd - Merchants
F. Warburton & Co - Cotton merchant

Y. H. Zorian - Merchant

Frears Lord & Brother - Manufacturers

Leonard Mason - Merchant

William Sutcliffe Ltd. - manufacturer & merchant cotton goods
Alex Morren - Manufacturer of cotton dress goods

Heeley & Jordan Grimshaw - cotton goods manufacturers

****
In 1940 the city centre came under attack from the Luftwaffer. The raids began in August but those on the nights of December 23rd and 24th were the worst. 684 people were killed in the Manchester Blitz and 2364 people were injured. Significant damage was inflicted on many important buildings including the Cathedral, the Victoria Building, the Free Trade Hall and the Corn Exchange. The warehouses on Parker Street and Portland Street were targets of the bombers and as you can see from the aerial photograph below, taken in 1953, several blocks were destroyed. There was no shortage of parking lots in the 1950s on the sites where the warehouses had been demolished, including 43 to 61 Portland Street.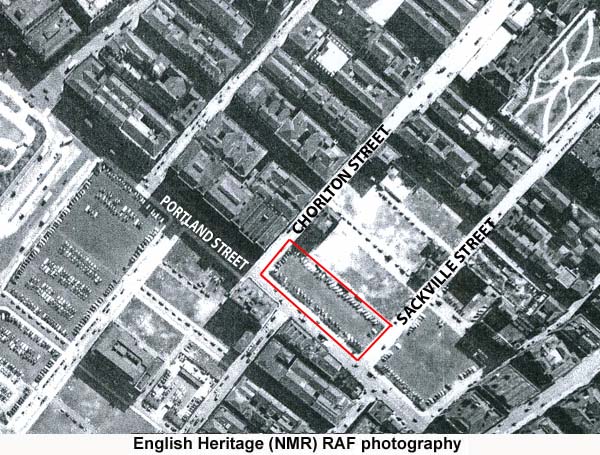 In 1962 St. Andrew's House, the Chorlton Street bus station, and the multi-storey car park above it were completed to a design by the architectural practice of Leach Rhodes Walker. St. Andrew's House occupied the Portland Street end of the vacant lots between Chorlton Street and Sackville Street, seen in the photograph above. It was built for the Scottish Widows. Today the building is known as the Portland Tower.