St Andrew's Church - Travis Street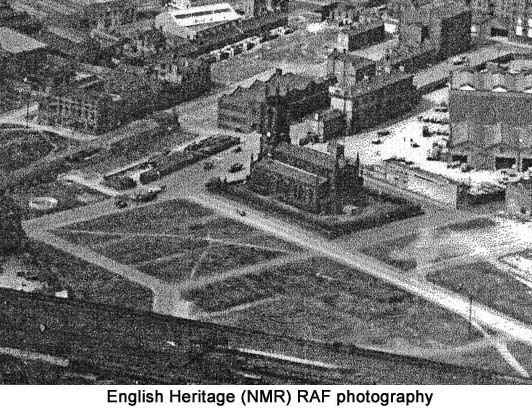 The church is seen in the aerial photograph above taken by the RAF in 1949, and shown here with the permission of English Heritage. The church had clearly survived the blitzes of 1940 and 1941 where the buildings around it had not.
The Stranger's Guide To Manchester of 1850 says this of
St. Andrew's church, Ancoats:

"St. Andrew's Church is a large and handsome stone building, situated in Travis Street, Ancoats. The expenses of its erection were defrayed by the Commissioners for Building Churches and amounted to £14,000. It was consecrated October 6th 1831. The interior has lately been very much improved; it contains three galleries; in the western one, is a fine organ. The altar, and a great portion of the ground in front of it, has been raised several feet, thus forming a chorus cantorum, which is fitted up with open benches, for the accommodation of the choir. The reading desk forms a continuation of one of the choir benches, on the north side. The pulpit is situated opposite to it; between the choir seats, and immediately in front of the altar rails, is a very handsome cross, inlaid in Mosaic encaustic tiles into the stone."
The church is seen in the Adshead Map extract below, shown with the permision of Chetham's Library.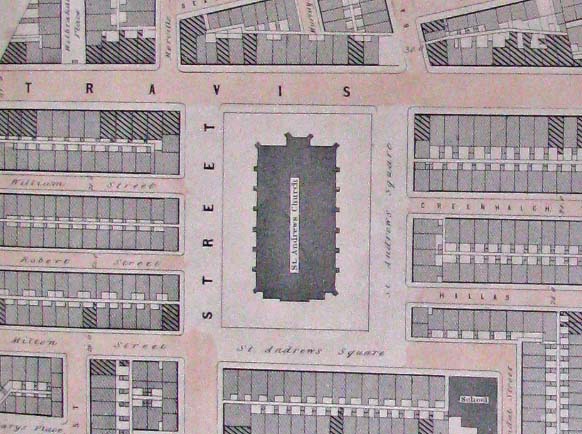 St. Andrews Church has been demolished but the churchyard wall and a cross remain.