In 1845, the Worsley family of Platt Hall was responsible for commissioning Holy Trinity Anglican Church within the Platt Estate along Platt Lane. The architect was Edmund Sharp. Pevsner says of this church that it was, "the second of Sharp's terracotta churches" which were disrespectfully referred to as "pot churches".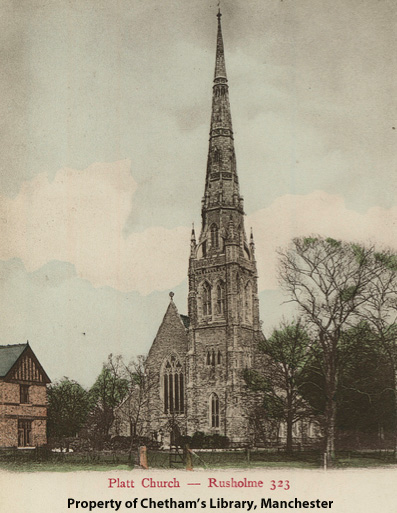 (The image above is shown here with the permission of
Chetham's Library
.)
The building was designated Grade II* Listed in 1963 at which time it was described as follows: "Yellow, buff and brown terracotta in imitation of stone (including mason's tooling marks); slate roof. Decorated style. Nave with south-west steeple, north and south aisles, chancel. The 3-stage tower has angle buttresses, a cusped south doorway in a 2-centred arched surround with 2 orders of moulding including set-in shafts with foliated caps, and a hoodmould with figured stops, 3-light windows to the 2nd stage with crocketed gablets, paired belfry windows with transoms and diamond-pattern terracotta grills, an embattled parapet with corner pinnacles and slender S-shaped flying buttresses to an octagonal drum at the base of the tall octagonal spire."