St Peter's Church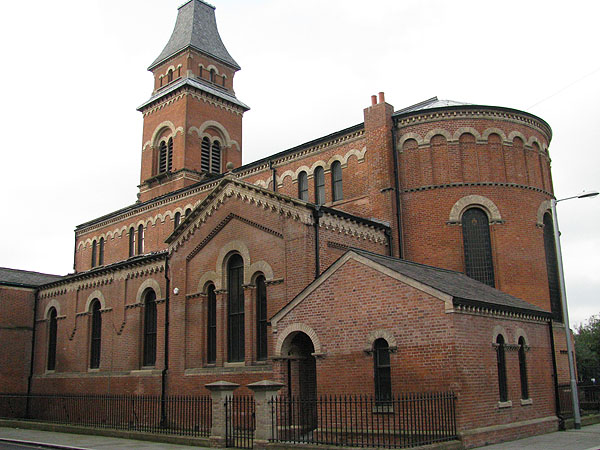 St Peter's Church sits at the corner of Blossom and Murray Streets. It was built in 1859 and consecrated in 1860. It had been designed by Isaac Holden and Son architects. The church served a poor community with a large population. In a parish of 50 acres there were 14,000 people. In its heyday it had seats for 1,350 and including the bell it cost £4,200 to build it.
Pevsner describes the building as "Italian Romanesque" an appropriate style for a predominantly Italian community. The building fell into disuse in the 1960s and was in a derelict state when restoration began in 1998. At that time it was in the possession of the Ancoats Buildings Preservation Trust. With £500,000 from English Heritage and £1.5m from the Heritage Lottery Fund and the Northwest Development Agency, a full restoration of the church was completed by June of 2006.
The ABPT now describe the building as "ready for conversion to publicly accessible but financially viable new uses.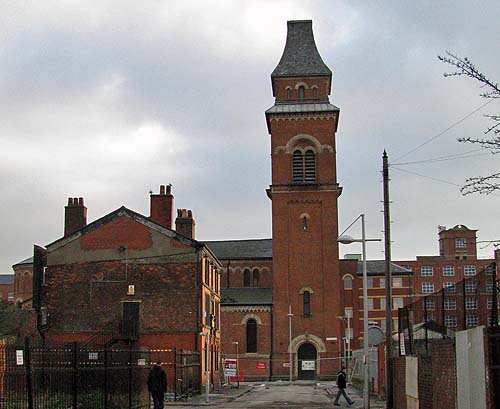 As an aside I did some research on Isaac Holden and found a reference to him on a web site in Philadelphia in the USA. It described him as follows:

"Isaac Holden is a shadowy figure about whom too little is known. Said to have migrated from England in 1826 to practice architecture with his brother, Holden first appears in Philadelphia city directories listed as a carpenter together with James P. Holden , bricklayer. According to John Haviland's records, Holden was employed by his countryman in 1830-31. Between 1837 and 1840 (when they disappear from the directories), Isaac is listed as an architect and James P. as a builder. At that point they reportedly returned to England, and in 1856 the architectural firm of Isaac Holden & Son of Manchester won a silver medal in the Notre Dame de Ia Treille et St. Pierre competition held at Lille.

Only two structures can firmly be attributed to Holden: the Chinese Museum at the northeast corner of Ninth and Sansom streets (c. 1836-38; burned 1854) and the Pennsylvania Hospital for Mental and Nervous Diseases at 44th and Market streets (1836-41; demolished 1859)."

Clearly, St. Peter's must have been one of Holden's first commissions after returning to Manchester.