In his obituary, published in the Guardian in October 2001, Richard Seifert was described as a,
"Workaholic architect whose tall towers changed the urban skyline of Britain and Europe."
It went on to add that,
"During 50 years in practice - an achievement celebrated, in 1984, with an exhibition by the Royal Institute of British Architects - Seifert built more London buildings than Sir Christopher Wren, and undeniably had as great an effect upon the city skyline. His tally in Britain and Europe included more than 500 office blocks, and in the 1970s his practice had 300 employees."
Among those London building was the tower he built for the Natwest Bank originally called the Natwest Tower but now known as Tower 42 - seen below.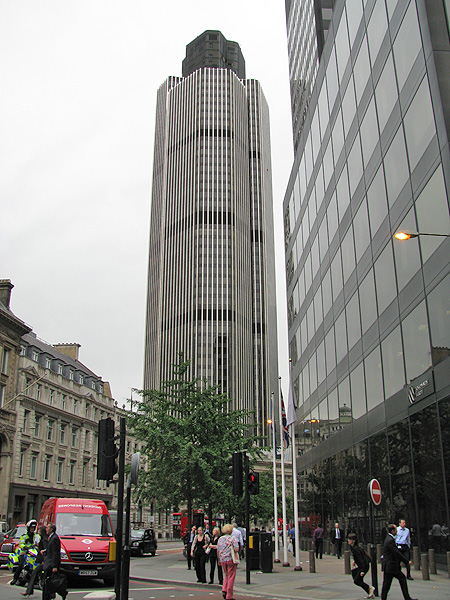 Richard Seifert died at the age of 90 but Seifert Architects continues to practice led by his son John. They have offices in London and Kiev. Only one building in Manchester is attributed to Seifert.
Gateway House
, Piccadilly Station Approach - 1967 - 1969
The Manchester Pevsner describes Gateway House as,
"A very impressive long, sweeping, undulating facade.....One of the best of the 1960s office blocks in Manchester, its glittering serpentine shape well suited to the sloping site."