Harry Faulkner-Brown was born in 1920 and he died on February 10, 2008 aged 87. In 1982 he was awarded an OBE for his contributions to architecture. During World War II he was awarded the Military Cross for gallantry as the commander of the 4th Parachute Field Squadron of the Royal Engineers. After the war he moved to live in Canada where he completed his training as an architect and he was commissioned to design the Library of Canada in Ottawa. This was the beginning of a long career that saw him designing libraries around the world. In the 1960s he returned to the UK and set up a partnership in Newcastle forming the firm of Williamson, Faulkner-Brown and Partners. In Manchester Faulkner-Brown Architects were responsible for two sporting venues.
The National Cycling Centre at the Manchester Velodrome,
off the Alan Turing Way - 1994
Described as Britain's first purpose built cycling stadium the building accommodates a 250 metre track built of Siberian pine. It is also home to the headquarters of the British Cycling Federation.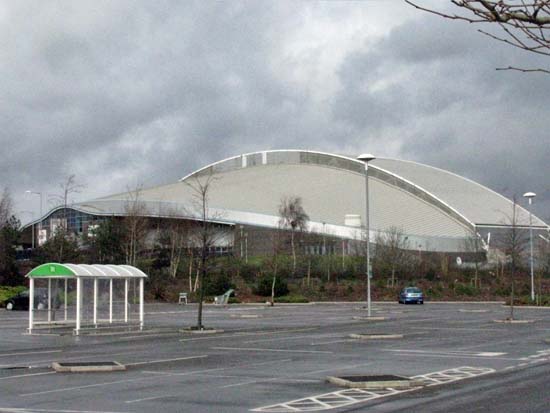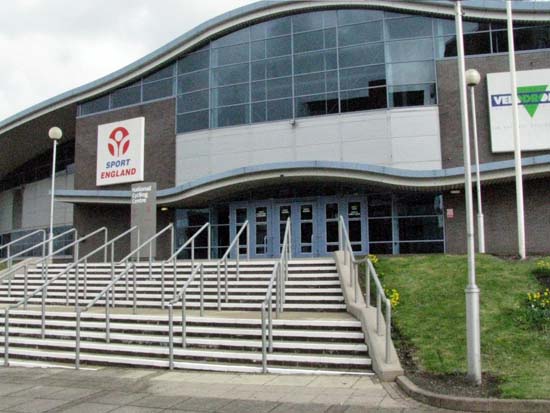 ************************
The Manchester Aquatics Centre
, Oxford Road - 2000
Built to host the swimming events at the 2002 Commonwealth Games. The building houses a 50 metre competition pool, a 25 metre diving pool and leisure facilities like a bubble pool and a flume. The building features a curved metal roof and glass end walls.