AFL
AFL describes their practice as follows, "Established in 1956, AFL has developed through carefully planned growth into an Architectural Practice with a diverse spread of expertise. ... The Practice has established itself as one of the U.K.'s leading Sports Designers, with many of the Premier League Football Clubs amongst their prestigious client list which has now developed into an international client base. However Sports Architecture is only one of the areas currently featured in the Practice's portfolio. The Urban Design, Residential, Healthcare and Commercial sectors also significantly contribute to the range of commissions undertaken, whilst a specialist In-house Interior Design division works as part of the design team on major projects and independently on Interior and refurbishment projects." Their Manchester buildings include:
The Mercury Building
, 15 Aytoun Street
"..a striking, stainless steel clad residential development comprising of 56 apartments in central Manchester. The contemporary style makes it an eye-catching local landmark, whilst its complementary scale to adjacent grand buildings blend in well with the local environment. The development also boasts its own serene garden space and spectacular duplex apartments at high level."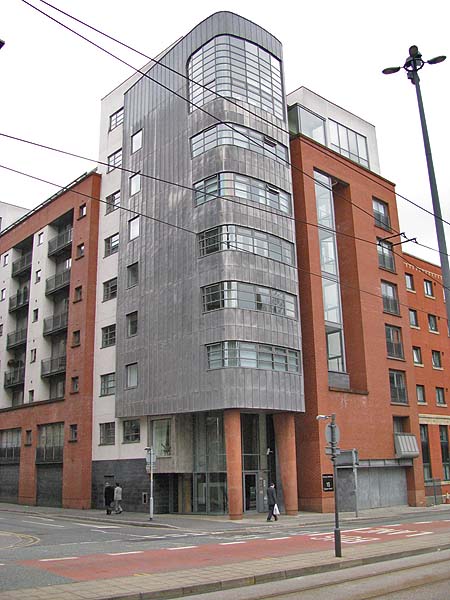 ************************
Whitworth Street West
Seen on the far right of this photograph beside the Ritz dancehall, this building is described as "An award winning mixed use development combining 224 apartments, duplexes and penthouses with a retail development in the heart of Manchester city centre. The development makes use of glass panels and coloured cladding to striking effect."