The House in Derbyshire

In 1904 Edgar Wood ventured across the Pennines to build a house in Derbyshire. In an elevated location above the River Sheaf, he constructed a family home that John Archer describes as seeming to be, "in accordance with the harshness of its situation". Archer added that "its character is markedly different from Wood's Lancashire and Cheshire buildings and even from others in the West Riding. It seems to belong to the moors."

The exact date of the house's construction isn't know but a design for it was published in the British Architect in December of 1904, and it was referred to in the Builder's Journal and Architectural Record in January of 1905 by which time it was completed.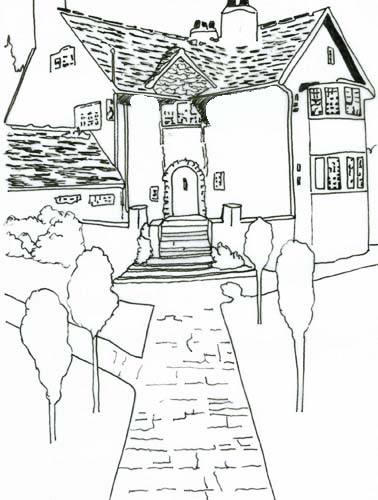 The house sits on a steep slope. Below the house, the garden is terraced down to a stone wall with a round topped gate which mirrors the front door of the house. As John Archer says the walls are, "built in random rubble, containing massive and rough stones, producing a formidable effect.

The plan of the house is L-shaped and the front door, which faces west, is placed in the angle. The house commands an impressive view. The exposed land on which it was constructed yielded the stone for the house as well as the steps, paths and retaining walls in the garden. Archer says that, "the extensive terracing relates the house to the site in a successful and sympathetic manner". The dining-room, hall and nursery face the sun, as does the garden.

There is a vestibule, hall, nursery, dining room, and kitchen on the ground floor. Above are four bedrooms.