The Waltzer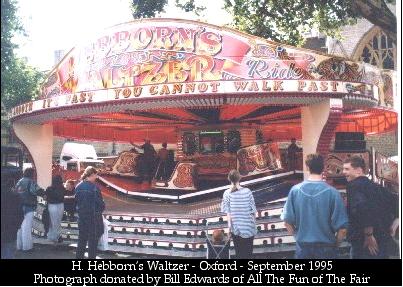 The only photograph I have of the Belle Vue Waltzer is one captured from a family video generously donated by my good friend Bill Bullock.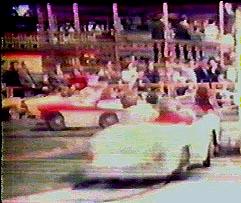 Unfortunately, this video has suffered from a lot of manipulation. The images started out in life as Super8 cinefilm. This was translated to video and then Bill went to some trouble to converted it from the British PAL system to the North American system so I could view it. The video picture was very much over-exposed and became even worse when I video-captured it. So take it for what it is and fingers crossed, maybe one day I will have a clearer image for you. You can see the Waltzer beyond the child's Monte Carlo Rally car ride.
Thanks to Bill Edwards of All The Fun of The Fair, The Web Site For UK Travelling Showmen & Fun Fair Fans, I do have some photographs of travelling Waltzers in the UK.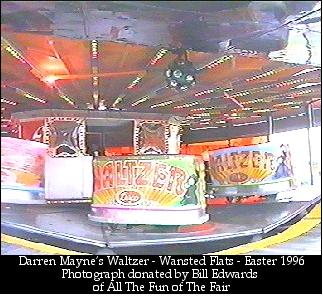 As you will read below, the Waltzer shown above is in fact the same Waltzer that was once at Belle Vue.
---
In June of 2001, Simon Reed wrote to me about a model he had made of the Waltzer that was located at Belle Vue. Simon wrote:
"I recently made a model of the Waltzer that came from Belle Vue in 1/24th scale (1/2" to foot). When at Belle Vue, it had the name Wadbrooks on the front and this was shown in the Worlds Fair June 1-7th issues. I have an e-photo of my model which is based on the ride as it was when owned by Harry Parrish at Billing Aquadrome. It was subsequently sold to Darren Mayne and you have a photo of the cars on your site.

H.P.Jackson WALTZER - 1/24th Scale model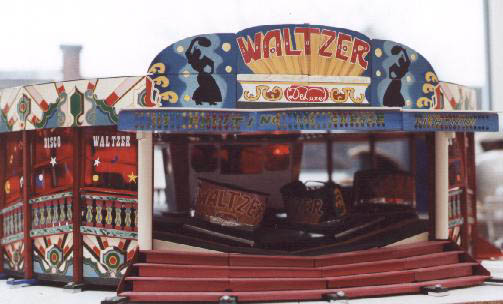 This image is shown with the permission of Simon Reed.

History

The firm of H.P. Jackson and Sons were based in Congleton, Cheshire and produced a number of different fairground rides during the period 1920 to 1995. One of their most successful products was their version of the Waltzer which was produced for some 35 years. The history of the Waltzer design goes back to between the wars when platform rides first began to appear in Europe and the UK. Several manufactures developed the idea and took licences on the various designs. Like most manufacturers, each Jackson's model tended to be slightly different than it's predecessor as technology and the individual clients requirements changed. These variations have left the UK with a diverse range of machines still travelling each with it's own history, design features and unique artwork.
The Machine

The model is based on W100; a machine built in 1961 and supplied to Alf Wadbrook who used it at Belle Vue in Manchester. After this it was sold and was operated for many years by Harry Parrish at Billing Aquadrome before being sold to Darren Mayne of Farnborough in 1990. The model is based on the machine as it was when Darren first took ownership of it. Darren has since had to rebuild large sections of the ride and has repainted it with more modern artwork. The machine is approximately 50 feet in diameter with 24 sections in the floor and roof and an 18 section moving platform. There are three hills, with a longer one running around the back of the ride. There are nine cars which can accommodate approx. 5 people. This means that the ride can have a capacity of approximately 900 people/hour.
The Model

The model has been built in 1/24th scale, half inch to the foot, and is largely based on plans supplied by Carousel Crafts modified as required to reflect the prototype. It is built of Aluminium, wood, brass and plywood and is turned by a six volt motor. The lighting consists of a home made controller mounted in the centre of the ride operating at 12 volts controlling 704 L.E.D.s wired to control 4 circuits with a sequence and random pattern. The model is fully demountable which means it comes apart like the prototype leaving a centre truck on it's own wheels.