The Jennison Hotels and Pubs
The Waggon and Horses
Gorton, Manchester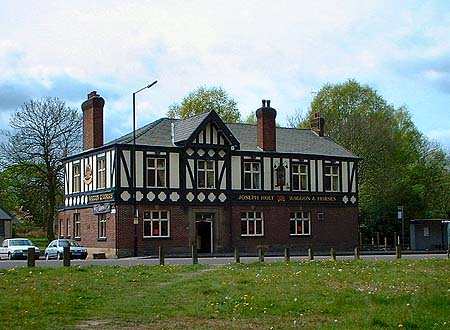 The image above is shown with the permission of Stu Smith
Today the Waggon and Horses, on the corner of Far Lane and Hyde Road in Gorton, is a Holt Pub. In the late 1800s it was part of the Jennison family empire. The pub came into the family when William Jennison, John's son, married Elizabeth Chadwick. Elizabeth had inherited the pub from her father Mark. Mark Chadwick made his money as a hatter but built the Waggon and Horses in 1833 and expanded into the brewing trade.
William and Elizabeth Jennison lived in the Waggon and Horses along with 3 members of staff. After both Elizabeth and William died, ownership of the pub was handed on to their son William who ran it until 1913. William retired that year and sold the pub to Holts.
Today's Waggon and Horses is greatly changed from the original building that Chadwick erected but is one of only two Jennison pubs still operating in the Gorton area.
---
All the material on this web site is © David Boardman, unless otherwise stated, and may not be copied, downloaded or otherwise reproduced or retransmitted without the written permission of the webmaster.
Any contravention of the copyright of others is unintentional and will be corrected immediately when brought to the attention of the webmaster.