The Seaplane Deluxe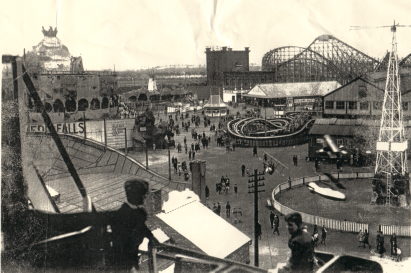 The world famous Bobs roller coaster at Belle Vue was designed by Fred Church, who was one of the best wooden coaster designers in the world. He, along with his partner Prior, invented the concept of a roller coaster with a car that resembled and moved like a bobsled. It wasn't Church who built the Bobs, though, it was an assocoiate of his Harry Traver of the Traver Engineering Company in Pensylvannia. He travelled to Belle Vue to erect Church's coaster and while he was there he also built two of his own rides: the Caterpillar and the Seaplane Deluxe.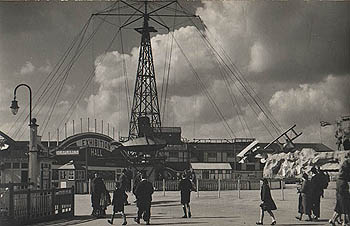 The image above is shown with the permission of Ray Chadwick
The Seaplane Deluxe was a variation of the Circle Swing ride that Traver invented after watching seagulls circling a ship's mast during a trip he made to England. His ride concept, the Circle Swing, consisted of "cable-suspended cars revolving around a central pole." In 1903 he opened the doors to the Traver Circle Swing Co. on Broadway in New York City. From a tentative start, Traver's income skyrocketed to $10,000 a year as he developed more ride designs and redesigned existing rides.
The Seaplane Deluxe used the basic concept of the Circle Swing ride but the passengers travelled in model seaplanes.
---
All the material on this web site is © David Boardman, unless otherwise stated, and may not be copied, downloaded or otherwise reproduced or retransmitted without the written permission of the webmaster.
Any contravention of the copyright of others is unintentional and will be corrected immediately when brought to the attention of the webmaster.