A Guide the Zoological Garden, Belle Vue, Manchester, 1878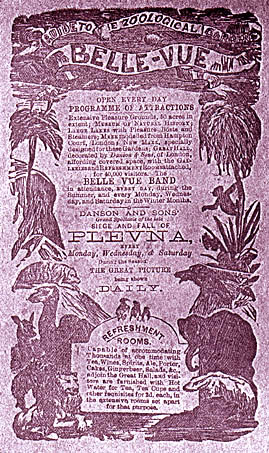 GUIDE TO THE ZOOLOGICAL GARDEN
BELLE VUE
OPEN EVERY DAY
PROGRAMME OF ATTRACTIONS
Extensive Pleasure Ground, 50 acres in extent; MUSEUM OF NATURAL HISTORY; LARGE LAKES with Pleasure Boats and Steamers; MAZE modelled from Hampton Court, London; New Maze, specially designed for these Gardens; GREAT HALL, decorated by Danson and Sons, of London, affording covered space, with the GALLERIES and REFRESHMENT ROOMS attached,

for 4,000 visitors. The BELLE VUE BAND in attendance EVERY DAY, during the Summer, and every Monday, Wednesday, and Saturday in the Winter Months.
---

DANSON AND SONS'
Grand Spectacle of the late
SEIGE AND FALL OF
PLEVNA
EVERY
Monday, Wednesday and Saturday
during the Season
THE GREAT PICTURE
being shown
DAILY
---
REFRESHMENT ROOMS
Capable of accomomdating Thousands at one time with Tea, Wines, Spirits, Ale, Porter, Cakes, Gingerbeer, Salads, &c., adjoin the Great Hall and visitors are furnished with Hot Water for Tea, Tea Cups and other requisites for 2d. each, in the extensive rooms set apart for that purpose.







---
All the material on this web site is © David Boardman, unless otherwise stated, and may not be copied, downloaded or otherwise reproduced or retransmitted without the written permission of the webmaster.
Any contravention of the copyright of others is unintentional and will be corrected immediately when brought to the attention of the webmaster.