Monkeys and Apes
I remember the Monkey House from the early 1950s before they changed its interior design. From its inception the building contained a large central cage with other cages along the outer walls.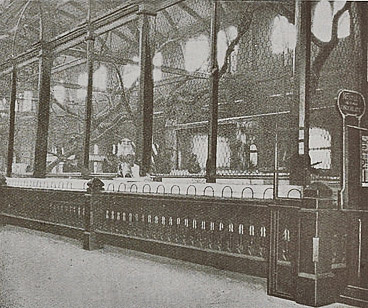 The image above is shown here with the permission of
Chetham's Library
In the late 50s that central cage was redesigned into several smaller ones. When you consider the close proximity of the Monkey House to the Fireworks Lake, it doesn't take much imagination to realize the affect that those performances must have had on the building's residents.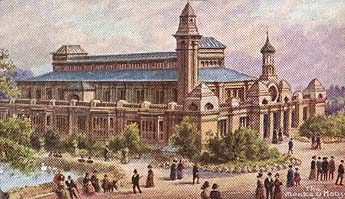 The image above is shown with the permission of Robert Nicholls.
Monkeys had a number of residences at the zoo, one of them being the Monkey Terrace, a row of cages attached to the side of the Elephant House (see red arrow below). On one visit to the zoo I saw a keeper enter one of these cages and one of the monkeys jumped on his shoulder and then his head before leaping onto the roof and away. At a later date those cages were demolished and replaced with a row of bird cages that employed a system of tightly strung wires to keep the birds in whilst giving a less restricted view to the visitors.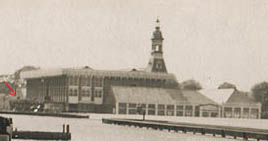 The image above is shown with the permission of Ray Chadwick.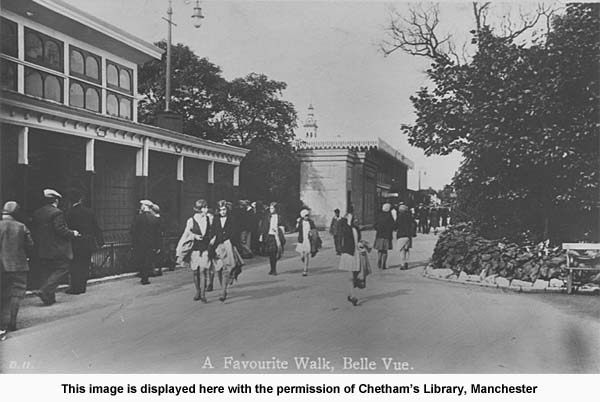 In the late 50s the zoo installed what they called the Monkeyrama. It was a sort of bear pit arrangement filled with hexagonal concrete columns to simulate a sort of artificial Giants' Causeway. It housed, I think, what they called Barbary Apes, the same creatures that live on the Rock of Gibralta. It was located on the edge of the funfare, not too far from the Kings Hall.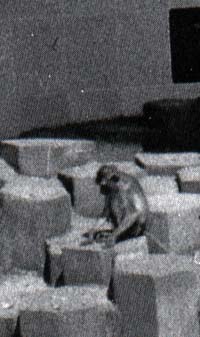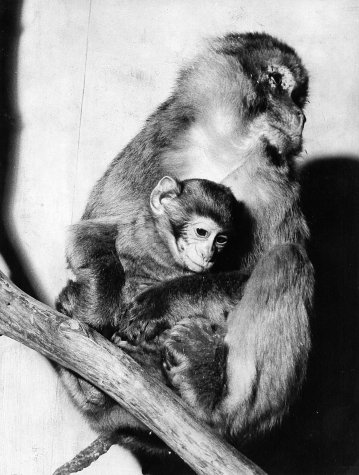 Barbary ape and baby - photograph taken in the Monkey House
This image was generously donated by David Marsh - former keeper
One of the first animal attractions you came to, when entering from the Hyde Road entrance, was the Gibbon Cage, a tunnel shaped structure of slender steel arches covered in a sort of metal mesh (see below). Inside the gibbons performed their acrobatic feats and were often seen hanging casually from the very top of the structure.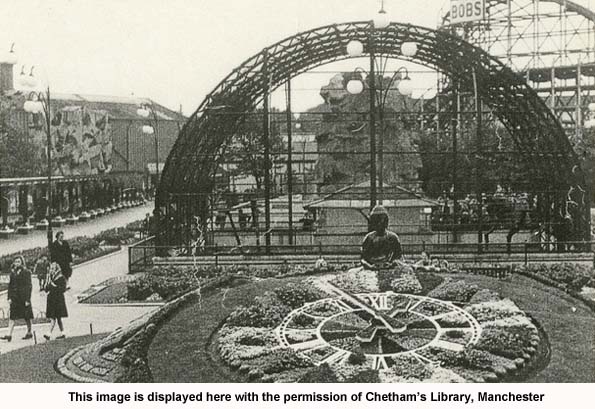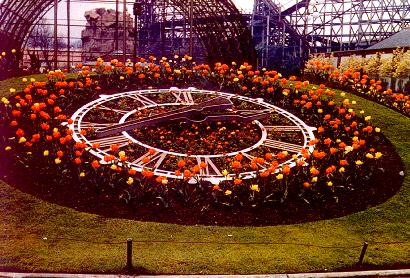 The image of the Floral Clock & Gibbon Cage is shown with the permission of Tom Fish.
In July of 1963 Morecambe and Wise visited Belle Vue to open the new Great Ape House. The building cost £50,000 to build and featured plate glass windows through which visitors could observe the animals when they were indoors. Underground passageways connected the indoor accommodation with outdoor pens.

The images below were donated by Tommy Kelly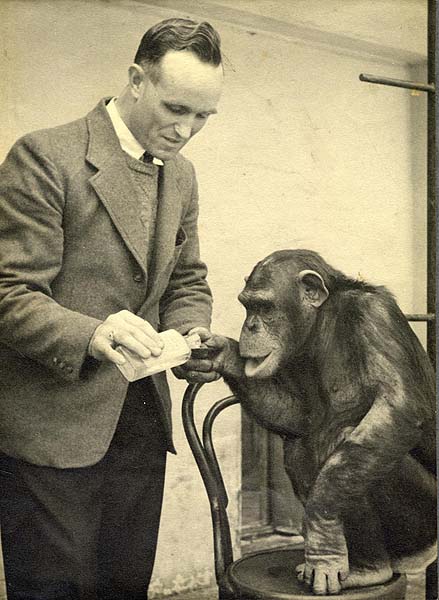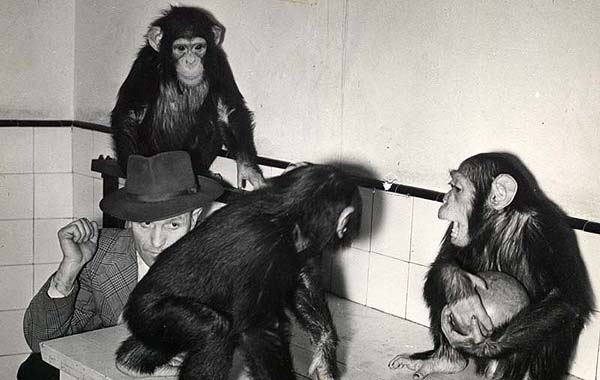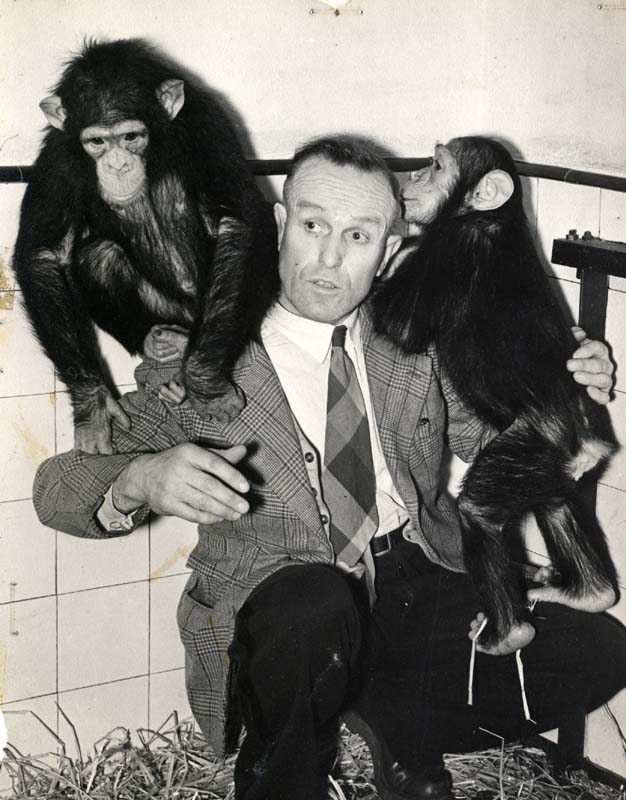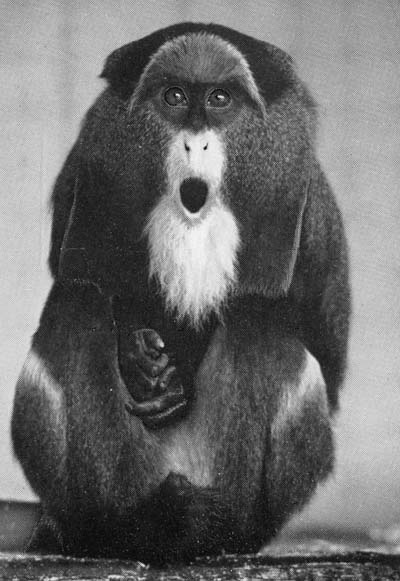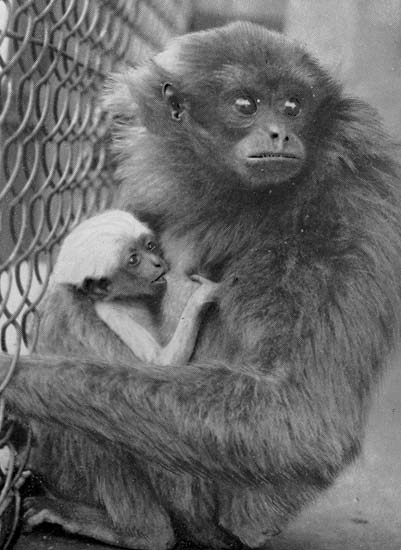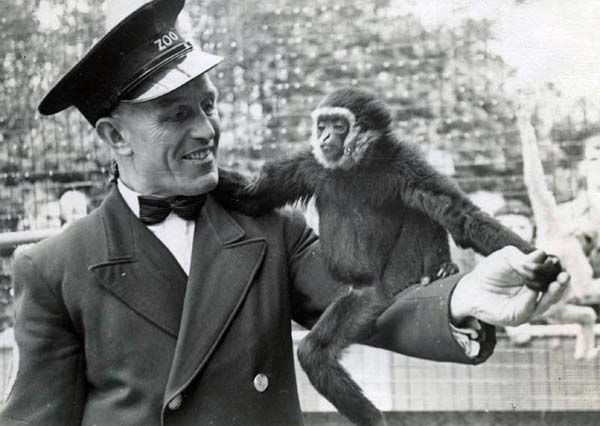 ---
All the material on this web site is © David Boardman, unless otherwise stated, and may not be copied, downloaded or otherwise reproduced or retransmitted without the written permission of the webmaster.
Any contravention of the copyright of others is unintentional and will be corrected immediately when brought to the attention of the webmaster.