Ivan Mauger (1969-1972)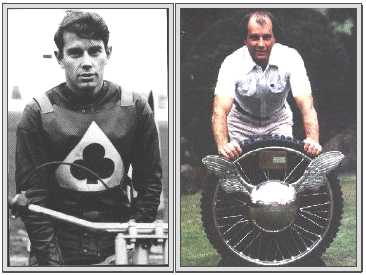 These images of Ivan Mauger were generously donated by
Marc Farmer
Mauger arrived at Belle Vue in 1969 and soon made his presence felt by demanding, and getting, 100% effort from his team mates not only on the track but off it. The legendary Kiwi had a single minded determination to his racing and nothing could deflect his thoughts. He led the Aces to three Championships and a KNOCKOUT Cup win in the early 70's before moving on to race in Devon for the Exeter Falcons. He is revered the world over as the only rider to win three consecutive Individual FIM Championship of the World gold medals (1969/70/72.)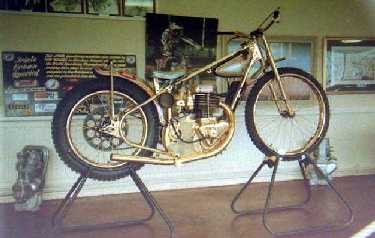 The gold plated Jawa bike given to Ivan Mauger.
The picture was taken at the Donington Motorsports Museum by Les Cotton
In 1970, two men in the USA named George Wenn and Ray Bokelman said that if Ivan Mauger won three world finals in a row at Wroclaw (Poland), they would have the winning bike gold plated. Ivan duly won the World Final that year, and true to their promise, the bike was taken to America and Gold plated, and so was born the "Triple Crown Special." The machine currently resides at Ivan's home in Queensland, Australia
.
**************************************
Marc Farmer was extremely generous in allowing me to reproduce here a number of speedway images. Please visit his excellent Speedway and Grasstrack web site.
The picture of Ivan Mauger's gold bike and MANY MANY others on this site, came from Les Cotton, the walking encyclopedia and generous soul.
---
All the material on this web site is © David Boardman, unless otherwise stated, and may not be copied, downloaded or otherwise reproduced or retransmitted without the written permission of the webmaster.
Any contravention of the copyright of others is unintentional and will be corrected immediately when brought to the attention of the webmaster.