The Jennison Family
John Jennison


John Jennison was the man who founded Belle Vue and whose vision, determination, and enthusiasm turned it into one of the premier tourist attractions in the North-West of England. Robert Nicholls in his book, "The Belle Vue Story", tells an anecdote in which a commercial traveler in the 1870s asked a Worcestershire farmer if he had been to Manchester. The man replied that he hadn't but wasn't it somewhere near Belle Vue.
For those people who knew the park in the 1960s to 80s it is hard to imagine that it could once have been a special place. Robert Nicholls in talking about Belle Vue's declining years, offers us two commentaries on the park. A number of college students who visited the park prior to taking a group children cancelled their plans and described the place as "this disgusting heartless sideshow". They were concerned for the safety of the children since "it was possible for children to touch the animals in the Wolf Wood and in the Big Cats enclosure" Even more damming was the assessment of William Mather, the Manchester industrialist, who visited the park to attend an exhibition. He said, "There is no sophistication about Belle Vue, its car park is the gravest thing imaginable, it is out of date and is located next to a slum."
In the 1800s when the park was in the control of the Jennison family nothing could have been further from the truth. John Jennison and later his sons brought to Manchester the wonders of the world and people flocked to see them.
John Jennison was born in 1793 in Bulwell, a community north-west of Nottingham. He was the second child of John Jennison (1760 - 1826) and Elizabeth Ives (1756 - 1847). His family moved from Bulwell to Macclesfield where his father set up business as a cottage silk weaver. John started work as a gardener, following a strong interest in botony. The family moved again to Stockport and purchased a small plot of land, located where the present day Stockholm Road and Adswood Grove meet. John's father built a house on the land and after his father's death John returned to Stockport to take up residence.
In 1826 John married Maria Barber and the couple had 9 children: John, Ann, Elizabeth, George, Charles, Richard, William, Samuel and James.
Whilst in Stockport, John made his living as a jobbing gardener but he also developed his own garden to the point that he opened it to the public on Sundays in the summer. People came to taste his strawberries and enjoy the garden. The garden added animals to the attraction when John saw how interested people were in a nest of young thrushes. He added cages of British birds, pheasants and macaws. He also started opening the garden daily in the summer. A brewhouse was added to the plot of land and the house converted into a pub called the Adam and Eve. Jennison was doing well but there was little room for expansion.
He was encouraged to look at a piece of land adjacent to the new toll road from Manchester to Hyde. The land had been used for the digging of lime but Jennison saw its potential. He took out a six month trial lease which he soon extended to a 99 year lease. He signed the lease in December of 1837 and moved his family from Stockport the following February.
From a financial point of view, Jennison's Belle Vue Gardens were not an instant success. In Manchester, Jennison had competition from such attractions as the Vauxhall Gardens in Collyhurst and the Manchester Zoological Gardens in Higher Broughton. Access to Belle Vue was a problem too because Hyde Road was a toll road which restricted traffic somewhat and the railways, which were later to serve the park well, were still under construction. In addition, Jennison had a cash flow problem that was not helped by his inability to sell the Stockport property.
Things got so bad in 1842 that bankruptcy proceedings were taken out against him by his creditors. As a measure of his ingenuity though, Jennison managed to survive by the skin of his teeth. He did have to dispose of some of the land he had acquired but in later years the family was able to re-acquire it. The financial situation began to improve, helped in no small part by the opening of the Longsight Station on the Manchester to Birmingham Railway line and by the closure of the Higher Broughton Zoo.
Once the financial problems were behind him, John turned the park into a profitable venture and, spurred on by a visit to the Great Exhibition in 1851, he began to rapidly expand the zoo and gardens and to add many new innovations.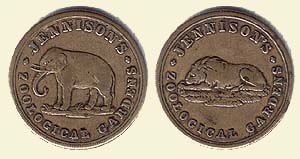 Jennison's Zoological Gardens Tokens
Image generously donated by Mr.Paul Baker
In the late 1860s John Jennison was forced to take a back seat to his sons when it came to the day-to-day running of Belle Vue. A spreading face cancer forced him to be away from Manchester for treatment and then in September of 1869 he died. John Jennison was laid to rest in an impressive tomb in the churchyard in Cheadle.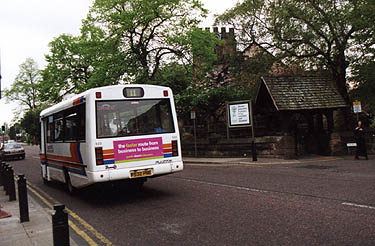 St. Mary's Church, Cheadle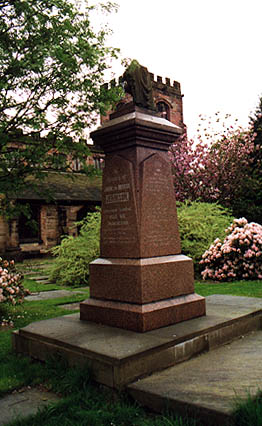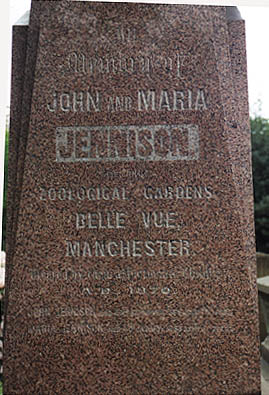 The Jennison Family Memorial
The Inscription reads:
In
Memory of
John and Maria
Jennison
of the
Zoological Gardens
Belle Vue
Manchester
Erected by their affectionate children
AD 1870.
John Jennison died 20th Sept. 1869 aged 79
Maria Jennison died 4 January 1859 aged 67
Other Dedications on the memorial read as follows:
George son of John and Maria Jennison who died Sept 23, 1878 aged 46 years
Ellen widow of the above George Jennison who died March 1888 aged 53 years
George son of George and Ellen Jennison who died June 11 1868 aged 11 months
Ann wife of George Kelsall and daughter of John and Maria Jennison who died March 13 1912 aged 82 years
Also Ellen wife of John Jennison of Heaton Chapel who died Aug 13 1914 aged 66 years
Also John grandson of John and Maria Jennison who died Feb 14 1929 aged 80 years
Also Charles son of John and Maria Jennison who died May 2 1914 aged 78 years
Also James son of John and Maria Jennison who died December 8, 1917 aged 76
Also Pauline wife of James Jennison who died July 24 1927 aged 65 years
In Loving Memory of Mary wife of Richard Jennison who died July 7th 1913 aged 76 years
Also Richard son of John and Maria Jennison who died Feb 10 1919 aged 82 years
In Belle Vue John Jennison had created what one newspaper described as,



"One of the most remarkable institutions of which Manchester, or indeed any city or town can boast."
---
George Jennison
John Jennison, the man who founded Belle Vue in 1836, had 9 children. In 1832 his wife Maria presented him with a son George. George in turn had a son who was named George but the child only lived for 9 months, dying on June 11, 1868. However, George and his wife Ellen had 6 children including another son named George. This grandson of John Jennison was educated in Pontefract and went on to Balliol College, Oxford. He entered the family business and began to play an important role in the running of Belle Vue towards the end of the family's hold on the Gardens.
At the beginning of the 20th Century all was not well at Belle Vue and this was reflected in differences of opinion between the various family members. George was proposing the establishment of a limited company to run Belle Vue but his uncle Richard was set against the idea. In 1919 Richard died and from that point on George and his cousin John acted as Joint Managing Directors of the Gardens.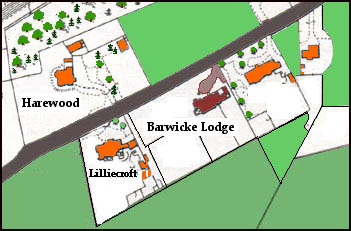 During this period of his life, George lived south of Manchester close to Disley. He had a considerable home on Red Lane, a minute or so from the center of Disley. His house was called Barwicke Lodge and it is still there today although there is a rather odd story to go with the house and the name plate for it.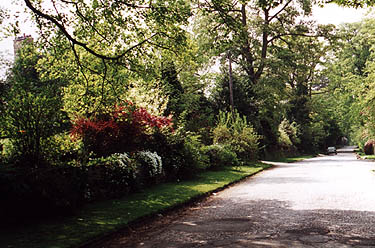 The map above dates from 1907. If you travel along Red Lane today many of the open spaces are now occupied by houses. As you drive along Red Lane looking on the south side of the road, as you pass the house gateways, you will come to Barwicke Lodge. If you walk up the drive you will come to a somewhat unusual sight in rural Cheshire, a log cabin. It seems that one of the residents of Barwicke Lodge, after George Jennison, sold the Lodge but built this log cabin in the garden to the west of the old house. He retained the ownership of the name Barwicke Lodge and took it with him. The log cabin, I was told, was constructed in four sections in Scandinavia and transported by truck to Disley. Again, I was told, that the lady of the house was Russian and chose this squared log structure to remind her of home.
George Jennison's former home is the older house just east of the log cabin. If you look at the picture of Red Lane, above, you can see the chimneys of Barwicke Lodge through the trees on the far left.
When the Jennisons sold their interest in Belle Vue, in March of 1925, George continued his connection with the Gardens as a zoological advisor, for the sum of £1000 for one year. He returned in the same capacity in 1932 - 33 but just for a brief period.
Disley Church is located at the town end of Red Lane and around the church is quite an extensive graveyard. If you walk on the stone pathway that leads westwards away from the church, you come to a stone wall with a gate in it.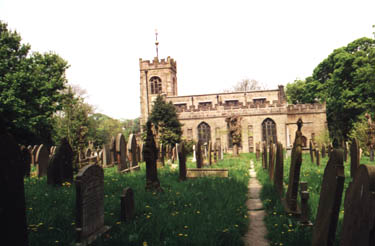 Once through the gate you are in a rural lane and across the lane you will find an annex to the church yard. In the far south-west corner of this second graveyard we found a simple stone inscribed to George Jennison.
The Stone reads as follows:

TO

THE DEAR MEMORY

OF

GEORGE JENNISON

WHO DIED ON THE 21ST, OCTOBER, 1938

AGED 66 YEARS

IN MEMORIA ACTERNA ERIT JUSTUS


**********************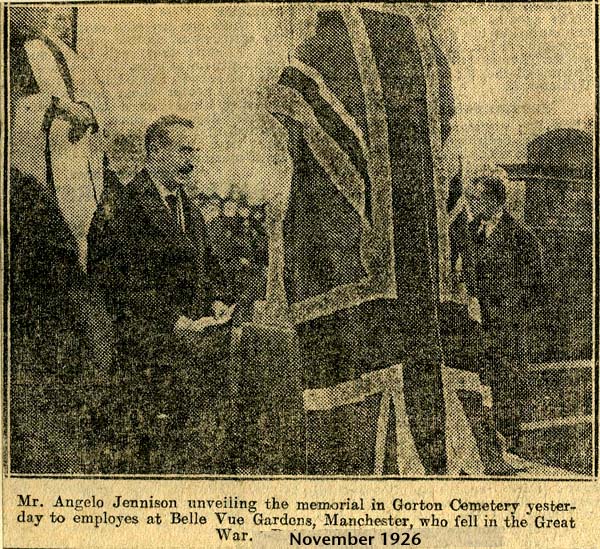 ---
All the material on this web site is © David Boardman, unless otherwise stated, and may not be copied, downloaded or otherwise reproduced or retransmitted without the written permission of the webmaster.
Any contravention of the copyright of others is unintentional and will be corrected immediately when brought to the attention of the webmaster.