Peter Collins
Born on March 24, 1954, in Partington, Manchester, Peter Collins was the eldest of 6 children, 5 boys and one girl. The family moved from Partington to Lymm in Cheshire and it was on their father's farm, in Cheshire, that Peter started his motorcycle riding career.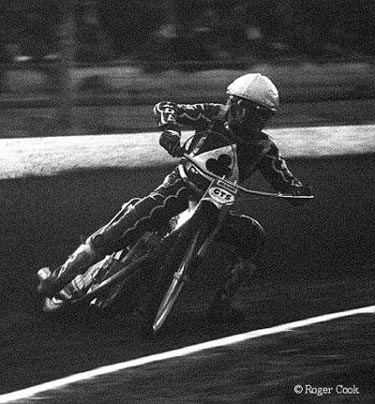 As a child Peter had attended the Belle Vue Aces races at the Hyde Road Stadium and this was the inspiration for his passion for motorcycles. By the age of 16 he was competing at grasstrack meets and in 1971, at the age of 17, he became the British 350cc Grasstrack Champion. He came to the attention of Belle Vue that year and they signed the young Collins but loaned him out to the Rochdale Hornets speedway team. He also saw service for the first time for his country in 1971 being capped for Young England.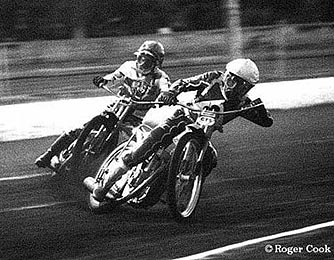 In 1972 Peter was a full-time Belle Vue Ace and quickly become one of the team's stars. He also continued to ride the grass tracks and in that year he retained his 350cc championship and came second in both the 250cc and 500cc competitions.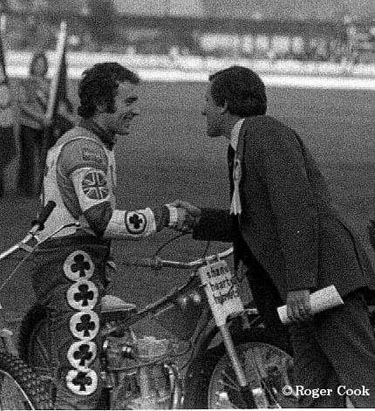 Peter Collin's career at Belle Vue spanned a period of 16 years. Following a serious crash, at Cradley Heath's Dudley Wood track, which resulted in a smashed and dislocated left shoulder, Peter announced his retirement from the British league. However, after a brief career concentrating on European meets, he returned to the Aces in 1982. He rode his last competitive speedway race on Sunday, March 29, 1987, at the Hyde Road stadium.
Without question the greatest achievement of his riding career was the Individual World Speedway Championship that he won at the Slaski Stadium at Chorozow Katowice, in Poland, in 1976. Ironically, it had been 14 years since a British rider had won the Individual World Championship, and that person had been Peter Craven, one of Collins' predecessors at Belle Vue. Collins came close to matching Craven's achievement of 2 championships in 1977. With a fractured femur and ripped muscles and tendons from an accident at the Belle Vue track, Collins discharged himself from hospital and against doctor's advice flew to Gothenburg on a private jet provided by the Belle Vue owners, Trust House Forté. In torrential rain Collins competed with his injuries and still came a close second to the New Zealand rider, Ivan Mauger.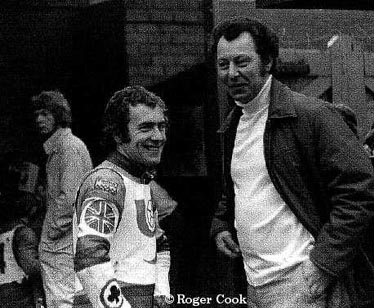 Among his achievements as a rider, Peter Collins won:
The British 350cc Grasstrack Championship - 1971 & 1972
The World Team Speedway Championship - 1973, 74, 75, 77 and 1980
The World Pairs Speedway Championship - 1977, 80, 83 and 1984
The World Individual Speedway Championship - 1976
---
OTHER LINKS
The photographs Peter Collins are shown here with the permission of Roger Cook. Please visit Roger's Web Site and take a look at his interesting collections of material on: photography, sports, science, collecting things and travel.
For more information on speedway visit the Unofficial Belle Vue Aces Speedway Web Site
---
All the material on this web site is © David Boardman, unless otherwise stated, and may not be copied, downloaded or otherwise reproduced or retransmitted without the written permission of the webmaster.
Any contravention of the copyright of others is unintentional and will be corrected immediately when brought to the attention of the webmaster.