The Caterpillar
Another ride that cost a bob to ride back in 1946 was The Caterpillar. A continuous car running at a gradually increasing speed around a wave-like track its ride culminated in a canopy swinging over the cars, plunging the riders into darkness and creating the outside image of a high speed caterpillar. The ride was so popular that for a time the park ran two of them. The Caterpillar at Belle Vue was built by Traver Engineering a company owned by Harry Traver. Traver was an American who became famous as the designer of some of the scariest coasters ever built. He built the Cyclone, at Crystal Beach, Ontario, Canada, the only coaster to have its own full-time nursing station to deal with nausea and bruised ribs. Traver also built a ride called the Seaplane Delux at Belle Vue and he probable erected the Bobs.
In the first of the photographs above you can see the green canopy folded up alongside the cars.
The photographs below illustrate the operation of the Caterpillar at Idlewild Park in Ligonier, Pensylvannia, showing the deployment of the canopy and the transformatioin into a caterpillar. The photographs are shown here with the permission of Joel W. Styler and all the images are © 1999 Joel W Styer. All rights reserved and must not be reproduced with the consent of Mr. Styer. On his RideZone site, Joel has a photograph of Hyla F Maynes, the inventor of the Caterpillar with a prototype ride.

A close view of the canopy mechanism.
The Belle Vue Caterpillar was sold to the Southport Pleasure Beach where it is still operating, complete with functioning canopy.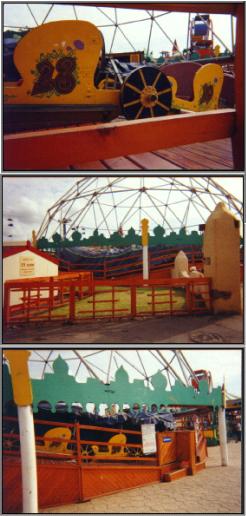 The Southport Caterpillar: Photograph donated by Bill Bullock


---
OTHER LINKS
For much more Roller Coaster news, pictures and features visit the European Coaster Club.
Visit Joel Styer's RideZone, an interesting and informative guide to operating amusement parks and a reference to rides.
It also includes information on defunct parks.
If you are a fan of rides at the Fair you should visit the All The Fun of The Fair web site
which really is The Web Site For UK Travelling Showmen & Fun Fair Fans.
---
All the material on this web site is © David Boardman, unless otherwise stated, and may not be copied, downloaded or otherwise reproduced or retransmitted without the written permission of the webmaster.
Any contravention of the copyright of others is unintentional and will be corrected immediately when brought to the attention of the webmaster.