Boxing at Belle Vue
Over the years Belle Vue hosted a number of high profile boxing fights dating back to 1929.
The first two panels below show a fight in 1929 between Ardwick middleweight boxer Len Johnson (black trunks) and George West (white trunks) from Fulham. The fight ended in a win for Johnson after twenty 3 minute rounds. The final panel shows the reigning featherweight champion Johnny Curley (black trunks) fighting Billy Hindley from Horwich. Curley retained his title on points after another twenty 3 minute round contest.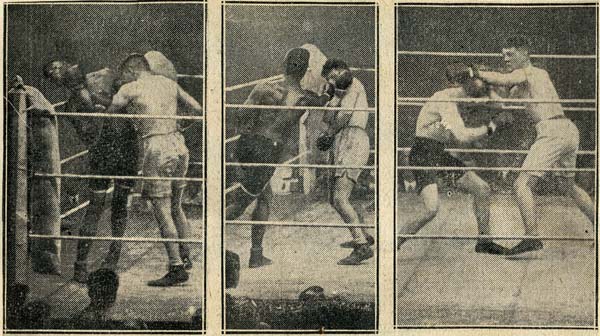 ****************************************
Below: Dave MacGill (left), the English Champion, and Tom Berry, the Irish Champion, weighing in for their British Empire Cruiserweight Championship bout in February 1927. For 20 shillings people were able to purchase a reserved ringside seat. Whether it was the fight or the cost of the seats the crowd was described as disappointing.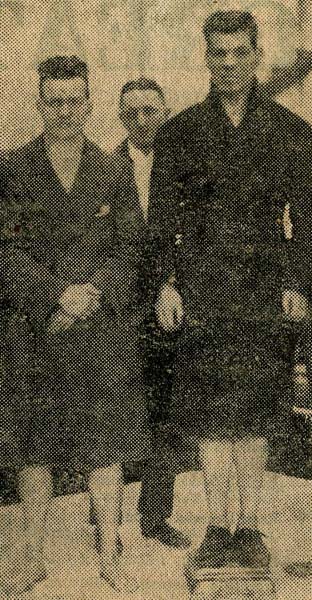 The fight apparently ended in a rather uneventful points win for Berry but was interesting for the fact that the referee, J. W. H. T. Douglas chose to referee from outside of the ring. A reporter said of the referee, "He sat there last night with the blue smoke curling up from a cigar in his hand and he was almost as arresting figure as the fighters. Suddenly his voice would ring out; "Step back - both!" And there is something in that voice that makes a mad do as it says.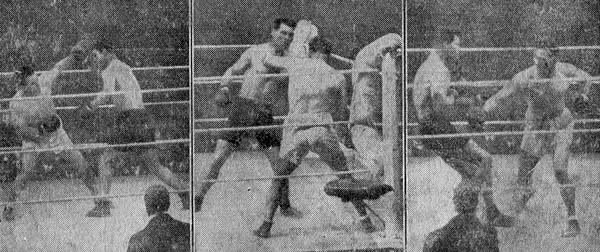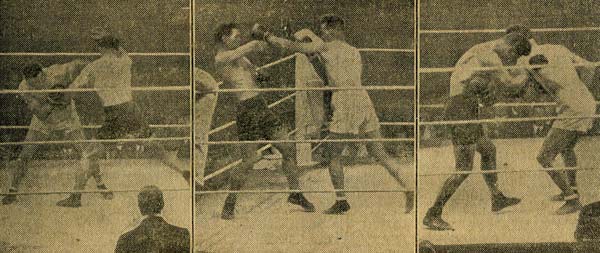 *********************************************
Below: George Rose of Bristol being knocked-out in round 6 by Al Foreman to retain his British light-weight Championship in October 1930. The press of the day felt that Rose outboxed the Champion - until he knocked him out.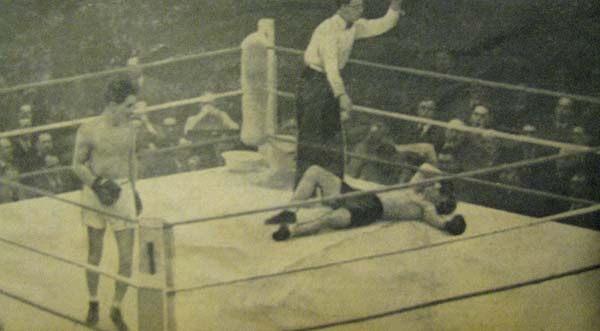 Prior to the fight the press took this photograph of the Lonsdale Belt arriving in Manchester to be presented to the minner of the Foreman - Rose fight. As you can see the belt arrived in a biscuit tin but was willingly removed to show the porters at London Road Station.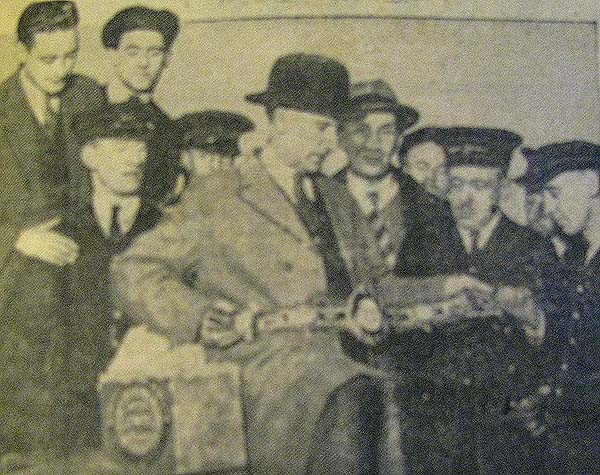 *********************************************
November 1925 and Kid Lewis, ex World Champion, is knocked to the floor by Len Johnson in round 6. Lewis retired unexpectedly at the end of round 9. Johnson earned £1000 for the fight.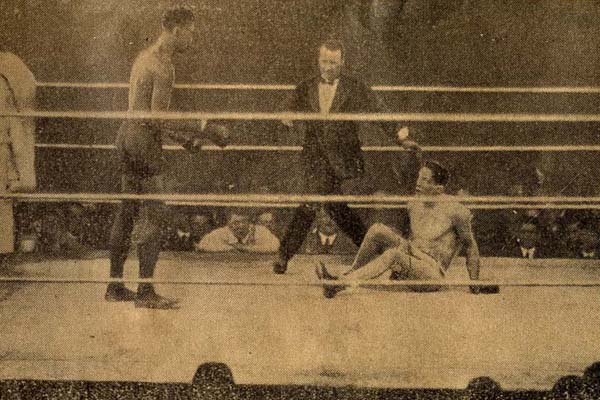 Below you can see Lewis' towel in the ring near Johnson's feet as he walks across to shake hands at the end of the fight.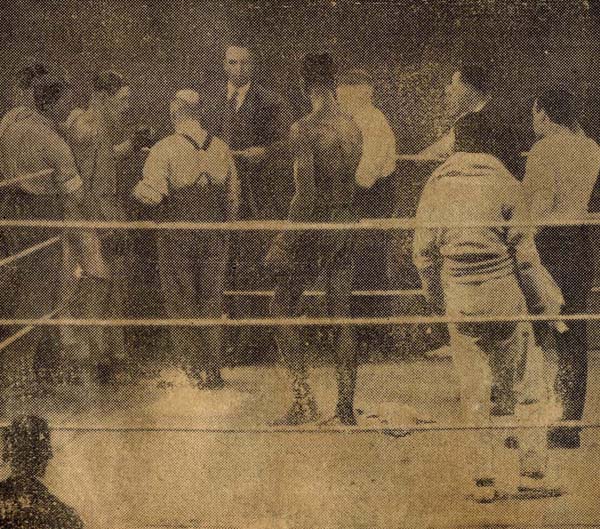 *************************************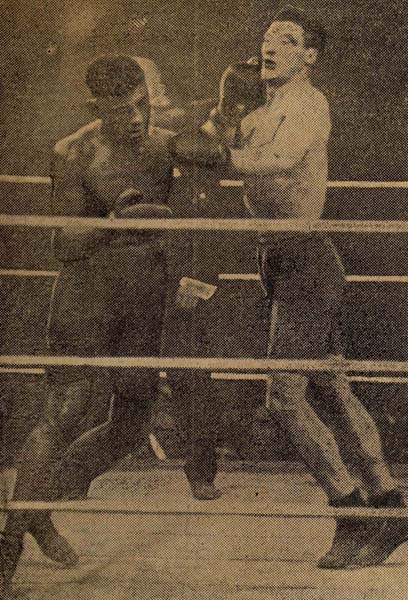 September 1925 and Len Johnson from Ardwick beats Roland Todd on points to take the British Middleweight Championship. The bout was over 15 rounds and 6000 people packed the Kings Hall to watch it.
*************************

Jackie Brown

The following article appeared in the Guardian on Friday August 3, 1934
Boxer who bit a man's ear

Four months' hard labour for Jackie Brown: 'great provocation'
Sentence of four months' imprisonment with hard labour was passed at Manchester Quarter Sessions yesterday on Jackie Brown (24), the world's fly-weight boxing champion, who, after a trial lasting over three hours, was convicted of assault by occasioning bodily harm upon Louis Tarchman, of Choir Street, Lower Broughton, Manchester. Brown's address was given as Valley Road, Bramhall. The jury, in returning their verdict, added that in their opinion Brown committed the assault under great provocation,.
Sir Walter Greaves-Lord, K.C., M.P., the Recorder, passing sentence, said that he thought the jury had taken exactly the right view, and that there was a considerable amount of taunting, although Brown, of all people, ought to have refrained from the particular form of violence which had been proved. He had always understood that England was extraordinarily free of anything which savoured of unfairness or unsportsmanlike conduct. If it had not been for the jury's opinion that there had been provocation the sentence would have been more severe. He hoped that this would be a lesson to Brown and that he would keep within the bounds of sportsmanship in the future. Mr. B. S. Wingate-Saul prosecuted. Brown was defended by Mr. J. C. Jackson, K.C., M.P., and Mr. Edgar Lustgarten.
Mr. Ludgate-Saul described how on July 1 Tarchman, accompanied by a man named Nathan Goldberg and two women, went to Blackpool. In an hotel there Brown spoke to one of the young women, Mrs. Vera Sheldon, who was known to the party as "Blondie." As the party was leaving he took her aside and detained her in conversation. Tarchman went over to them, and, after Brown had used an offensive term, Tarchman said, "You may be a champion, but you take no liberties with me."
The men were separated in the hotel, and later the Tarchman party drove off in their car to Manchester. Brown followed in his car with his chauffeur. Tarchman twice had occasion to stop on the way, and on both occasions Brown's car stopped.
When they got to the corner of Bury New Road and Waterloo Road Tarchman stopped with the intention of telephoning to the police from a police-box. Brown's car drew up immediately behind. To walk to the box Tarchman had to pass Brown's car. According to one account, Brown called to Tarchman, "Come here, you little -." According to another, Tarchman went up to the car and said: "Don't be so cocky. It is only four years ago since you were holding a bucket for me."
According to onlookers, Brown left his car, dashed at Tarchman, seized him by the hair, and during a struggle bit his ear deliberately, biting an inch off it.
For the defence it was urged that Brown was a friend of Mrs. Sheldon and of her husband, and when he saw her in the hotel he tried to persuade her to return to Manchester with him "as he did not like the company she was in." Tarchman, according to Brown, used insulting language in the hotel and shouted insulting remarks from his car on the way home. It was also claimed that when Brown's car attempted to pass Tarchman's near Chorley, Tarchman attempted to ditch the other car.
Brown's case was that Tarchman struck him and when he attempted to defend himself he held Tarchman's head back. Tarchman gave him a foul blow and, with the sudden agonising pain, he involuntarily clenched his teeth. He was not aware that he had bitten Tarchman's ear.
Harry Fleming, Brown's trainer, testified that when he examined Brown shortly after the incident there was evidence that Brown had suffered a low blow. Brown had followed the car with a view to making sure that Mrs. Sheldon got home safely.
In his summing-up the Recorder warned the jury that they must keep their minds free from the influence of anything they might have read in the newspapers of the earlier stages of the case and of any stories they might have heard."
************************
Frank Johnson
Steven Williamson brought Frank Johnson to my attention as another fighter who should be added to this section of the website. He pointed out that,
"Frank first won the British Lightweight title at Belle Vue on 25th July 1952 in a non-stop thriller. He fought quite a few times at the famous Kings Hall arena during his career and one of his greatest performances, apart from first winning the title against Tommy McGovern in 1952, was his final eliminator to regain the Lightweight title on 10th Dec 1954, when he outpointed Johnny Butterworth in a classical display of boxing skill. Frank was the first Manchester fighter to win the Lightweight title and was the only Manchester holder of the Lonsdale belt for nearly 35 years."
Steve sent these images of Frank.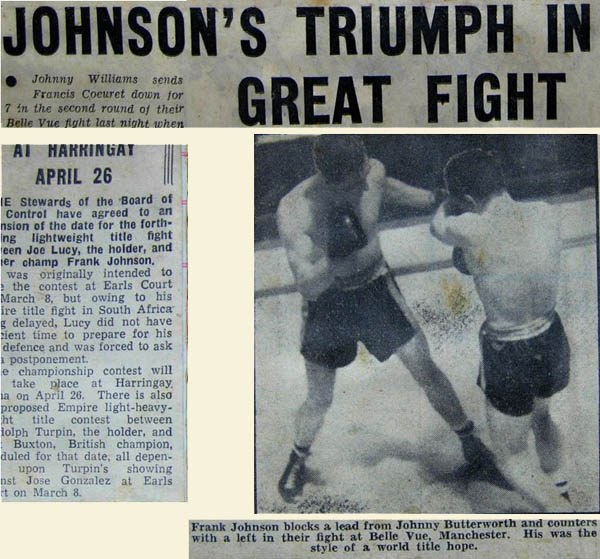 Steven also sent along this story: "JOHNSON'S TRIUMPH IN GREAT FIGHT. What a great and classical contest this was. It had the crowd tingling with excitement from start to finish. I have never seen such a great contrast in styles. There was Butterworth, short, stocky, a bulldog if ever there was one – and Johnson, the cool, stylish, classical boxer, the master of footwork, of stance, of evasive action and of counter punching. Butterworth, rugged, lion-hearted, knows only one way, to go forward, crouching, ignoring punishment, drawing punches from all angles trying to wear down and knock out his man. Johnson was his master throughout the fight. He was never worried by the Rochdale boy's tearaway style. Johnson either side-stepped, ducked, or caught on his gloves, or smothered with his elbows again and again, then Johnson hit him with every punch in the book. Butterworth was as irrepressible as a bobbing cork in a rough sea. No matter how much Johnson tied him up, side-stepped him, battered him in counter attacks, he never gave up going in and giving everything he had. They both flared up for a grandstand finish in the 12th. The verdict brought a terrific cheer but there it was, a master boxer well won a great contest" (Tom Phillips/ The Herald)

"JOHNSON GIVES LESSON TO BRITAIN'S HEAVYWEIGHTS. There was more skill and action in one round of this fight than in the ponderous, combined operations of the two ex-heavyweight champions on the same bill. Johnson would have given them advanced lessons in the finer arts of boxing. He was a professor in fight gloves, aloof, nonchalant. Butterworth could have shown them all there is to be known about superb fitness and blazing, unquenchable spirit. Johnson seeking to regain the title which he once held and tossed away on the scales, has only to box like this and he will not only be British Champion but heading straight for a World Title" (Desmond Hackett/ Daily Express)

Then in 1955 Frank was granted a return chance against Joe Lucy for the British Lightweight Title. This fight was at Harringay Arena, London and was to be the first fight to be broadcast live by the BBC – millions watched a masterful display by Johnson to regain the Lightweight Title in a hard fought, close fight over fifteen rounds."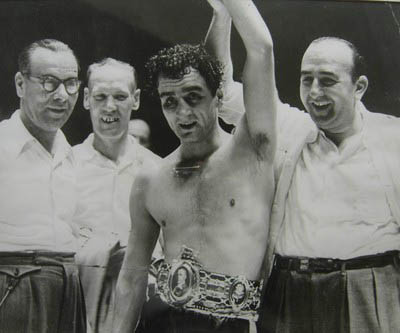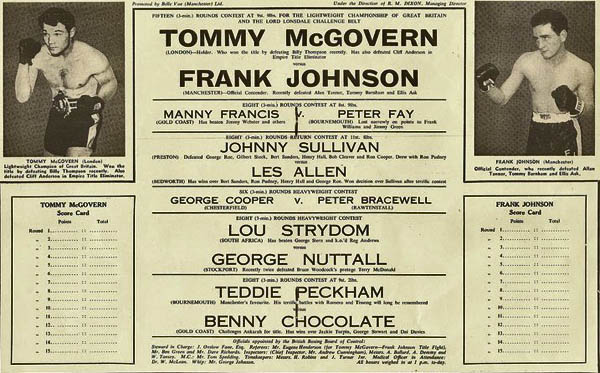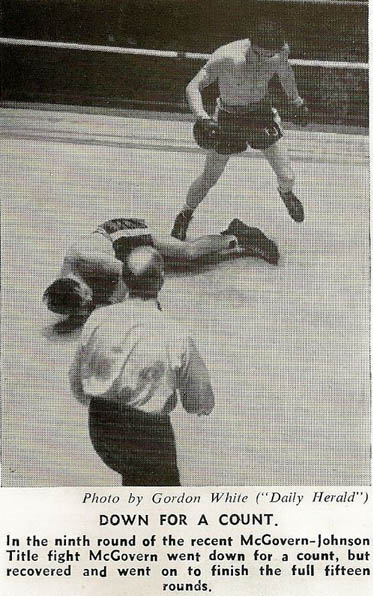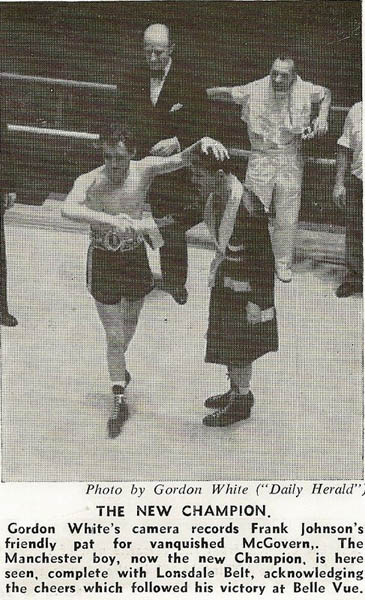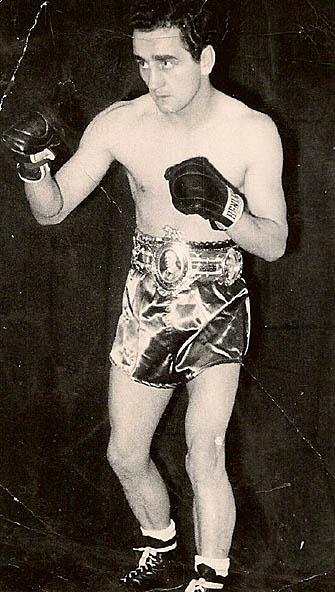 ********************