The Water Chute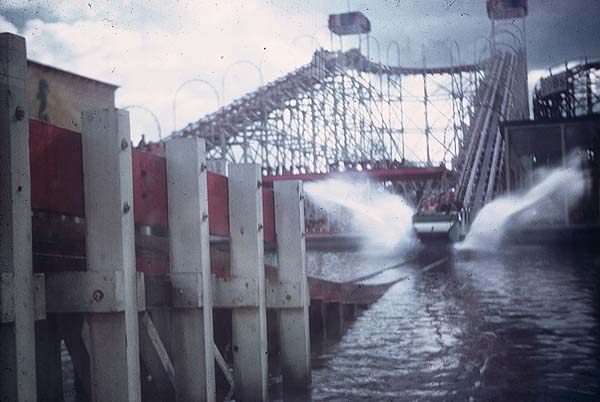 The image above is shown with the permission of Bill Bullock.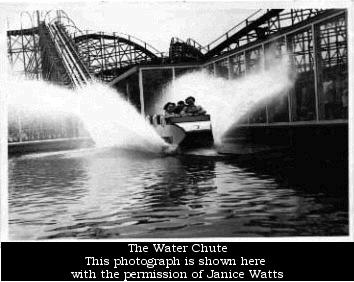 In 1957 the park added a Water Chute close to the main entrance on Hyde Road not far from the Bobs. The ride was fairly simple, with a car designed to hold a number of pairs of passengers. The car slowly climbed a steep track, swung around a short summit and then hurtled down into a pool that was surrounded by a glass viewing wall. The riders screamed as they descended the track towards the water and the spectators ducked and flinched every time the water crashed against the glass wall.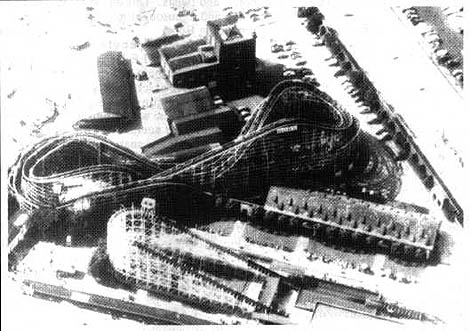 The Bobs at the top of the picture and the Water Chute at the bottom.
The photograph above is shown with the consent of Justin Garvanovic, the publisher of the "First Drop",
the roller coaster magazine of the European Coaster Club .
The ride was dismantled in 1978 and according to Nick Bralesford [writing in the Spring 1993 edition of the Roller Coaster magazine] the track and operational parts were bought by the Pleasure Beach at Blackpool. Robert Nicholls says he has seen the water chute operating at Blackpool. I read that it is operating under the name Vikingar. Then on June 14, 2001, I received this message from Gary Radice who lives in Liverpool: "Sadly the Vikingar is standing but not operating for the 2001 season..it looks like this is the last time we will see the ride" Gary's photos are shown below with his permission. Then, in a further twist in the story, Gary wrote again in January of 2002 and said, "The latest on this classic ride is that I have heard it is REOPENING on 2/3/02..I'll keep you posted.. ", so stay tuned.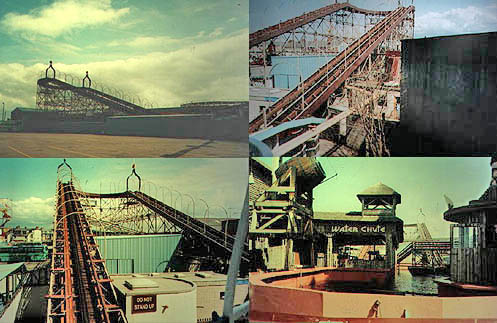 Les Cotton donated these photographs of the Water Chute
at the Ocean Beach Fairground in Rhyl, North Wales. As you can see, it is a twin for the one at Belle Vue.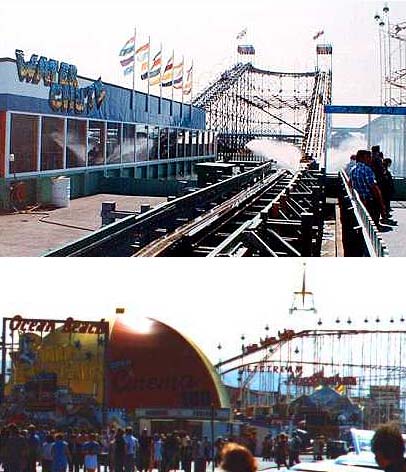 ---
OTHER LINKS
For much more Roller Coaster news, pictures and features visit the European Coaster Club.
Visit Joel Styer's RideZone, an interesting and informative guide to operating amusement parks and a reference to rides.
It also includes information on defunct parks.
If you are a fan of rides at the Fair you should visit the All The Fun of The Fair web site
which really is The Web Site For UK Travelling Showmen & Fun Fair Fans.
---
All the material on this web site is © David Boardman, unless otherwise stated, and may not be copied, downloaded or otherwise reproduced or retransmitted without the written permission of the webmaster.
Any contravention of the copyright of others is unintentional and will be corrected immediately when brought to the attention of the webmaster.