School Uniform at Ardwick Tech

At the turn of the 20th Century, when the Ardwick Higher Grade and Organized Science School stood on Devonshire Street, the latest teaching tool was a magic lantern and students were watching a presentation of the White Star Line's entitled "From Manchester to the Falls of Niagara." Ellen Wilkinson was in Mr. Westerman's class and it appears from a photograph taken at that time that there was no standardization of student dress. In the headmaster's report it was noted that boys tended to wear Norfolk type jackets and the girls wore ankle-length dresses with noticeably broad high collars and long sleeves. The predominant colours were white and black
.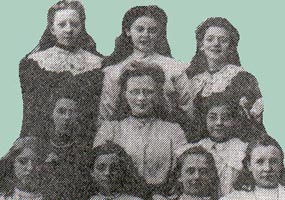 The only reference I can find to a school rule about dress was one that declared that:
"The Managers are not responsible for any article of clothing left at the School. Any such article found by the caretaker will be returned, when owned, on payment of 1d for each article."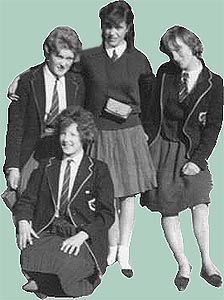 School colours must have been introduced at some point prior to the 1930s but the history of the school has few references to clothing until 1931. In 1912 though a rule was introduce that required that, "All boys must swim in costume". The image of prior practice conjures up some interesting images but apparently this was introduced to stop the practice of swimming in shorts or trousers.
By 1931 the school history records that: "The School was well aware of its motto, 'Duty First' and by this time school colours of green and yellow had become predominant. Girls wore gym slips and there was a winter hat, known as a "pork pie" hat, which fitted rather like a skull cap. In summer a wider-brimmed straw hat, with coloured hat band, could be worn. School ties were worn by both boys and girls. A green blazer was also available with a school badge bearing the letters A. C. S. and with the emblem of a brightly burning torch. School uniform was not compulsory, yet it was accepted as desirable."
The school went through a number of transformations in the next 30 years but the uniform stayed very much the same, although by the 50s it was more compulsory than desirable.

Janet Sheldon reports that in the 1960s girls were expected to wear a white shirt and a school tie under a green gym-slip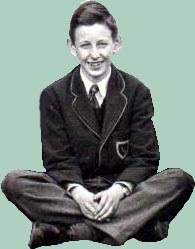 with a green v-neck pullover as a fashion accessory. Janet says, "I recall being asked out to 'front' the class by a teacher [maybe Mr Cox] when I was in first year. As I stood there at the front , he said to the class, 'Look at this tie', and I thought, 'Oh God, what's wrong?' and he went on to tell them how I put the boys to shame as I had the most perfect knot when all the boys looked a 'shambles'. My 'grown up' brother taught me how to do a Windsor knot, and it looked pretty 'sharp' next to everyone else's, so I had to show the class how to do it." A green gabardine was recommended for 'outer wear' and as you can see from the price list below, provided by Carolyn (Watkin) Connolly, it came with a variety of linings including camel. In summer girls had to wear green and yellow gingham cotton dresses, with pullovers, and blazers instead of gabardines.
Boys wore a green blazer, grey or black trousers although my memory is that First and Second Years were expected to wear shorts and getting to wear "long trousers" in Third Year was like a right of passage. Boys were also expected to wear caps, although my theory is that this was designed to provide the other boys with entertainment when bullying First Years. The frisby was invented a lot earlier than most people believe.
I also have a memory of 6th years, in the 1960s, being allowed to wear black blazers as a sort of symbol of their elevated status. Prefects similarly wore a green and yellow tie that had torches between each yellow stripe.
| | |
| --- | --- |
| | Henry Barrie's in St. Anne's Square was the official supplier of the school uniform but few of the people I knew shopped there for anything other than a badge and a tie, which couldn't be purchased elsewhere. Mind you, it was an ordeal going in there for such modest purchases and we were made to feel as poor as we were by the shop assistants. In most cases people shopped at Lewis's and Paulden's for a basic green blazer and sewed on the badge. |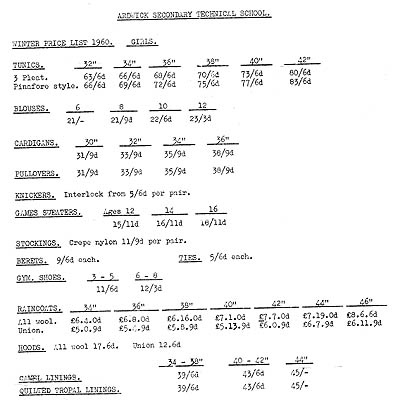 Having worked in education all my life, I have been aware of the arguments for school uniforms on both sides of the Atlantic. Nothing changes because as we move into the 21st Century the government of Ontario, in Canada, has been talking about introducing uniforms to its schools as part of its Code of Conduct in an effort to set standards of behaviour. It has been argued for a long time that school uniforms set a tone. They present an image for a school and provide a sense of unity. They level the playing field between rich and poor students and they remove from the educational environment the distraction of fashion. Girls coming to school in halter-tops and skimpy shorts are regarded as an undesirable distraction and they set a moral tone that is to be discouraged. The cost of outfitting young people in designer clothes and trainers is bankrupting parents and even spawning assaults and theft.

My view is that uniforms may have a value but they don't address the problems they were designed to solve.

Firstly, they don't level playing fields. In my day those with enough money shopped at Barrie's and their blazers had a yellow stripe that made them stand-out from others. It was clear to everyone who was rich and who was poor. It was no different than the problems created today between the kids who wear the Nike trainers and those who have to show up in something bought on the market. When my mother saw the list of uniform requirements, including football and cricket kit, it was almost the end of my career at Ardwick Tech before it started.

Secondly, uniforms not only don't help with the behavioural tone of the school, they actually provide another battlefield between staff and students. Girls have always been on the sticky end of this fight because for the most part their uniforms have rarely matched the sort of image they would choose away from school. It would have been unusual to find a girl in the 60s wearing a tie and a knee-length skirt, wearing no jewellery or make-up. Jewelry was banned and make-up frowned on. Some teachers even took to measuring skirt lengths and many girls took to rolling up their waist bands soon after to restore their own view of the world. They also caused problems between students because in many ways they were analogous to gang colours, identifying students from "enemy" schools who were either "snobs" from Grammar Schools or "thickies" from Secondary Moderns. The uniform had replaced the individuality of the wearer and tarred them with all the prejudices that were reinforced by belonging to the "gang".

In 1967 when the three schools were melded into one, an effort was made by the School to accommodate the three realities from the previous schools. The girls from Ardwick Secondary had been wearing navy-blue skirts, that were no shorter than knee length, navy-blue jumpers and cardigans with white or blue shirts, white socks and a dark and light blue striped tie. The school badge displayed a fleur-de-lys. The boys at Nicholl's had a uniform that included a black blazer, with a badge which had a castle tower as its emblem. Their school colours were royal blue and gold.

The new Nicholl's Ardwick High School adopted 'Salvo officio' as the school motto and the school colours were black, silver and lime green. The blazer was black with a badge which incorporated the emblems of the three schools; torch, castle tower and fleur-de-lys. Ties, grey or black trousers, grey pullovers, white blouses and grey skirts for girls were the main other uniform items and any departures from these standards was discouraged."


Janet Sheldon says, "By 1967 the uniform changed to accommodate all the 3 schools and to create a 'new identity'. Fun and games ensued as the smart ones played the system and went in for a bit of Ghandi's passive resistance." She adds, "Us 'Techies' were hanging on to the 'bottle greens' to show 'status', and if we were asked why, we would come up with some 'old bull' about our parents could not afford to kit us out again. We were told, 'Once it needs replacing, it must be with NEW colours.' I was there another 4 years and NEVER got the new look! I think staff became jaded with it all. I had corduroy skirt, turtle-neck pullover, even a black v-neck at times and got away with it."