This spectacular multi-level railway station occupies the site of the former Lehrter Bahnhof. The construction of the new station involved the creation of new railway lines carried through tunnels beneath the Tiergarten and on bridges over the River Spree. The Tiergarten tunnels took 10 years to complete. Trains pass through the station on two levels with tracks passing perpendicular to each other. The track levels are separated by the floor that provides access from the street and offers various services and retail outlets to customers.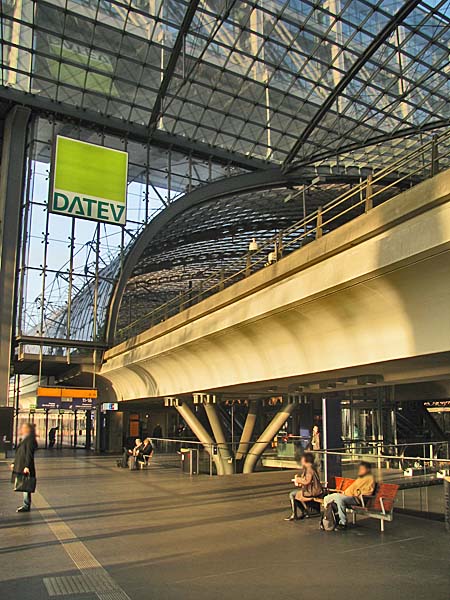 The architect explains that,

" At this station the new underground north-south link of the InterCityExpress service connects with the west-east line running on a curved railway track. Additionally, suburban railway tracks in both directions, as well as an underground line from north to south arrive at this station. The north-south track runs 15 m below ground level in a tunnel, which also passes below the River Spree and the Tiergarten"



A glass and steel roof spans the upper level of the station flooding the building with light. The roof also contains photo-voltaic cells that produce

160,000 kw/h of electricity a year, meeting about 2 percent of the Hauptbahnhof station's needs.