Great Hall - The People's Palace, Queen Mary University, London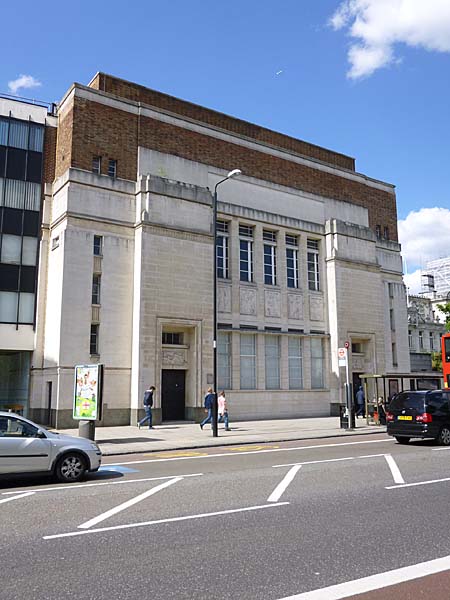 Architect
Campbell Jones & Sons and Smithers with the cinema architect George Coles
Date Built
Opened 13 February 1937

Location

Mile End Road

Description


Queen Mary University's Great Hall sits beside the Mile End Road between the 19th Century Queen's Building and the 20th Century Engineering Building. It was built in the late 1930s as a replacement for The People's Palace that once occupied the neighbouring Queen's Building. This "Palace of Delights" was envisaged as a place where the people of the East End would find "mental and moral improvement" through evening classes, recreational activities and the facilities of a library and reading room. Unfortunately, in 1931 the main concert hall was damaged by fire so plans were drawn up for this new People's Palace on an adjacent site.



The building was designed by Campbell Jones & Sons and Smithers along with the cinema architect George Coles, who worked on the interior. The building had a large auditorium that was originally accessed from the Mile End Road through a foyer. Above the foyer was a second hall running in the transverse direction. Outside are a number of bas-relief sculpted panels depicting the wide variety of activity you could expect to see inside. These are the work of Eric Gill.



In its original form the entrance was off Mile End Road with a flight of granite steps protected by a bronzed canopy. Above the sculptures the title "THE PEOPLE'S PALACE MCMXXXVI" was carved into the Portland stone, flanked on either side by tall flag poles.



In 1954 Queen Mary University acquired The People's Palace and at that time modifications were made to the building. This included removing the canopy, steps and doors on Mile End Road and replacing the doors with windows. The name was removed, as were the flag poles. Large areas of brick were clad in reconstituted Portland stone. The entrance was moved to the side of the building (A below) and a link block was added to connect it to the Queen's Building (B below).





Close Window