Gorilla House, London Zoo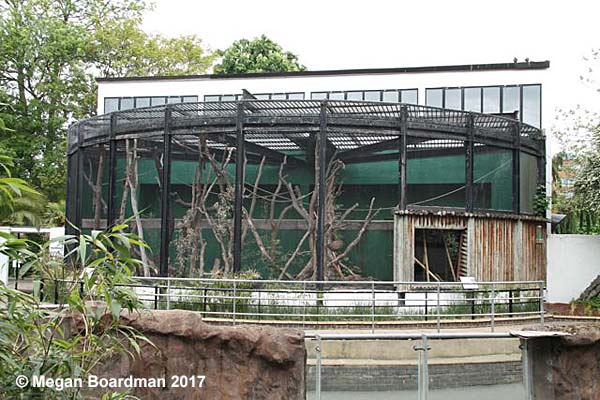 Architect

Berthold Lubetkin and Geoffrey Samuel, Tecton, Chief Engineer Ove Arup

Date Built

1932 - 33

Location

Regent's Park

Description


An information board near the Gorilla House explains its history, see a transcript below.


Gorilla House 1932 - 33
By Berthold Lubetkin and Geoffrey Samuel, Tecton, Listed Grade I



Way ahead of its time, this 1932 modernist round house worked a bit like modern street toilets with revolving doors! The southern half was open to the elements and provided a summer residence for a pair of gorillas. A circular screen would sweep around in the winter to enclose the whole building, keeping it warm and protected. We know now that gorillas need more space than this building, so we needed to find new ways to use it. Being a Grade I Listed building we can't change its structure so we found some animals that would be happy living here.



Historic England's website "Pastscape" adds,

" ... The original Gorilla House at London Zoo which was built in 1932-1933 by Tecton as the company's first building project. Although the building has been altered it is still considered to be an important example of early modernist architecture in Britain. .... The building work was undertaken by Christiani and Nielson Ltd with Ove Arup as the Chief Engineer. The revolving wall and roof was made by J and E Hall Ltd. The building is constructed of reinforced concrete with an asphalted flat roof. .... The building is now known as the Round House and the external enclosure is home to Ring-tailed Lemurs.


Close Window