Genesis Cinema, Whitechapel, London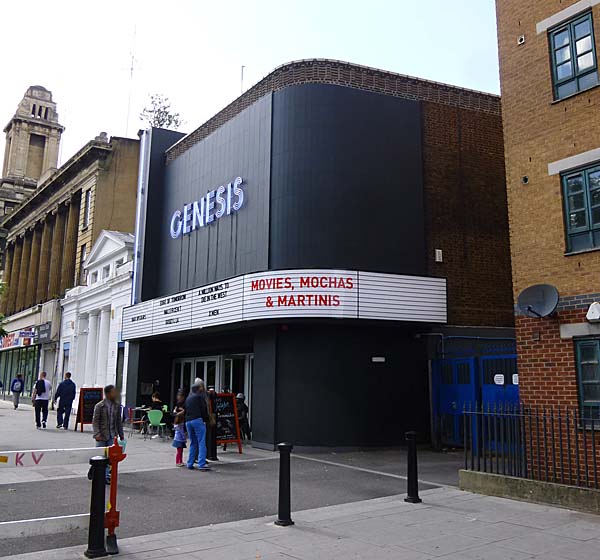 Architect
W. R. Glen, chief architect of the ABC group

Date Built

Opened June 12, 1939

Location


93-95 Mile End Road

Description

The Genesis cinema occupies a site on the Mile End Road that has been home to a number of theatres dating back to 1848 when the Eagle pub/music hall first opened. In May of 1885 the purpose built Paragon Theatre of Varieties, designed by the famous theatre architect Frank Matchem, opened its doors for the first time. As with many live theatres/music halls, the Paragon changed with the times becoming a cinema in 1912 when the popularity of variety was waning. The Paragon, in its various formats continued to operate until the 1930s by which time it was called the Mile End Empire.

Towards the end of the 30s it was demolished to make way for what the Genesis' website describes as "... a modern purpose built super cinema called the ABC Empire. .... The Empire's small frontage was faced with faience tiling, with a metal and glass canopy, designed and erected by Garton & Thorne Ltd. The auditorium was situated well back from the road, allowing the architect to provide a very spacious entrance foyer, which was decorated in light blue and gold speckle, with gold elliptical columns, and finely moulded edging on the ceiling features."

Today the Genesis is apparently under family ownership and, according to the Cine-Vue website, has relatively recently undergone yet another refurbishment. The website says that, "... the Genesis Cinema has a long tradition of providing an alternative and varied programme which includes an eclectic mix of high-end mainstream movies and independent arthouse films." The latest change has been the refurbishment of Studio 5 which is, "....intended to add a little more glamour to the cinema's multiplex façade. Containing 40 seats in the form of comfy sofas and armchairs (complete with blankets and Ottoman foot-stalls), this beautifully decorated screen also boasts table service from its in-screen bar which serves a selection of drinks and snacks. As well as screening a mixture of special events and the cinema's regular programming the screen will also be available for private bookings –the perfect size for a relaxed and intimate viewing experience."


Close Window