Hospital de la Santa Creu i Sant Pau was established in the heart of old Barcelona in 1401. It was created by merging six existing hospitals into one on a single site in the city's Raval district. It continued to serve the city's population for hundreds of years. In the late 19th century the growth in the city's population combined with advances in medical care stimulated a plan to create a new hospital and eventually the modernist architect Domènech i Montaner was commissioned to bring the new hospital into existence. His plan called for the construction of a number of separate pavilions, each dedicated to a different medical specialty. His original plan, seen below, called for 48 buildings but in the end only 27 were built.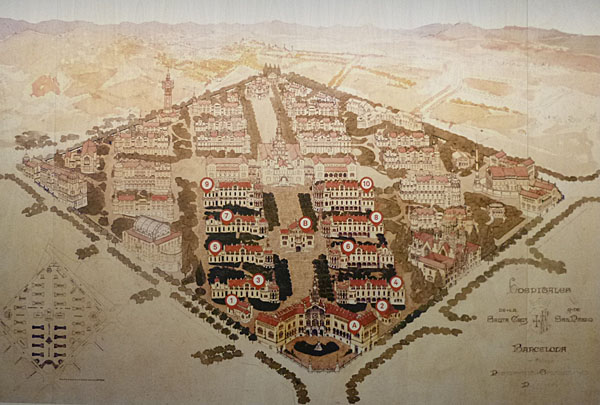 In 1902 work began on 12 buildings surrounded by gardens and linked by tunnels. As the hospital's website says, "... The natural lighting, the good ventilation and the restrained elegance of the décor made the new Hospital de la Santa Creu i Sant Pau a unique place in the world, a pioneering model hospital which affirmed the importance of open space and sunlight in the treatment of patients."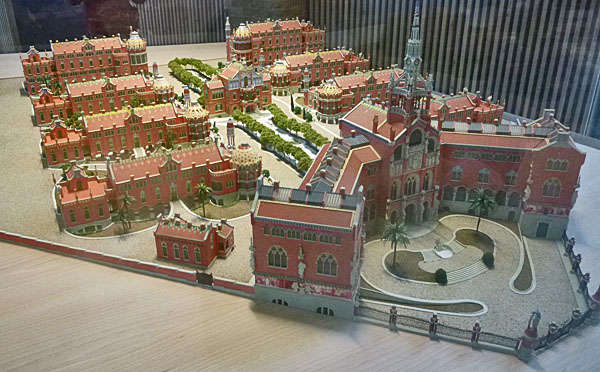 "Over the years, in addition to being the city's hospital of reference, Sant Pau has become a prominent landmark within the cultural heritage of Barcelona and Catalonia. It was declared a Historic Artistic Monument in 1978, and was recognised as a World Heritage Site by UNESCO in 1997. .... In the autumn of 2009, Sant Pau's healthcare activities were transferred to a modern building located in the northern section of the grounds, and the Modernista complex took on a new lease of life. A painstakingly thorough restoration has reaffirmed the value of Domènech i Montaner's work and established Sant Pau as a major international centre for knowledge and a new cultural landmark."