Le Meridien Hotel, former Adria Palace, Budapest, Hungary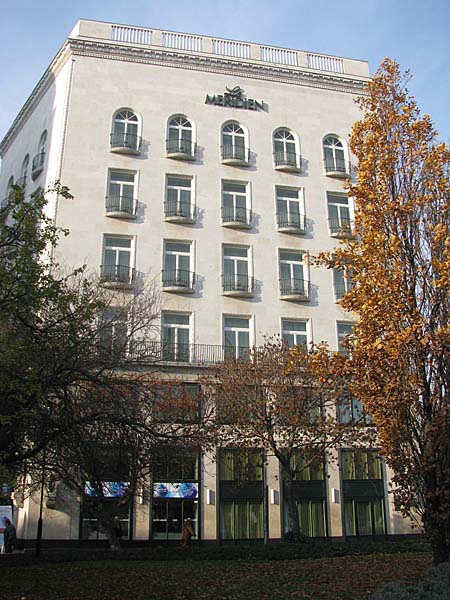 Architect

Pogány Móric and Tóry Emil
Date Built

1914 - 1918

Location


Deák Ferenc tér

Description


This building, completed circa 1918 was originally known as the Adria Palace, home to the Adriatic Insurance Company. The building suffered extensive damage during WWII but was rebuilt between 1949 and 1950 and in the years that followed it was occupied by the Budapest Police who used it as their headquarters. In 1998 it was transformed again, this time into a 5 star luxury hotel owned by the Le Meridien chain.

Built in a "pre-modern" style, the building is very elegant but understated, with little decoration except for wrought iron balconies on the first floor, and arched windows with French balconies on the upper floors.

At the corners, on street level, are a number of sculptures that date back to the Adriatic Insurance days. They were created by Ligeti Miklós and Telcs Edeare and designed to illustrate the kinds of insurance offered by the company. The lady below with the vase, represents glass insurance and the man with the goose, burglary insurance.



The hotel website adds to the story of the building. It says that,

" ... this pre-modern office and apartment building was designed in 1913. The 14 apartments of the highest standard were accessible from the back of the building on Deák Ferenc street, while the entrance to the offices was in the front, on Erzsébet square. On the ground floor there were luxurious shops, and studios in the attic. Thanks to its fine elegance, classical nobility and ideal location, this stone covered building not only represented an outstanding architectural quality, but has also been declared a historic monument."