The Western Half of the Park


Whilst having Victoria Park as an address was prestigious enough, I get the distinct impression that an address in the western half of the park was several notches higher. The 1844 OS map of the area shows that the Park had been laid out but that there were few houses in place. I have coloured the houses in red to make them easier to see at this size.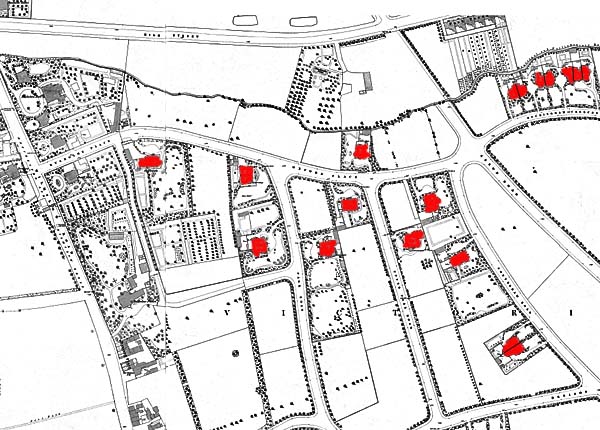 By 1889 the situation was quite different. There were houses on most of the building plots.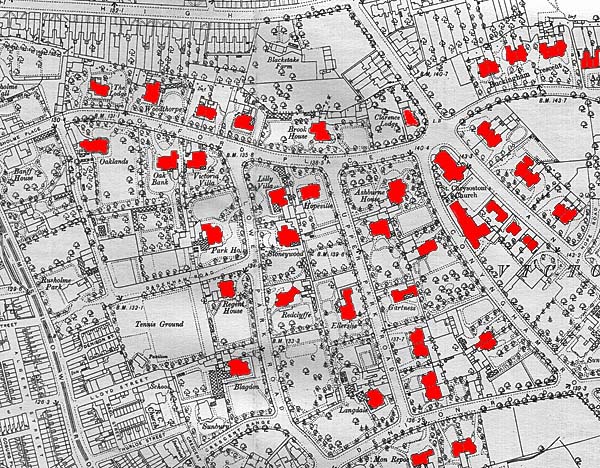 Over the years many of these grand houses were demolished and others modified when they were converted into university residences, apartments or school premises. Some still remain although their condition leads you to wonder for how long. What follows is a series of photographs taken in 2014 and 2013 while I waked along the main streets in this part of the park.
Oxford Place - Beginning at the Anson Road End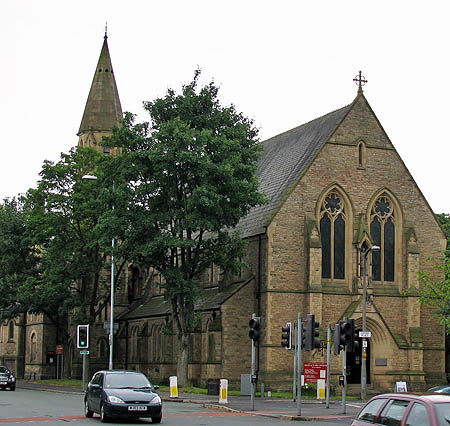 On the south side of the road is St Chrisostom's Church built in 1878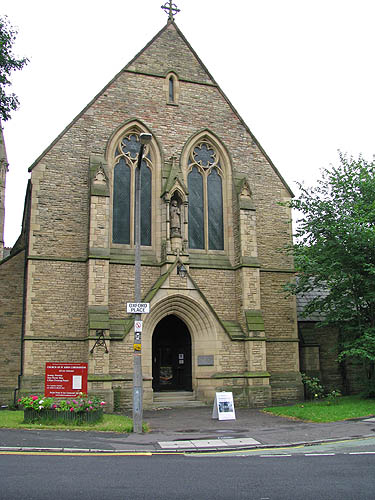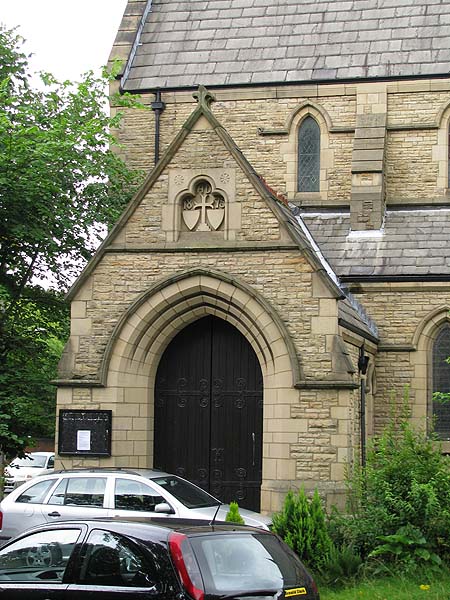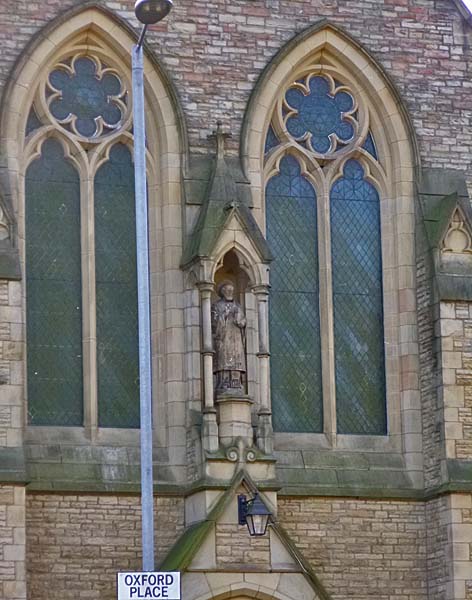 Across the way on the corner with Anson Road is the house that has its entrance on Anson Road and is number 2. The 1889 map appears to identify it as Clarence Lodge although it isn't clear if it refers to that house or the empty lot next door.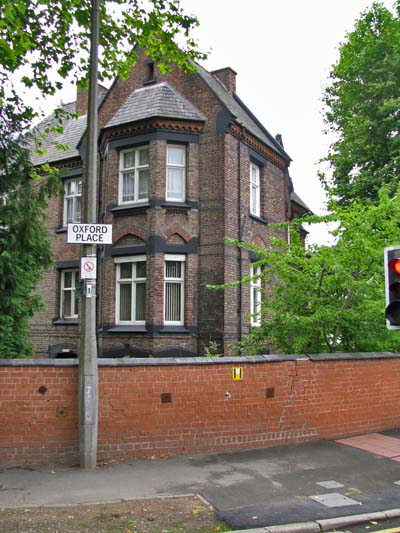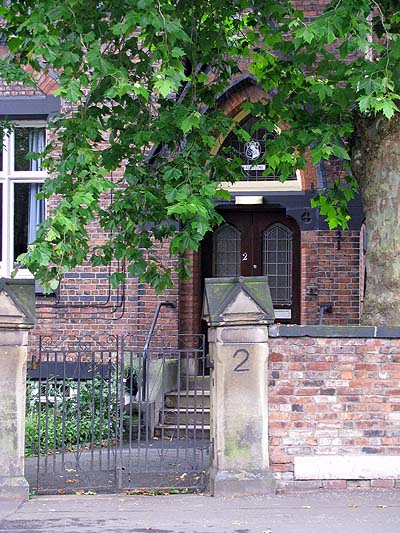 Above the entrance the fanlight contains the letters SMA and below that St Augustine.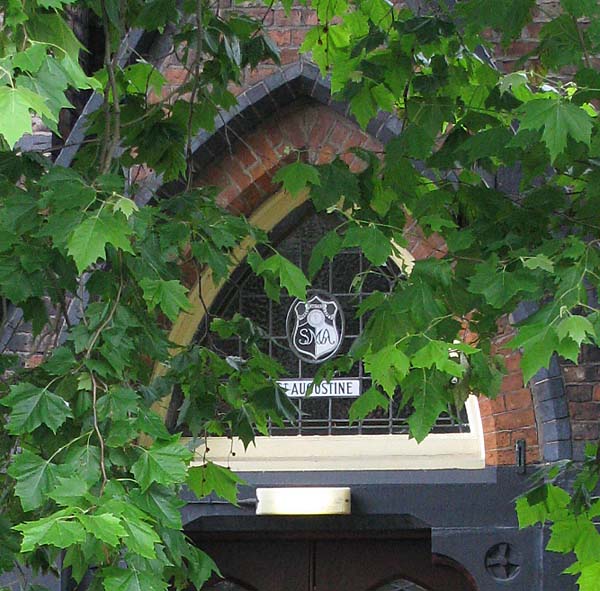 The SMA is probably the initials of the Society of African Missions and the St. Augustine sign suggests that this building was home, at some point, to clergy. If in the 1800s this was Clarence Lodge then it was home to James and Louisa Pooley who on February 24th, 1878 had their son baptised at St Chrisostom's Church. The record shows that Charles was a cotton spinner. Which is quite a modest job in an area of wealthy merchants and artists.

When I saw the house again on a very sunny day in October of 2014 it was swathed in scaffolding.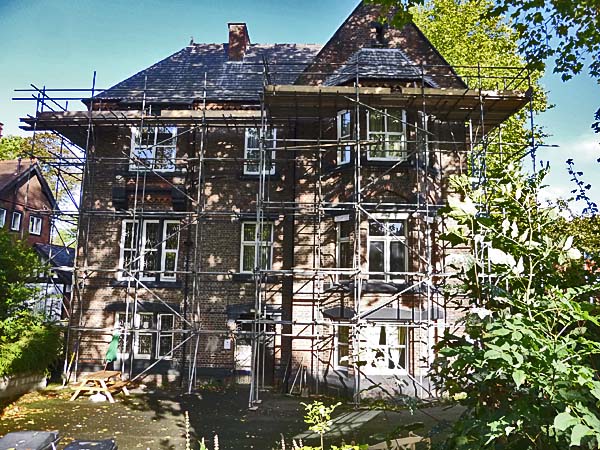 Next door is Auldgirth, the name still visible on the gatepost. Until recently this was part of Manchester Metropolitan University's Elizabeth Gaskell Campus.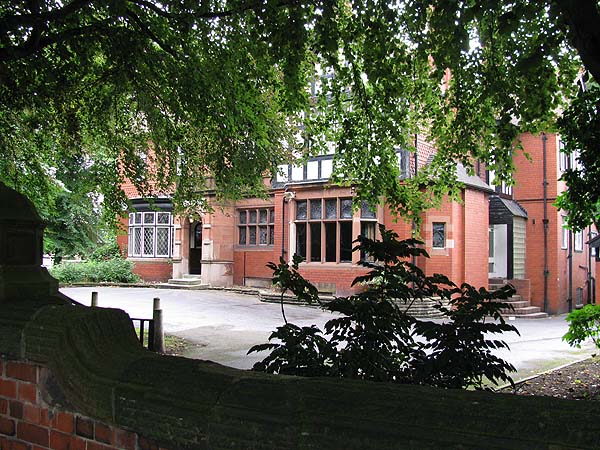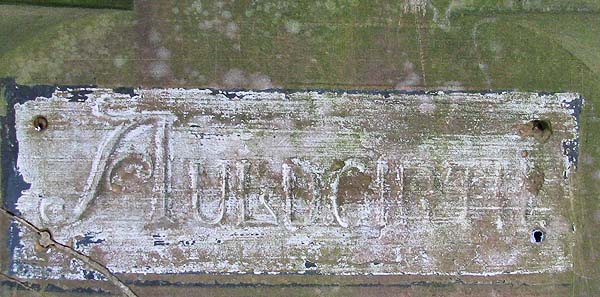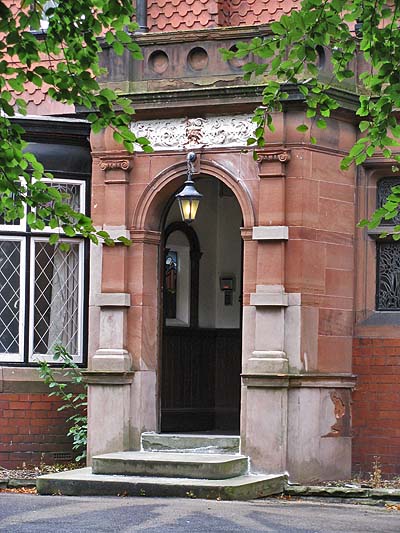 In October of 2014 it was boarded up following MMU's move away from Elizabeth Gaskell.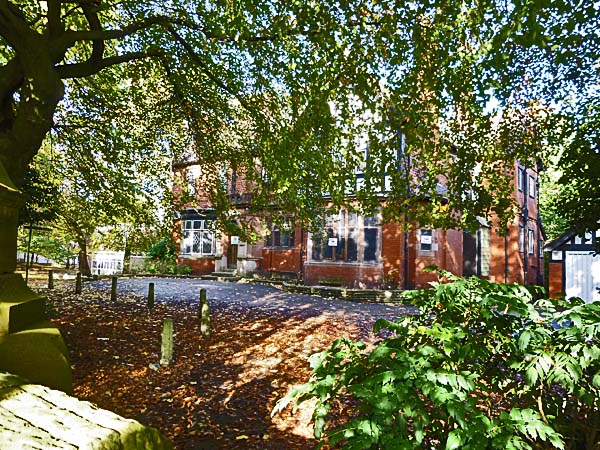 Next door is Brook House also once a part of the Elizabeth Gaskell Campus and also boarded-up.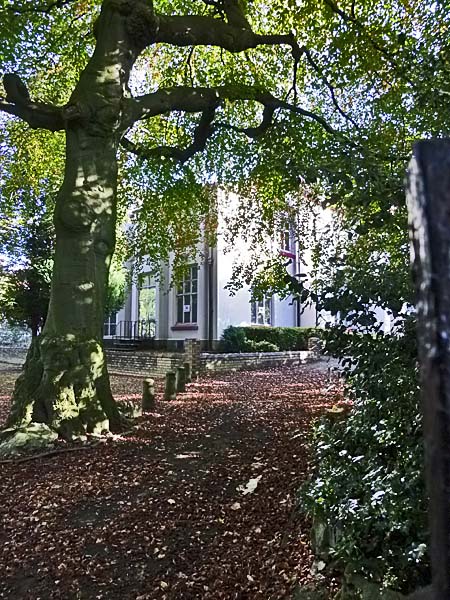 Here are some earlier views.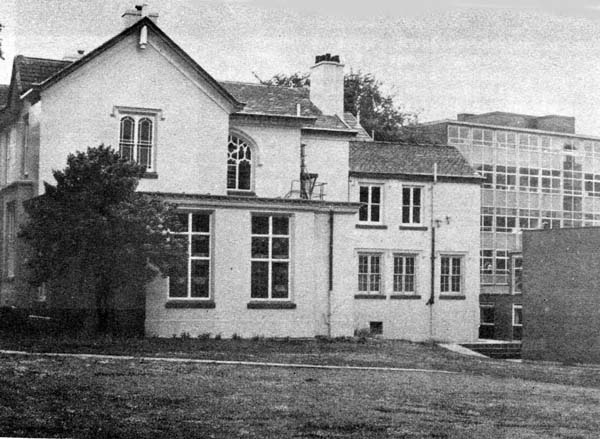 It can be seen in the top of this aerial view.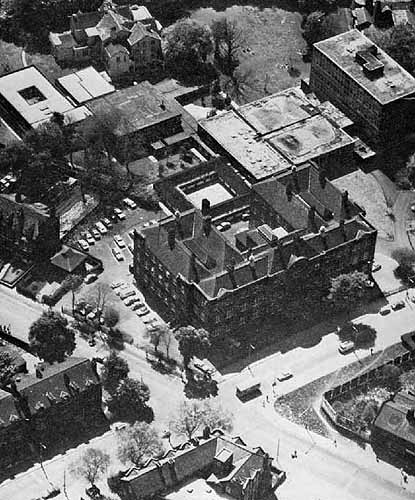 Across the road stand a pair of houses with modern additions. The first one occupies the location of the house called Hopeville on the 1889 map. The first photograph taken from Oxford Place suffers from the bright sunlight.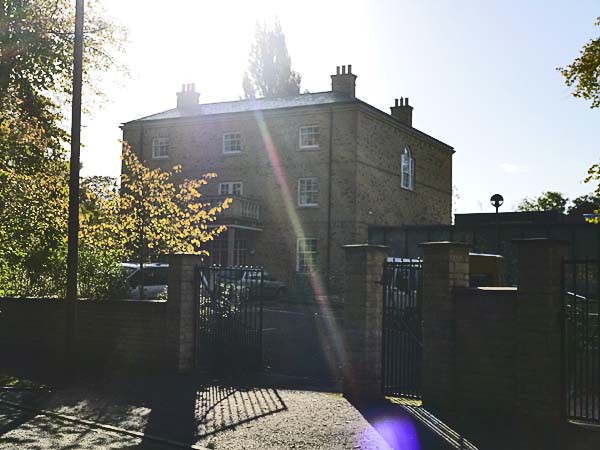 Here is a second view taken from Upper Park Road.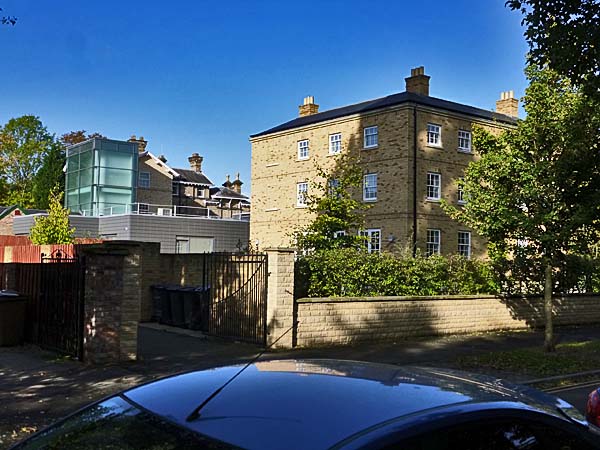 In 1878 Hopefield was home to a merchant William Samuels and his wife Charlotte. Between 1837 and 1844 it had been home to George Hadfield, Liberal MP for Sheffield. In the 1970s it was the Brookfield Hotel.

Next door is a house labeled Lilly Villa on the 1889 map but today is known as Greygarth. Its website says that,
" ...
Greygarth Hall is an independent hall of residence situated in the Victoria Park region of Manchester. The hall was built in 1868 and was converted into a university residence in 1961. Since then, it has been providing accommodation for university students in Manchester from all corners of the globe."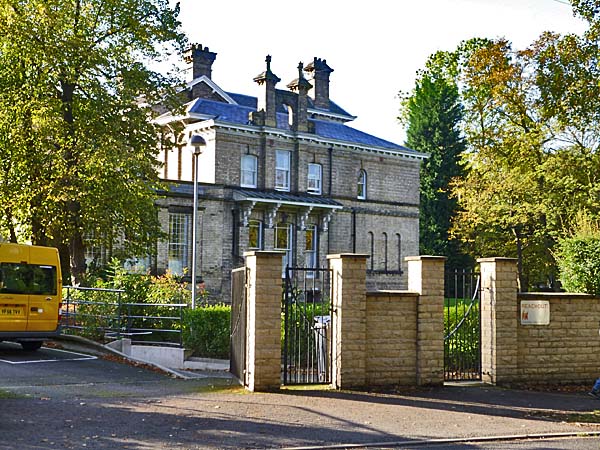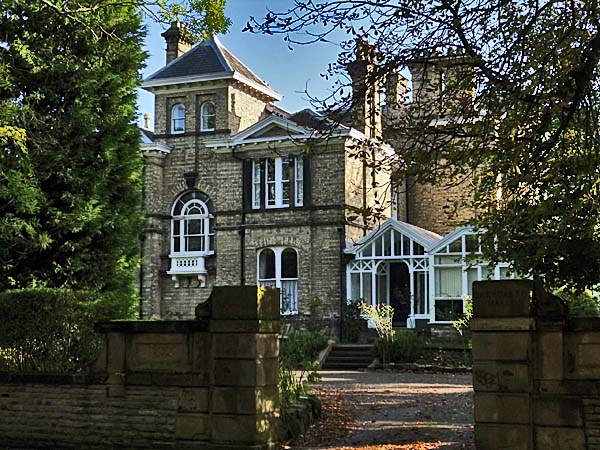 The Pevsner Guide for Manchester describes Greygarth Hall as, "1880-1890. Brick, eclectic Italianate style, with a tall staircase tower with a pyramidal roof.
On the north side of the road, after Brook House, is Holly Bank. In 1880 it was home to Charles and Adeline Moseley. Charles was a manufacturer. Between 1891 and 1895 it was home to Rose Hyland famous as a suffragette.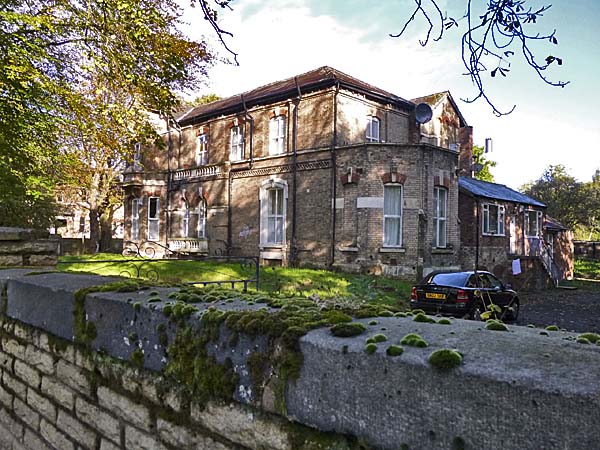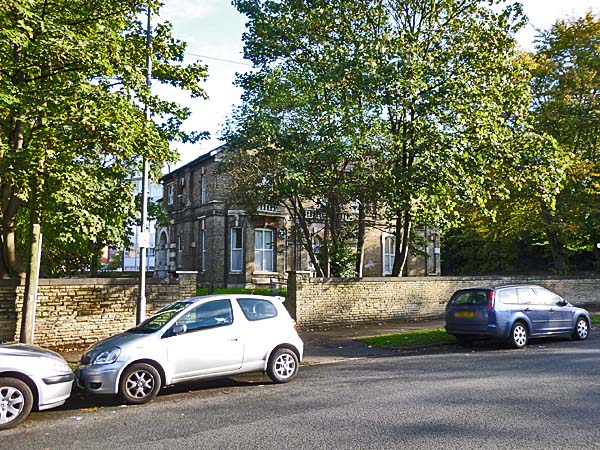 Next door is this house is an advanced state of neglect. The map suggests that it was a pair of semi-detached houses but clearly it was abandoned in October of 2014 when I took these photographs.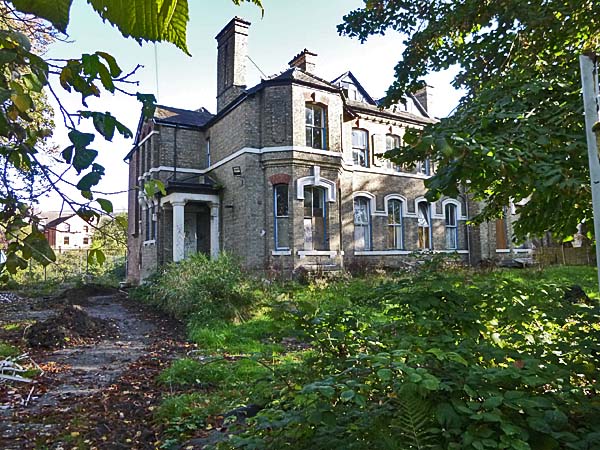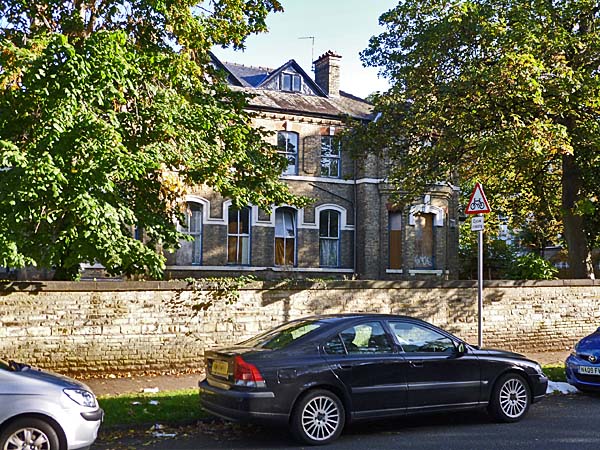 Moving along on the same side of the street we come to a female student residence for the University of Manchester called St Gabriel's Hall. It occupies the site once home to Woodthorpe and The Lodge. The Manchester Pevsner Guide says that this hall of residence is by Oakley & Sanville, dated 1939.
"Founded by the Bolton Sisters of the Cross and Passion as university accommodation for former pupils. The main part is arranged on three sides of a courtyard in the manner of almshouses."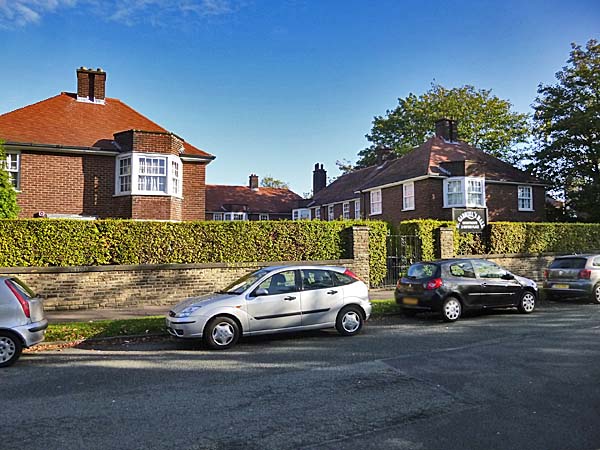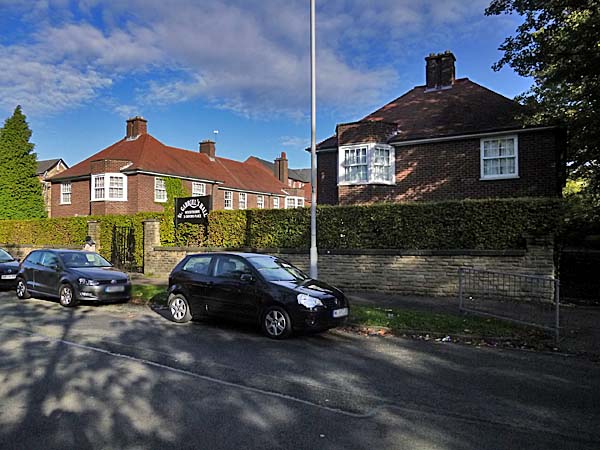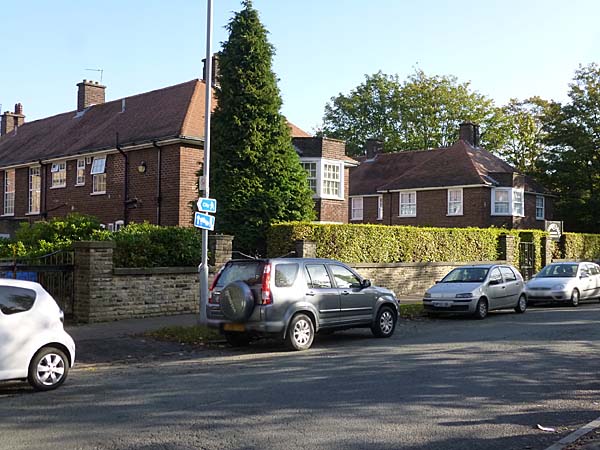 To the left, Pevsner adds, is "... a block by Reynolds & Scott, 1963." I wonder about this description. There is a chapel off to the left in the image below and an extension on the far right that could be from the 1960s. The central building though looks much older and although "The Lodge", that was once on this site, has apparently been demolished, I wonder if this might be a remnant of the building.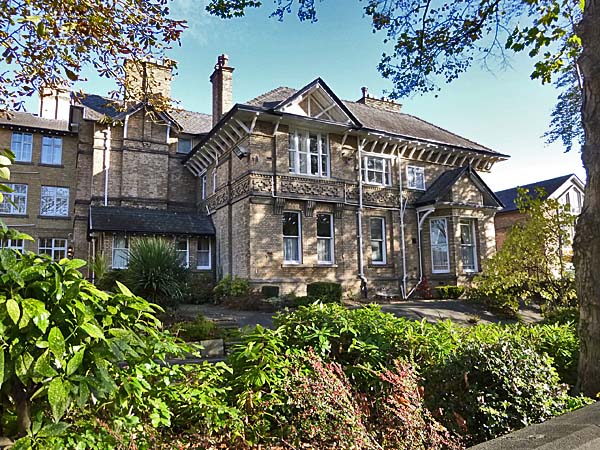 If you click on the link below you can see the same building on an image in the Manchester Central Library image collection. I was taken in 1953 and shows the Oxford Place Lodge.

Oxford Place Lodge
John Slagg, MP for Manchester, lived at The Lodge between 1855 and 1861. He also lived at Woodthorpe between 1862 and 1874.

Across the road is Manchester Univerity's Hulme Hall Residence. This is a large site with a number of buildings of diverse ages. The evsner Guide is most interested in the "... inner quad with a charming L-shaped block by Percy Scott Worthington, 1906. Brick with stone dressing in a quiet domestic Tudor and Arts and Crafts idiom."


Other buildings on the site were added much later.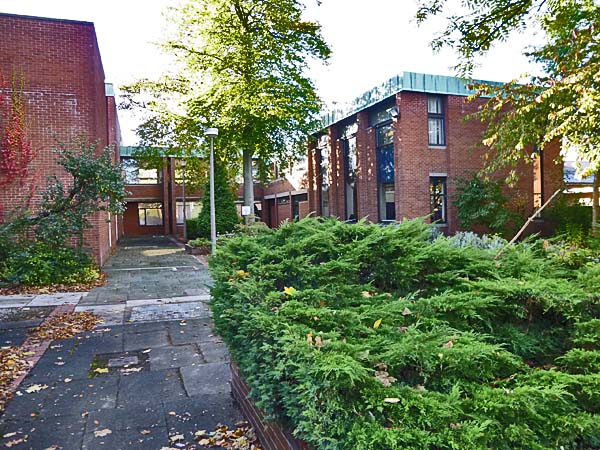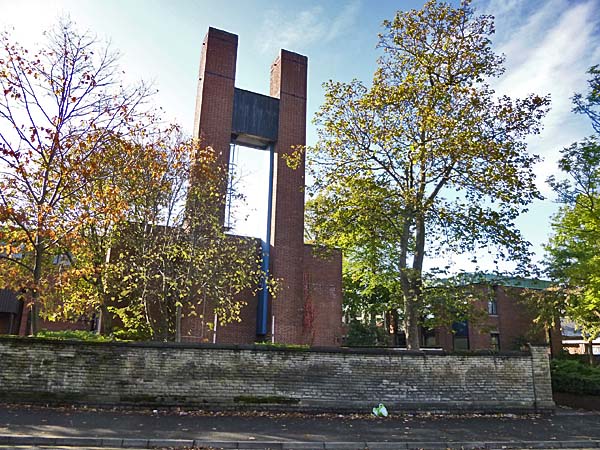 ***************************
Lower Park Road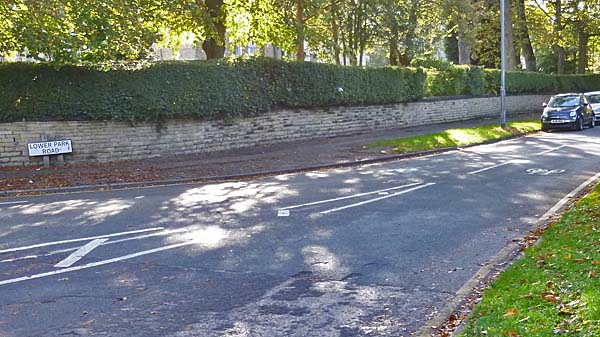 Just around the corner, hiding in the trees, is a circular brick building. The is the Hulme Hall Chapel designed by Cruickshank and Seward and built between 1966 and 1968. Pevsner describes it as, "... Dark brown brick and white window strips, a whorled ovoid in plan with a low entrance block on the left, behind which a taller curving corridor wraps around the rear and leads into the chapel."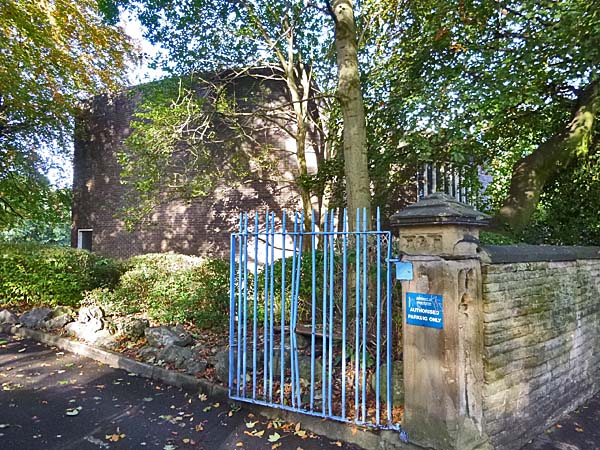 The gateway leads into the Hulme Hall site giving access to Park House.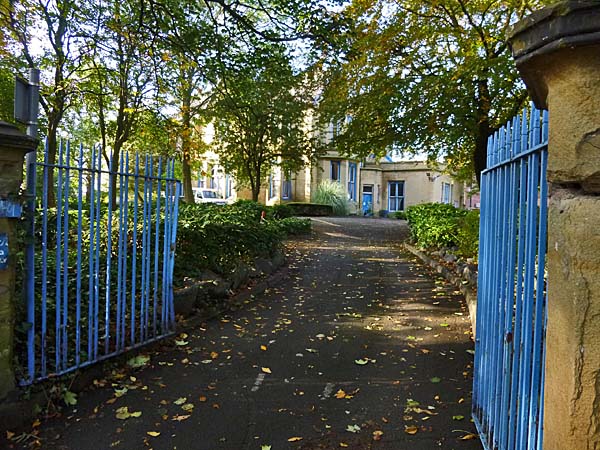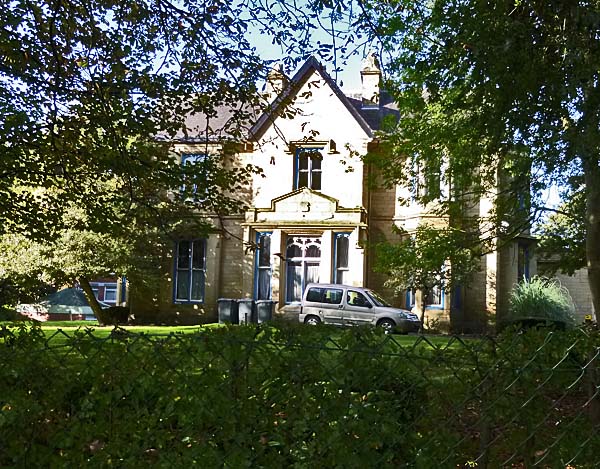 Further along on the left is Ward Hall occupied by Xaverian College. On the map the building on that site was called Stoneywood.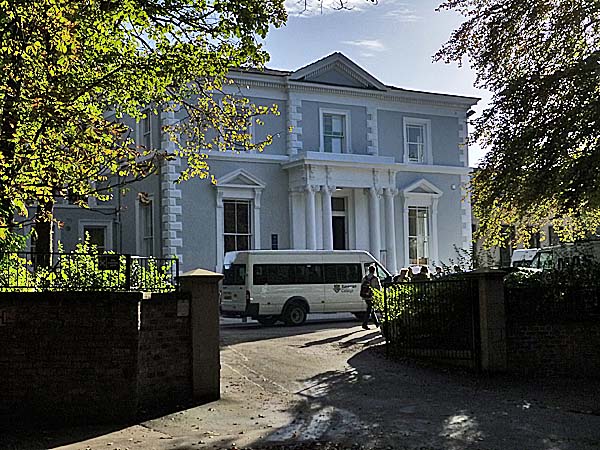 St Chrisostoms Church website has an interesting story about a former resident of Ward Hall. "One hundred years ago on 15th April 1912 RMS Titanic, sank on its maiden voyage when it struck an iceberg. The majority of her 2,237 passengers perished in the disaster. One survivor was Adolphe Saalfeld, a Manchester merchant and perfumier, who lived with his wife, Gertrude, in our parish in what is now Ward Hall, Lower Park Road, Victoria Park, within the Xaverian College. Saalfeld was of a German Jewish family and migrated to England in the 1880s." You can read much more about the story by following
THIS LINK
.
Beside Ward Hall on land that was once home to Redcliffe, stands this modern building that is also part of Xaverian College.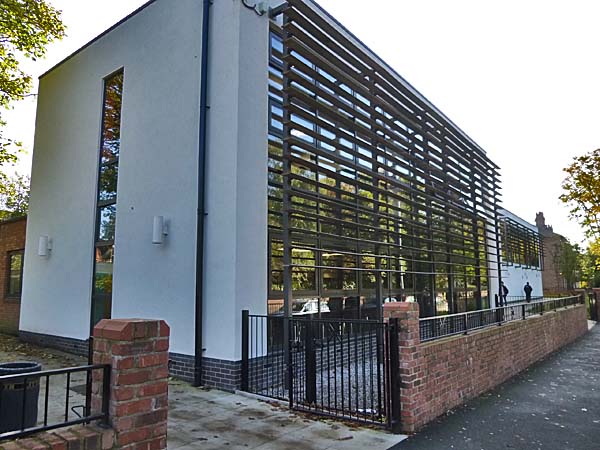 Across the street is yet another part of the college in a building they call Marylands. This was originally Regent House built circa 1870. Pevsner describes it as, "... Gothic, grey and yellow brick with stone dressings. Tricky details with much variety in the texture and wall surfaces. Splendid entrance hall with a Gothic arcade and a gorgeous inglenook with Arts and Crafts detail, including stained glass, brass repoussť work, mosaic and carved wood panels and settles, part of a later refurbishment."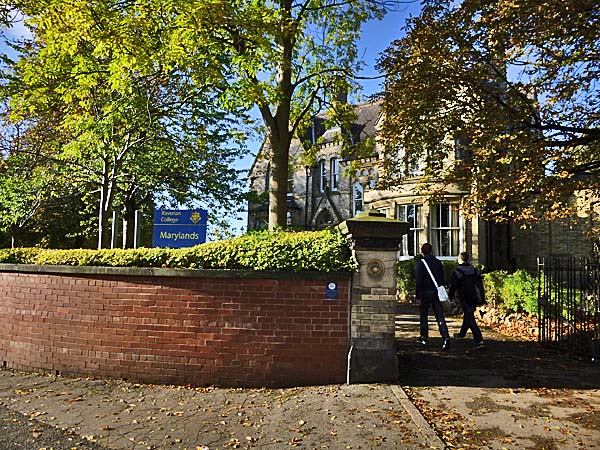 The Manchester Compendium by Ed Glinert says that Regent House was built for Henry Roscoe, the pioneering chemist who,
"... worked at Owen's College and built the first modern-style chemistry laboratory in Britain. In 1858 Roscoe created the world's first flash photo. The house contains some features introduced by Roscoe, such as a set of antique Germanic door handles donated by Robert Bunsen, after whom the Bunsen burner was named."
Sir Henry Enfield Roscoe FRS was born in London in 1833. He was educated at the Liverpool Institute for Boys and then University College London. After leaving University College he went to Heidelberg to work under Robert Bunsen. In 1857, he was appointed to the chair of chemistry at Owens College replacing Frankland. He held that post for 30 years. As the plaque below (on the original Owens College building on Quay Street) says, during his time at Owens College he played an active role in the transfer of the college to its Oxford Road location where it became the Victoria University. In 1885 he became the MP for Manchester South a position he held for 10 years.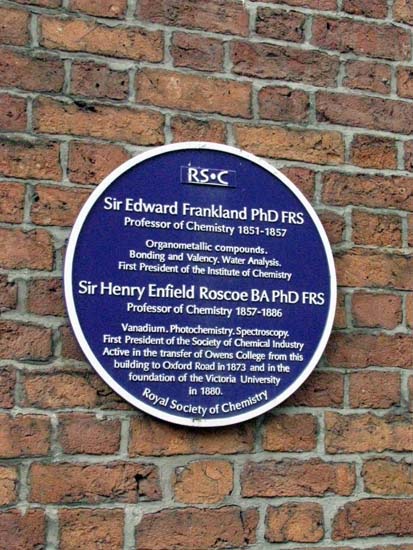 **********************
Upper Park Road
Turning onto Upper Park Road the first thing to catch your eye is the Manchester Central Mosque and Islamic Cultural Centre. Work began on building the mosque in 1971 on the site of two former houses. Over the years the building has gone through a number of expansions and modifications.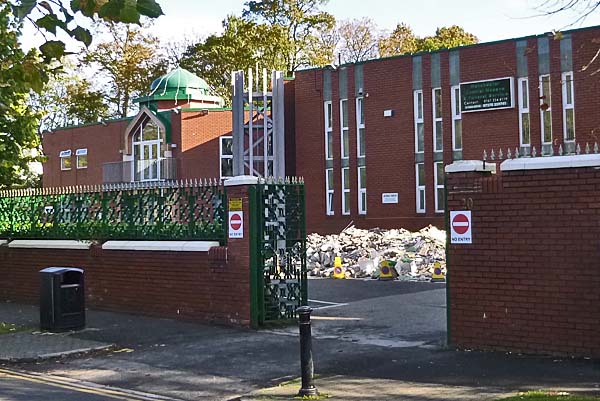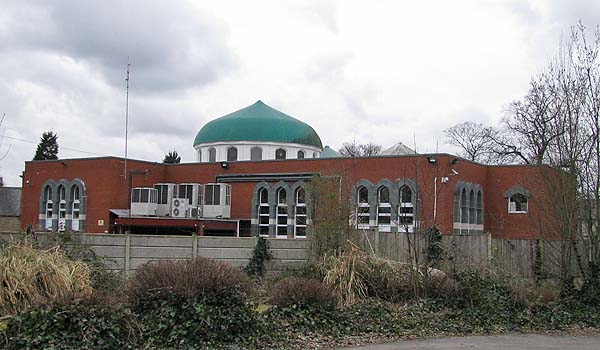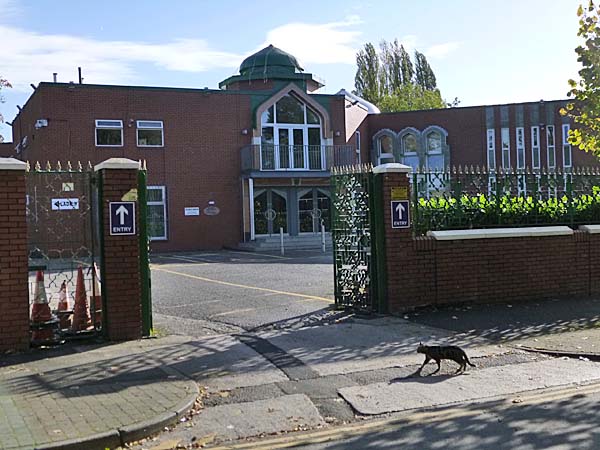 The building on your left as you turn the corner into Upper Park Road from the south, is called Langdale House. It was built in 1846 to a design by Henry Bowman. Pevsner says of it,
"... Symetrical front with steep gabled bays, ashlar but with small masonry blocks. The detail is Tudor."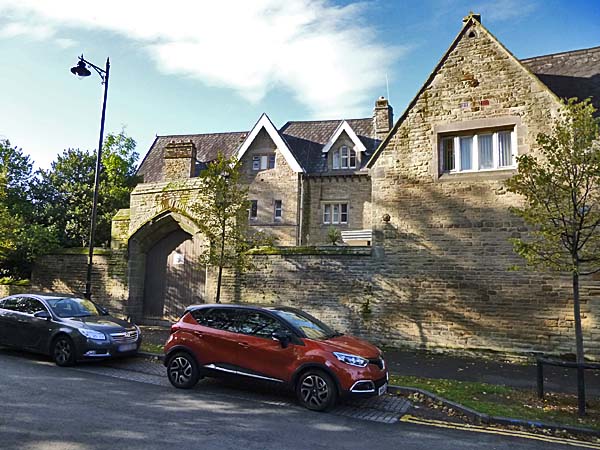 Between 1846 and 1874 this was home to Edward Riley Langworthy, MP for Salford and between 1848 and 1850 Mayor of Salford. The "Life Times Link" Issue no26, November 2009 has an interesting article about Langworthy by Hester Hughes. It gives an insight into the man's life.
"Originally from London, he was born in 1797. When Edward was barely old enough he took a position working for C. Taylor and Sons & Co. Edward remained at this company for many years and was their representative in South America and Mexico for 12 years. The trade experience in foreign lands was to prove very influential, not only in meeting all kinds of people from a variety of backgrounds and nationalities but also in his financial success. This would later benefit Salford in the many bequests he made to organisations within the city.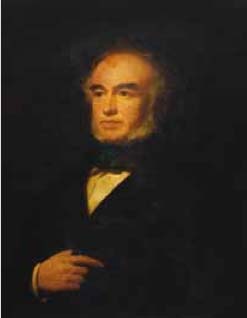 In 1837, at the age of 40, Edward set up business as a foreign merchant in London and three years later, in the year Queen Victoria married Albert, he moved to Salford. Edward joined his brother, George, in the cotton industry, in their new firm Langworthy Brothers & Co based at Greengate, Salford. On moving to Salford, Langworthy was incredibly busy. His business flourished with a warehouse full of stock constantly on the move. He was chosen as the first Alderman for Trinity Ward in 1844, became a member of three council committees, and in 1848 was elected the fifth mayor of Salford. Despite all of this, he managed to contribute considerably to the establishment of the countryís first free municipal public museum and library. And, in 1850, Salford Museum and Library was finally opened to people from all walks of life."
Further along Upper Park Road, on the same side is Ellersle Court, now apparently subdivided into apartments.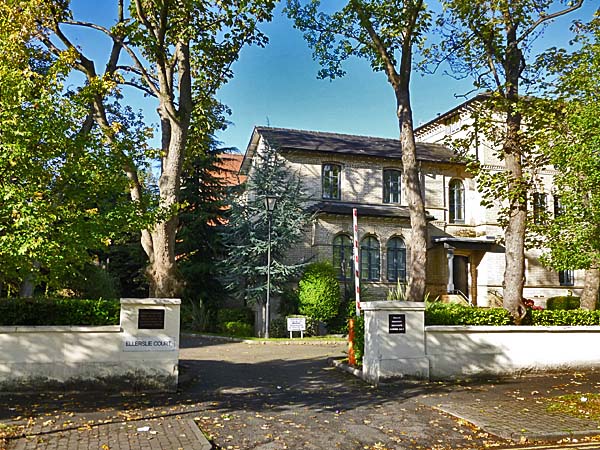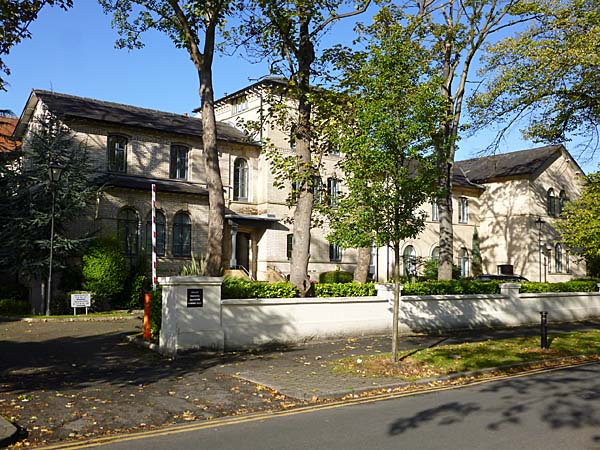 Crossing back to the east side of the road you find High Elms home to Start
mc
is an arts-based mental health service for adults, part of Manchester Mental Health and Social Care NHS Trust's Recovery Pathways care group.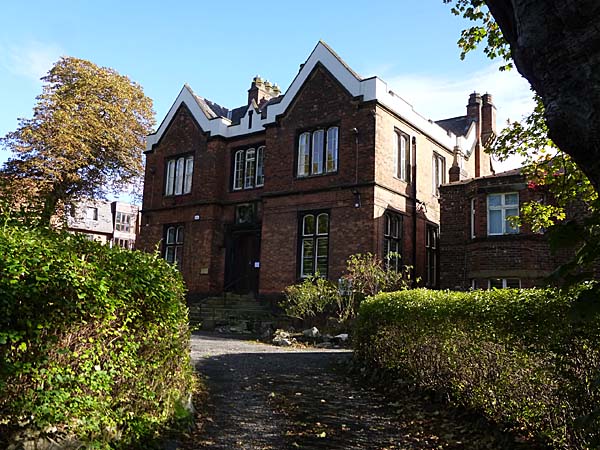 Between 1867 and 1895 it was home to Robert Duckinfield Darbishire a man who was associated with the foundation of Owens College, Manchester High School for Girls and Whitworth Art Gallery.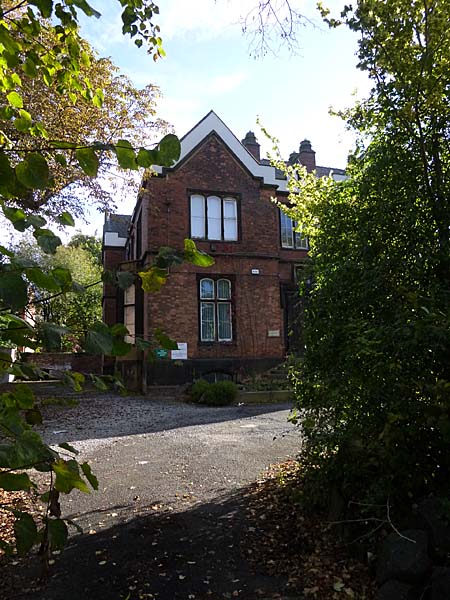 *************************
Conyngham Road
Conyngham Road is dominated by the University of Manchester's Dalton-Ellis Hall.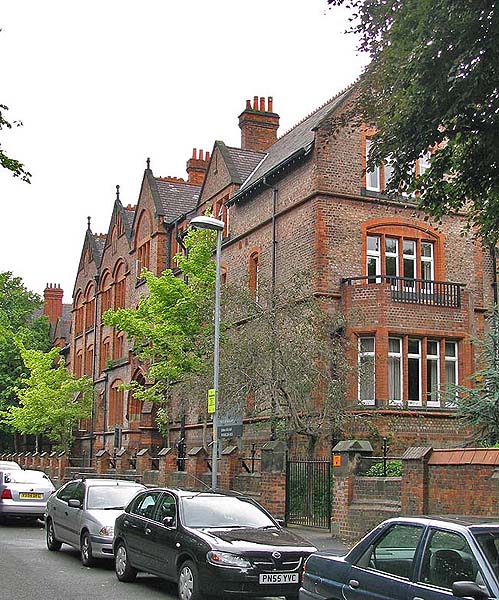 Built between 1881 and 1882, Dalton Hall was designed by architect G. T. Remayne for the Quakers. the rather plain facade of brick with stone dressings, features a rather beautiful terracotta panel above the entrance.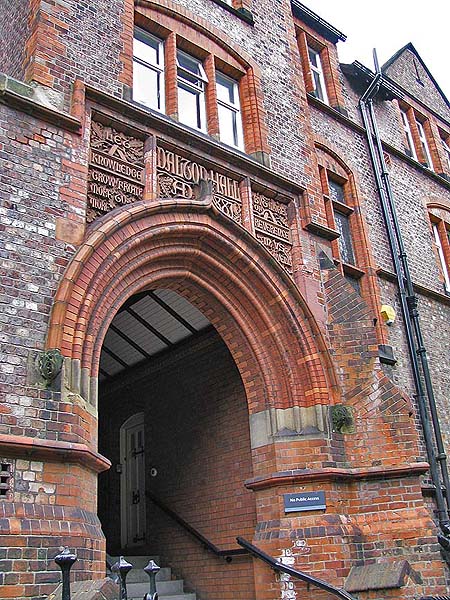 The University says of the site that, "Dalton-Ellis Hall was formed in 1987 from two long established and neighbouring Halls of Residence, one founded in 1876, the other in 1919. The Hallís seven buildings occupy spacious, well-tended grounds in Victoria Park, only one mile from the University campus on Oxford Road and one and a half miles from the Sackville Street Campus. The Victorian Main Hall was the first purpose-built Hall of Residence in the country, but has been modernised without losing any of its traditional elegance. There are two other modernised Victorian buildings, three modern residential blocks and a dining hall complex opened in 1990. In September 1994 three new residential blocks were opened offering a further range of accommodation amenities. One, for about 80 students and named Sutherland, is an integral part of the Hall and has rooms with en suite bathroom facilities."

Across the road is Lane Court attributed to the founder of the Park Richard Lane, the architect of the Friend's Meeting House in Manchester's city centre as well as Salford and Chorlton town halls. The style is Greek with an Iconic Portico.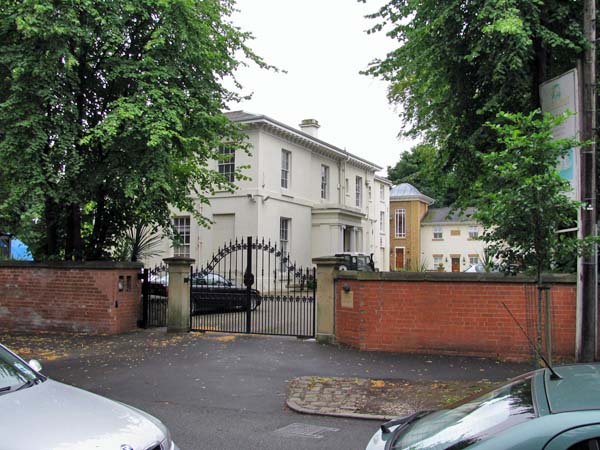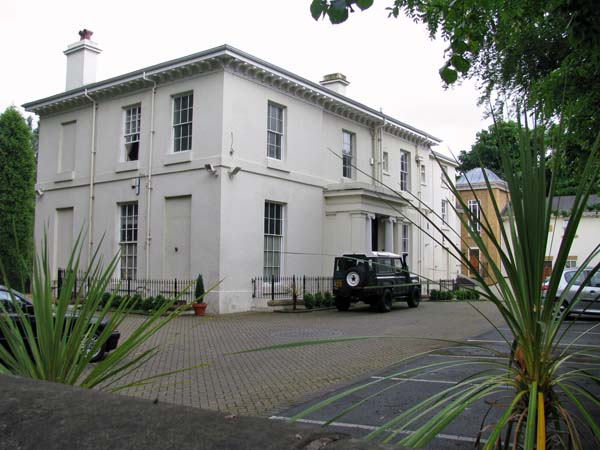 Apparently it was originally the home of George Hadfield, described as an English lawyer, author and radical politician who represented Sheffield for 22 years and the co-founder of the Anti-Corn Law League. He died at Lane Court in 1879 at the age of 92.