Memories of Longsight by
Carol Steele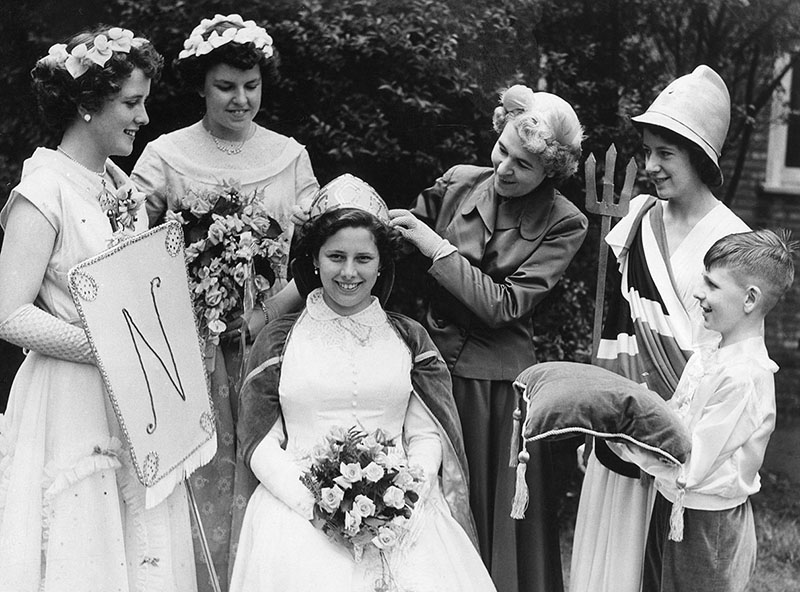 I was born in Roxton Road (opposite the McVitie's Biscuit works) in Heaton Chaple, but moved to Longsight in 1950 when I was 5 years old. We lived in one of the old houses in Kirkmanshulme Lane (number 110).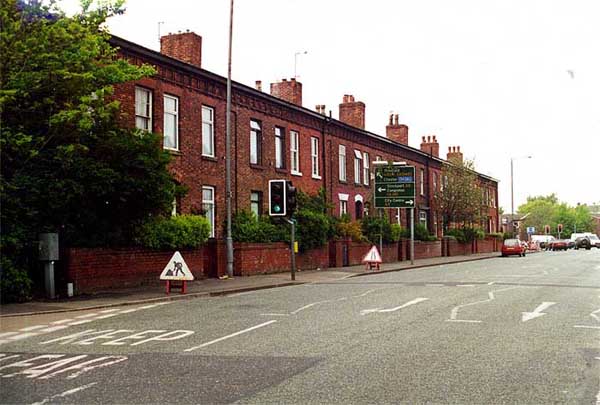 I believe it was owned by the Church of England at the time. Next to us was a bomb site where a number of houses had been knocked down during the war. Despite the fact that it was always cold and damp (no cavity walls in those days), I look back and remember it fondly. No indoor loo in those days either, it was a walk down the yard to the outside toilet. At the front of the house was the entrance hall and the 'best room', which we kids weren't allowed in, then a middle room (the 'living' room) and just off that was a small kitchen with one of those old white and very deep sinks. Underneath was the cellar and 'coal hole'. We used to have great fun opening up the metal grid at the front of the house and sliding down the coal shute into the cellar. Ended up like proper little urchins with hands, faces, arms and legs as black as midnight. In the living room we had a huge cream coloured fireplace with a built in oven - and on cold winter nights my mother used to put our clothes in there so that next morning we would rush downstairs to get dressed in the still warm clothes.
The zoo was practically on our doorstep and their was a very high wall surrounding it. Once or twice a year my parents took us into the zoo to look at the animals. I was frightened by the lions (and they also had a 'liger' too - a cross breed between a lion and a tiger - and he was huge) but I loved the monkeys. So much so that I was transfixed by their antics and when my parents and brother and sister moved on to a different location I was still stood there watching in absolute amazement. I finally ended up realising they were gone and absolute panic set in and then the floods of tears. I was taken to the Children's Rescue Centre where they quizzed me about my parent's names and all I could remember was 'Mummy' and 'Daddy'. In my panic I had even forgotten my last name. But all turned out well in the end as they announced my first name over their tannoy system and my parents, who were now frantic with worry, turned up to collect me. I can still remember my tearful accusation to them when they turned up which I
believe was "You lefted me". I think I was fearful of the lions as on a still summers' evening, I would lie awake at night listening to the roar of the lions and I imagined them prowling round outside the house. That vision has remained with me throughout my life and is no doubt responsible for recurrent nightmares which I have to this day. By the hippoptamus enclosure was a man made concrete pond where they would bathe and by the pond was a skull of a hippotamus which had died in a terrible fight at the zoo. The skull had a huge hole in it where one of the other hippotomus's tusks had penetrated right through.


My Parents


My mother was May Steele (neé Uren) who was born in Taylor Street in Gorton, but the family moved to Broom Avenue when she was quite young. My father was born on Kirkmanshulme Lane I believe and was the manager of the Timpson's Shoe shop in Levenshulme. They both lived for dancing and went to Charles Theobald's private dance club which was situated in Stanley Grove. Charles Theobald was a world champion dancer in the late 40's - early 50's I believe.


Sunny or foggy


Despite spending 8 years in that house I never remember the rainy days, the sun always seemed to be shining - except on those dark November days when the smog descended over the whole of the city. With the smog (which was also called a peasouper - because of its colour and thickness) came the silence, the sound of traffic (not that there was a lot about in those days) was stilled and no birds sang as no doubt it would have been dangerous for them to take off and land with visibility quite frequently reduced to just a few inches in front of your face. It was quite scary really, but as children we didn't really have any sense of fear, it all seemed like an adventure to us.


Journey to school


Quite soon after we moved in I was enrolled at my new school, Crowcroft Park Primary School, along with my older brother John. My sister was too young at that time to go to school. We would always walk to school in those days, initially with my mother, but after about a year my brother was entrusted to take me to school on his own and later my sister joined us too. Just beyond Norman Grove and before Stanley Grove there was a row of shops - a bakers, a newsagents/sweet shop, an outdoor (premises with a licence to sell alcohol), I think a butchers and a general store. I will always remember the sweetshop though for it was owned by (what I perceived as) an elderly couple and he was one of the most kindly people you could have ever hoped to meet. A wonderful smile and a twinkle in his eye - always the model of patience as we pondered for what seemed hours as to how we were going to spend our 6d pocket money - just what was going to give us the best 'bang per buck' as it would be termed these days. Black Jacks I believe were around a farthing each and there were a multitude of other small titbits at around the same price. Further up the road was the old Co-op stores with their function rooms above. In between the stores and Pink Bank Lane was a patch of waste land - mainly made up of cinders. After a heavy downpour, this area would often flood and then we would rush home and get our wellies on so we could go paddling. Also a fair used to arrive on that patch of wasteland every spring or summer where we would have a whale of a time. Opposite the Co-op was a row of shops which contained a Ladies Outfitters, a hairdressing salon (which my mother used to visit to get her perm done), another newsagents/sweetshop, a fish and chip shop that was owned by Mr Lawson (whose son Graham also went to Crowcroft Park school), there also might have been another shop and then a hardware shop (right out of 'Open All Hours'). Further up, and opposite the park gates on East Road, was another shop which was a general store, if I remember correctly. Just a little bit further down East Road was the dentists which we all had to endure.


Crowcroft Park Primary School


We would always walk through the park until we finally arrived at the school. Back in the early 50's the headmistress was called Miss Tumellti (sp??). I can remember 3 other teachers there - a Miss Haywood (who used to drum our times tables into us - the whole school echoed to the chants of two times two is four, three times two is six etc), a Miss Carpenter who was very pretty and Mr. Cronin - who was a marvellous teacher for in my final year there, he managed to get all of us through our 11+ exams and into either grammar or high school. Mr. Cronin's daughter Jennifer was also in our class. A few years after starting school, a doctor moved in the house on the corner of North Road and Kirkmanshulme Lane, their daughter Pamela was also a pupil at Crowcroft Park and she would often join us on our walk to school. It was either in our penultimate or our final year we also used to go to Levenshulme Baths where we were taught how to swim and get our '25 Yards Certificate'. I loved swimming and every Saturday me, my brother and sister would go there as well and on the corner of Barlow Road and Cromwell Grove there was a 'chippie' where we would always get a bag of the most delicious chips ever made for the princely sum of 3d (although it always went up to 4d in late spring/early summer when the new potatoes came in). The highlight of the school year was the Nativity Play and there would be excitement for weeks, especially for those who landed a 'starring role' which was followed by the Christmas Party where there was loads of jelly and blancmange, party hats and much singing. Before the party, the upper classes went on a 'jam jar drive' where we would visit all the houses in our neighbourhood and collect empty jam jars. These were stacked up high in various places in the school (notably round the toilet blocks) and they would then be collected and the school reimbursed - the amount I suspect went to paying for our party. I also remember shortly after the coronation we were all taken to the large cinema in Levenshulme (sorry, I've forgotten the name) where they showed us a film of the coronation and also Sir Edmund Hilaries ascent of Everest. I must admit I found the Ascent of Everest far more appealing - especially as we had seen the coronation weeks previously. My favourite aunt, Auntie Lil lived with my grandma Uren in Broom Avenue and she had bought a television especially for the occasion. It was so novel that all the relatives went to my Grandma's that day (and it wasn't a small family on that side as Grandma had had 7 daughters and 4 sons - so with husbands, wives, nephews and nieces we were all packed like sardines into Grandma's living room glued to this small nine inch screen in a large walnut cabinet.


The 'Flicks'


Saturday afternoons would be spent at the Saturday Matinée - we always went to the Kings Cinema although there was also the Shaftsbury Cinema (opposite) and the Queen's Cinema (near the junction of Slade Lane and Stockport Road). They would also always have a Western (which always ended in dramatic style so you had to go back the following week), a couple of cartoons (my favourites), the Three Stooges (which I always found boring) and sometimes a science fiction series like Flash Gordon. The films were always breaking down and then a chorus of jeers and footstamping would break out if was not fixed within about 30 seconds (which seems an awful long time when you are just six or seven).

Play


We seemed to play out a lot more in those days than children do today, well there was no television back in those days, no computer games etc, just radio - although I remember vividly a series on the radio called Journey into Space with Jet Morgan, Lemmy and Doc - this was followed by a second series where they went to Mars. We used to play out in Norman Grove, which was a cul-de-sac where we would play tag, hide and seek, whips and tops (there was one top which was called a 'Window Breaker'), 'Kick Can' jacks, skipping and another game which I haven't seen mentioned on other sites called 'Man Overboard'. Also hopscotch an as we got a little older, rounders and a game called 'Chase the Rabbit' where one of us would be the 'Rabbit' and after waiting for a set period of time, would set out in chase. The 'Rabbit' would have to leave chalk arrows on walls or pavements to show the direction that he or she was going and the aim was to catch the 'Rabbit' before he or she returned to base. As we grew older we ventured further afield to Crowcroft Park, then Platt Fields with its rowing lake and then as far afield as Reddish Vale.

My brother was a keen 'Train Spotter' back in those days, and many times I would accompany him to Longsight Station. We would walk over a small iron bridge over the shunting tracks and would love it if an engine came underneath the bridge so that we got lost in clouds of steam. The smell of that steam was quite unique to steam engines.

Church


In those days every child went to church and/or Sunday School and we were no exception. Initially we went to North Road Methodist church, but after a short while I decided to go to St. Cyprian's Church which stood on the corner of Rushford Street and Stanley Grove. There is no church there now, but I can still see the 'new' vicarage if I look on Google Maps and this was specially built for the new rector (the Rev. Cecil Archibald Hemmings) when the old incumbent retired. The old vicarage was in Norman Grove if I recall correctly. I would go to church three times on a Sunday - Morning Communion, Sunday School and then Evensong. On the corner opposite (again junction of Rushford Street and Stanley Grove) stood a herbalist shop and they sold penny lollies - I always chose the Vimto ones as they were my favourites. Whitsun was always a favourite were we would parade in our new clothes and we always had to go to see the relatives before the event and aunties and uncles would put pennies in our pockets or bags. The Monday after the parade we would go and cram our noses against the window of Webb's (the photographer who had a shop just round the corner from Stanley Grove - on Stockport Road - to see if we were in any of the pictures on display. Opposite was the UCP Tripe shop where I had to go to buy tripe for my father. He thought it was delicious, but the very thought of eating it used to make me go green. I thought it was vile.

Bonfire Nights


We used to have bonfires on the bomb site next to our house and the excitement leading up to the actual day was intense. We would go out in groups 'bonty logging' gathering as much spare wood as we could possible find or scrounge (or anything which would burn in truth). We hid it away in all our back yards until the day itself as if we built it too early other groups would raid and decimate all our hard work. I wasn't too keen on the bangers but I loved the rockets, catherine wheels, silver fountains etc - and towards the end we would put spuds into the embers of the fire and have baked potatoes. They were black and full of charcoal on the outside, but they tasted delicious. They were so hot we had to juggle them between our hands. No luxuries like butter on them either as rationing was still in place after the war. Later on I would go to the St. Cyprian's bonfire which was held on land at the back of the Church and the Sunday School. In 1957 we moved from Longsight to Denton (on the new estate they were building at Dane Bank) but those childhood memories of growing up in Longsight will always be precious to me.