The Newtons of Ducie Street, Longsight

John William Newton, my grandfather, was born in Hulme, Manchester on the 2nd February 1873. His father, Richard Newton with his family later left Nottinghamshire to commence business as a milk dealer at 11 Ducie Street, Longsight, Manchester in about 1885.

John the eldest and another brother Herbert worked as dairyman's assistant and milk deliverer at the dairy in Ducie Street.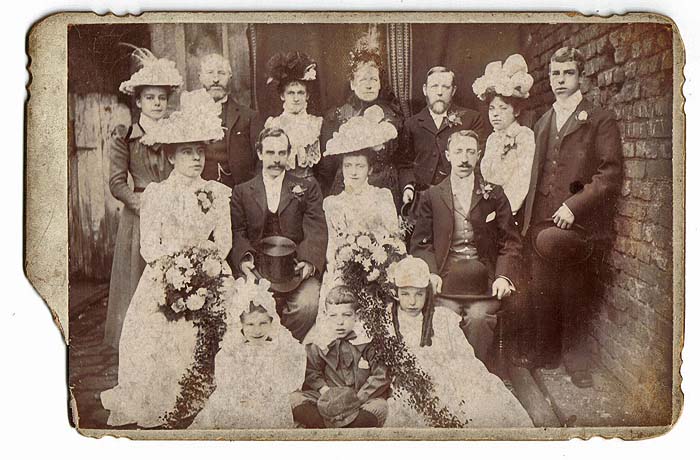 On the 10th September 1900 John married Nellie Hewitt the daughter of a self employed Butcher from Ardwick at St Thomas Parish Church, Ardwick. Also married on the same day was John's younger sister Anne to a John Dibble. Both wedding receptions were held at the dairy in Ducie Street. The attached wedding photo of John's group was said to have been taken in the yard of the dairy. John and Nellie are in the centre of the photo with Richard Newton at second from the left, back row. Photo was by Whitehead of the Stockport Road. There is a similar photo of Anne and John Dibble's wedding.





John and Herbert continued working at the Dairy with their father until both immigrated to Australia, John in 1913. Richard by this time was 62 years old and it appears the dairy was sold sometime after





John and Nellie and their young family worked hard on the land as sharefarmers and eventually made a down payment on, of all things a dairy farm of approx. 400 acres in the rich dairying country of Maleny, Queensland in 1927. The farm remained in the Newton family until the late 1960's.





Although John and Nellie were content with their better life in Australia they both remained English in every way for their remaining lives. Unfortunately they were never able to return and visit remaining friends and relations in the "old country". I remember them well



B Paul Newton
North Buderim
Queensland