My mother, father, younger sister, Susan, and I moved from living 'over the shop' in Ladybarn Lane, Fallowfield to our 'new' house in Church Road, later to become Mitre Road, in about 1952 when I was almost 5 years of age.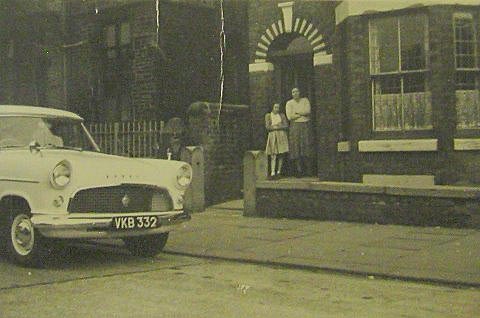 Above: Ann, Mum and car outside 11 Church (Mitre) Road
Our house was immediately next door to the School playground, but I couldn't hop over the wall, as it would have been into the boy's playground where girls were not allowed.
I hated my first days at school and remember being carried around by the teacher. We each had a hook in the cloakroom to hang our coats on and a blanket which we used when we had a sleep every afternoon on our 'beds' which were like canvas on wooden trestles. Because we couldn't read, every child had their own picture to identify their hooks and blankets. Mine was a golliwog, which I am probably not even allowed to say these days but to me it was just a black woolly toy with hair that stuck up round its head! Those teachers must have made a big impression on me as it was from then that I decided that I was going to be a teacher and eventually achieced that ambition.
Our playground was the street and outside our house, we had a lamppost which we could tie a rope to and swing on. There were busy roads at each end of our street but we were able to play out in safety – nobody considered it as not being safe.
The houses were three stories high and each one had a step which had to be donkey-stoned every Saturday. We used square brown coloured stones which we got from the rag and bone man when he did his rounds collecting rags in exchange for them. In front of the steps was the coalhole down which the coalman emptied his sacks of coal, immediately covering all the hard work with coal dust.
On Saturdays, as we got older, we were allowed to go to the pictures which meant we had to go along Stockport Road to get to the cinema. There would be the news and then various features including a serial which meant you had to go back every week to see the next episode.
At the back of each house was a small yard with a brick-built air-raid shelter and some of the neighbours would attempt to grow flowers. Next door to us lived the Watsons, Aunty Edna and Uncle Stan and their children. My mother was great friends with Aunty Edna and they could always be found in either of the houses, usually, Ednas' because Uncle Wilf also lived with them and always seemed really old, and never was young. There was a Saturday evening ritual of checking the football pools.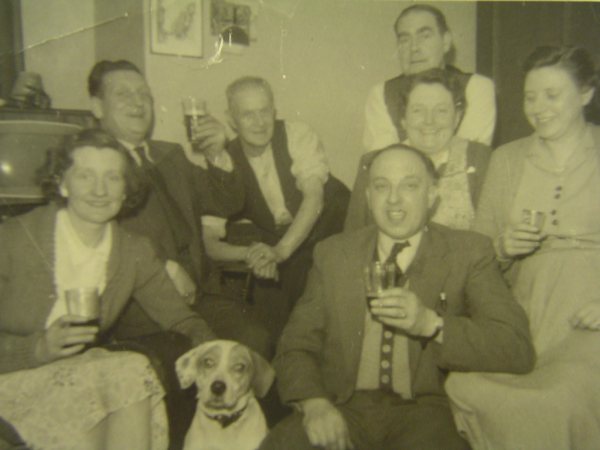 Above: Family & Friends at 11 Church Road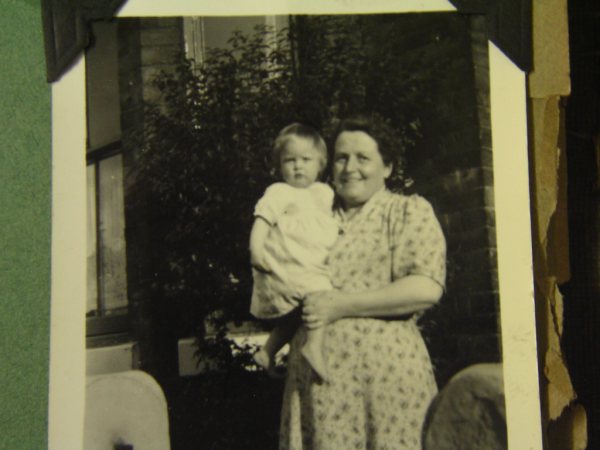 Above: Edna Watson & Patricia
Behind the house were the 'entries' which ran along the back yards, then at right angles and then turning again. They would bring you to the next street where we would all congregate on November 5th for Bonfire night. A huge bonfire was lit in the road. Where the fireworks all came from I don't remember but I do remember the ric-racs which the boys would light and then throw at you.
Each Sunday we were expected to attend Sunday school, which I hated except that every year we would have the Whit Walks when we would have a big parade and dress up. I remember being an attendant to the Whit Walk Queen one year and having to wear a gold dress. Sue had to dress up as Little Miss Muffett and I was really upset when dad drilled a hole in a big clockwork spider that I had so that he could put a piece of string in it for Sue to carry. She was three when we moved to Longsight and Tricia arrived shortly after. We had a big pram and Mum used to go the clinic every Tuesday afternoon to collect the big tins of National Health Dried milk and have Tricia weighed. I remember going too so it must either have been after school or during school holidays.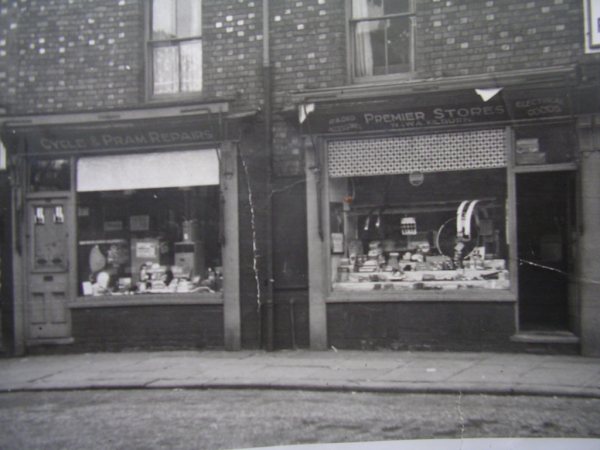 Above: Dad's Bike & Radio shop on Ladybarn Lane
Just around the corner was a shop where we could spend our few pence pocket money each week, and every year the owner would arrange a trip to Blackpool on a 'sharra', (this would have been a bus or charabanc) and a great time we had too. The sun always shone and it was always warm.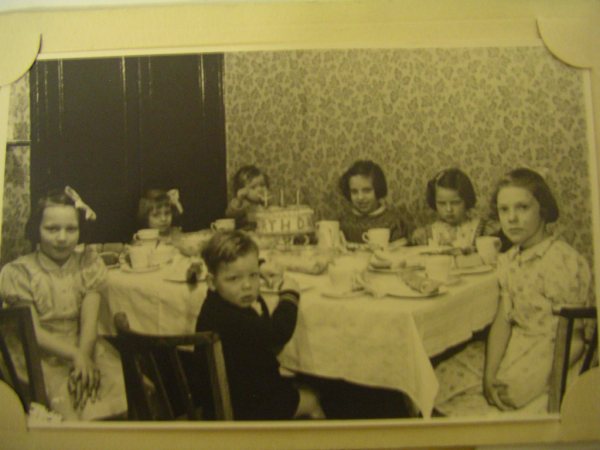 Above: Patricia's Third Birthday
Our cousins, lived at the other end of the terraced houses to us, and my cousin, Janet who was just a few months older than me, and I must have been quite enterprising because we had some moulds and made plaster of Paris figures which we then painted and set out on the wall outside her house and sold. I don't know to this day whether my Mum and Dad knew of our little business!
A big treat we occasionally had was to be taken to Bellevue. At that time it was a zoo and funfair, a very early Alton Towers perhaps, and in the centre was a lake where a story would be acted out accompanied by music and fireworks. We were very lucky in our house because if you went up into the front bedroom on the top storey and stand on tip-toe, you could see the fireworks.
My father worked for Radio Rentals on Stockport Road and was offered the position of manager at their new shop opening in Lincoln which he accepted and we moved to Saxilby, just outside Lincoln in 1958.