MEMORIES OF MY LIFE IN LONGSIGHT
Lynda Jones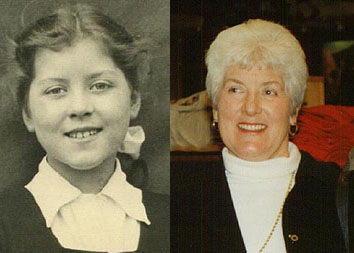 Lynda (Beeston) Jones - aged 9
My life began one fine Spring day in April1941 in Blackpool, Lancashire. My parents were Florence (nee Winterburn) and Leslie Beeston. My mother was evacuated at the time of her confinement, as Manchester was in the thick of World War II and considered unsafe for mothers about to give birth. We were living in Withington at the time, with my father's aunt and uncle, and my father was a soldier in the Army when I was born.
When I was one year old my Dad went abroad, and did not return to England, until I was 5 years old. He was one of the lucky soldiers who returned safely from active duty. Dad was in the Royal Artillery and served in France, Germany, Italy, Africa and Belgium to name a few places. His job in the army was a chef, but in normal life he was an upholsterer.
After the Second World War ended, and my father was demobbed, my family continued to live in Withington, Manchester, for a few months. As my great Aunt & Uncle's house was rather small for two families, my parents were invited to live with my Aunt and Uncle, Hugh Russell and Elizabeth (nee Winterburn) Anderson who were living at 28 North Road, Longsight. Housing was in short supply immediately after the war, and a lot of families were sharing houses.

In 1946 we moved to Longsight and these are My Memories of that time, which are as vivid today as when I lived there until 1951.
Houses
I was 6 years old when I learnt I was going to live in Longsight and I was so excited to be going to live with my cousin Andrea, as being an only child, Andrea was the closest relative to my age, and she was like a sister. Andrea was actually born at No. 28 North Road, being delivered by one of the local doctors, Dr. Thoseby, whose surgery was on the corner of North Road, and Stanley Grove.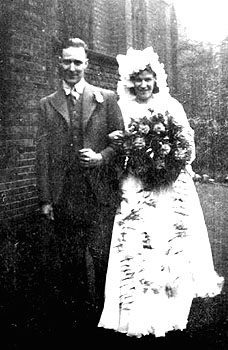 Andrea's parents were married at St. Cyprians Church on Stanley Grove in August 1940 (see above).
28 North Road, Lonsight, was the house that had been rented by my mother's family since the early 1930's. My Grandmother, Mary Winterburn, who had been a widow since the first world war, and had never remarried had lived at No. 28 for many years, with my mother, her three sisters, and two brothers. By the time my family moved to Longsight, all my mother's family were married and lived in other areas of Manchester. My grandmother had moved on to live with my Aunt Sarah who lived at 66 Greville Street, Longsight. Greville Street, was off Clarence Road, off Dickinson Road. My Aunt Betty, husband Hugh and my cousin Andrea Anderson were still living at No. 28 and they had plenty of room for my family to share the house.
28 North Road was a large terraced house with a bay window at the front both top and bottom. We had a tiny front garden, a strip about six feet wide, with a wall, and a privet hedge behind it, but no room for flowers. Under the row of about 6 steps from the front door, which were always brown stoned, to match the window sills, was a large round flat iron plate, set in the flagstones, which was lifted up by the coal man, when he dropped down bags of coal, into the cellar.
The rooms downstairs consisted of a parlor, middle sitting room, back living room with a large fire and kitchen hobs, which we no longer used, as there was a fairly new modern gas stove in the scullery off the kitchen. The scullery had flagstones on the floor, covered with coconut matting, a stone sink with wooden draining board, and a row of kitchen cupboards. Very narrow and a bit squashed when two people tried to use the kitchen at the same time. There was a small window over the kitchen sink, which overlooked part of the back yard.
The other room downstairs, was the cellar. This was an exciting place, with three separate rooms. One at the front was originally used for washing with a large stone sink and stone bench where the clothes were obviously scrubbed. The front section, was where the coal was kept. The back room of the cellar was just used as a storage compartment. It was icy cold in the cellar and my Mum and Auntie used to keep all their food that needed to be chilled in there, they said it was as good as a refrigerator in the winter and summer.
Upstairs we had three good size bedrooms, a bathroom, including inside toilet. My grandmother had the bathroom installed, and before that there was an outside toilet, which had been demolished by the time I went to live at No. 28. As we only had one bathroom in the house, my mother and I sometimes used to get the bus on Kirkmanshulme Lane, down to Belle Vue, and walk across Hyde Road, and have a bath at Gorton Baths. There the bath attendant filled the bath for you with a large key to turn on the taps and you told her if the water was the right temperature.
We also had an attic, which was up another flight of stairs. I loved playing in the attic at No. 28. It was a treasure chest full of goodies from the olden days. Both my Mother and Aunt Betty were ballroom dancers, and my Aunt, being an excellent dressmaker, made all their dance dresses. Before they were married, both Mum and Aunt Betty worked part time as dance instructors and hostesses at a Ballroom, on Stanley Grove, called "Desmonds". Desmonds was just a few doors down from Dr. Thoseby's surgery. All their old dresses were stored in big chests in the attic and my cousin and I spent many hours up there, dressing up, and pretending we too, were ballroom dancers like our mothers.
The back yard of No. 28 North Road, was a typical back yard for the type of houses on North Road. Long and narrow, with a tiny border of soil, where we tried to grow a few flowers and sometimes managed to get the odd vegetables to grow. I always remember the beautiful lilac tree which overhung our yard from No. 26 next door. In the Spring, we had a lovely display of perfumed lavender flowers, which brightened up the yard. Half way down the yard was a wash house where my Mum and Auntie did their washing. Two mangles, a dolly tub, posers, and tin baths, buckets, and a copper boiler were in the wash house. Also old baby prams and pushers and some old bicycles also stored at the back of the large white washed room. I remember it took all day to do a week's washing, and line space was limited because of the size of the back yard. My Mother's washing day was Mondays and my Aunts was Wednesday. It was a far cry from the modern automatic washing machines and dryers of today!
At the very bottom of the back yard was the old concrete air raid shelter, which was a huge double shelter, half of which was in the yard of the house next door. This shelter had
a large flat roof, which I used to look out on from my back bedroom window. There was a back door at the end of the yard, which led into the back entry and came out onto Norman Grove. A
ll in all I suppose No. 28 North Road, Longsight was quite roomy, and modern compared with some of the smaller terraced houses in other areas of Longsight.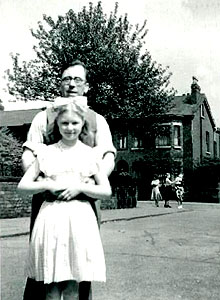 Andrea Anderson and my father, Leslie Beeston
taken in Norman Grove - 1950
During our years at 28 North Road, my Dad decided it was time to decorate the middle living room, which was our family living room. He started stripping off the old wallpaper, and we were amazed at how many layers and layers of wallpaper were on the walls. It was so thick; it eventually pulled off most of the plaster on the walls. Fortunately my Uncle Hughie was a plaster so he set about replastering the whole room. There was an enormous fireplace in the room, with a marble top. With loosening and stripping off all the old wallpaper, this also made the fireplace loose and the whole thing came crashing down. Fortunately nothing got damaged so my Dad and Uncle Hughie set about fixing it all back up to the wall and made it much stronger and safer.
Our Neighbors were the Mallach family at No. 26 North Road, and the Boyd family at No. 30.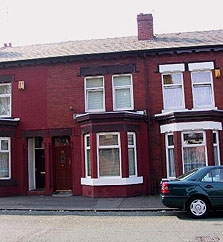 Grandma's house at 66 Greville Street was a lot smaller than 28 North Road, still with a front parlor, with bay window. There was no front yard of this house, just one long row of terraced houses. It's amazing this street and terraced houses are still there to day, many looking quite fresh and modernised with new front doors and windows. Down the small narrow hallway was a door leading in the back room, again with the old fireplace with cooking hobs, which my aunt had removed and a new modern tiled fireplace installed. Down a couple of stone steps and into the large kitchen. This again, when I first went to No. 66 Greville Street, had the old stone sink and wooden draining board that was very badly worn from years and years of use. My aunt after a few years had a modern gas stove fitted a new kitchen sink with white enamel draining board, and some nice new kitchen cupboards. There was room in the kitchen for a large dining table and chairs, which is where the family ate their meals.
No toilet or bathroom in this house, the toilet being like most terraced houses down the end of the back yard. After a number of years, my aunt had the smallest back bedroom converted into a bathroom, with bath, basin and the luxury of an inside loo. At the end of the back yard there was a back door, leading out into the alleyway, where the back doors of the houses in the next street were opposite. There were rows of washing lines strung across the alleyway.
Aunt Sarah worked at Longsight Railway Station, and was a very hard working lady. She got up at 4.00a.m every morning and walked to the station where she cleaned railway carriages. I think she worked there for almost 20 years. She had a really bad fall one morning on her way to work; tripping over a broken pavement in the dark and this fall ended her working days at the Railway Yard.
My School
I went to Stanley Grove School, from 1946 until 1951 and my teacher in Standard 3 was Miss C.A. Lyon, and headmistress Miss R. Armitage. Stanley Grove School was on Rushford Street, Longsight.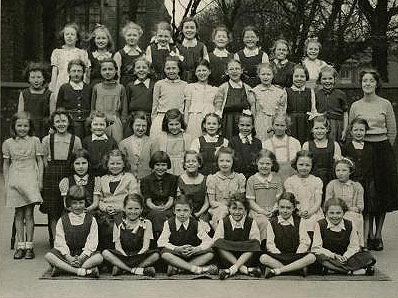 Lynda is 4th from the right, on the back row. Her cousin Andrea, is 4th from the left.
I really enjoyed my days at this school and made quite a few friends. My cousin and I used to walk home at lunchtime, living so close to the school, whilst other students had to walk down Stanley Grove, across Stockport Road and down Dickinson Road, to a canteen to have a school lunch. On the corner of Stanley Grove, and Rushford St. opposite St. Cyprians Church was a herbalist shop that sold sweets, and the most marvelous ice-lollies made from "Vimpto". These ice-lollies cost one penny and were delicious. In the summer months I always went back to school after lunch with my penny to buy a Vimpto ice lolly, with a stern warning from Mum, not to let the juice fall on my school uniform, or I'd be in big trouble!
School days were great fun, and the friends I remember were Glenys Jones, Margaret O'Brien, Frances Gaffney, Dyllis Evans, June Abblot, Eileen Ramsden, Margaret Bell, Audrey Sutherland, Pamela Burrows to name a few.
The Sunday school I attended was the North Road Methodist Sunday school at the end of North Road and on the corner of East Road. We took part in the Whit Walks and Auntie Betty made my cousin and I new dresses each summer for the walks
Shops
Opposite our house on North Road was a row of about six shops. A bakers, newsagents, butchers, grocers and an off license were the ones I remember. The butcher's shop was called Hopkin's Butchers, the owner being a Mr. Fred Hopkins. I can recall a day when my Auntie had been across to Hopkin's butchers, and was so excited when she got back, telling my Mum to quickly get her coat on and get across the road, as Mr. Hopkins had "Offal" on sale. I wondered what on earth offal was, to cause such excitement. When my Mum came home I asked her what the offal was, and she explained that it was kidney and liver, and it was a rare treat to get it straight after the war. She said she was going to make one of my favorite meals that evening, - bacon, liver and onions with lovely brown gravy and the kidney was for a nice beef and kidney pudding the next day!
Mum and my Aunt Betty shopped for some items at these shops, but their main grocery shopping was at a small branch of the Co-op, which was down Norman Grove, across Albert Grove and was on the corner of Mitton and Chipping Streets.
Every Saturday morning we used to go out early with many bags, - no cars, or delivery vans in those days. We'd stand at the counter waiting to be served, and as was the custom in those days, you had to ask for every item, wait for things to be weighed out, and wrapped, therefore shopping took a fair while. Then we had to carry it all the way home, or sometimes we'd take one of the old pushers from the wash house and stack the groceries into boxes and wheel it home.
When we first went to live in Longsight, things were still on ration, and we had to use our ration books, and were only allowed a certain amount of some foods per person, per week. I remember the day sweets and chocolate came off rationing. It was announced on a Saturday night on the radio and a notice was in the Manchester Evening News. The sweet shops on Stockport Road actually opened on the Sunday morning. Naturally everybody came out in force to buy sweets and chocolate thinking they'd be able to buy as much as they wanted. By 10.00 a.m. every sweet shop had sold out completely of every product on the shelves. We all had to wait until fresh stock came into the shops a few days later.
We often went to Stockport Road, to shop, where both sides of the road had shops for miles on end. I remember Woolworth's, Dents Furniture shop on the corner of Stanley Grove and Stockport Road, Raffo's Ice Cream Parlor, Timpson's & England's Shoe Shops, Lowe's Cake Shop, (who could possibly forget the wonderful pies, Eccles Cakes and Battenburg Cakes), Boots Chemist, UCP Tripe Shop and the famous John William's Grocer's shop on the corner of Stockport Road, and Dickinson Road. John Williams was the nearest thing and I suppose the start of our local supermarkets. You could get a basket and walk round the shelves and choose your own items, then take them all back to the counter to pay for. I can here my Mum saying now ­ "let's go to John Williams today and get a tin of red salmon, for a special treat". She said no other shop in the area stocked her brand of tinned red salmon! Also their biscuits were always something special. We often got a few goodies from John Williams, on our way to visit my Grandmother.
Adventures
Glenys Jones was a really special friend from my class at school and her family lived on Parry Road. She had one older sister called Megan and her parents were Welsh, speaking with a real strong Welsh accent. Her father was a policeman. They had a lovely modern house, much newer than a lot of houses in Longsight, and in the back garden they had a glass greenhouse. I didn't know anyone with a greenhouse. Mr. Jones was a very keen gardener, and in the greenhouse he was trying to grow grapes. He always had a bag of lovely tomatoes to give us in the summertime.
One day during our summer holidays from school, Glenys, Andrea and I asked our parents if could we take a picnic and go to Crowcroft Park for a few hours. We set off, but before we got to the park, towards the end of North Road, we saw some older children on bikes, carrying lovely bunches of Bluebells. We asked them where they had picked the flowers -"Reddish Vale, near the 16 Arches" we were told. The 16 Arches was the long Railway Bridge at Reddish Vale. As we all had a passion for blue flowers, and really wanted to pick some to take home, we decided that the only way to get the flowers was for us to walk to Reddish Vale, and get some for ourselves.
We set off, having no idea how far we'd have to walk or how long it was going to take to reach Reddish Vale. We were all about 8 years old at the time, so didn't really think about the consequences of just going off on our own to a strange place that we'd never been too before. All we were interested in was getting the Bluebells. We finally reached Reddish Vale, and to this day, I cannot remember how far we walked or where. All I know it seemed like forever getting there. One good thing, we still had our picnic lunch, so we finally sat on the grass and got our strength back and ate our lunch. We finally found the Bluebells and picked bunches and bunches of them. Then it dawned on us ­ how were we going to get back home to Longsight. Panic buttons set in!!! We came up from the valley where the flowers were growing, and met some families that were heading for the bus stop. By then Glenys and Andrea were pretty near to tears, worrying about getting home and what our parents were going to say. We stopped one lady and asked how we could get back to Longsight.

She said it was going to take one bus to get to Belle Vue, then the 53 down Kirkmanshulme Lane to North Road. This lovely lady gave us threepence each for the bus fare. It dawned on us we didn't even know the time of day, and when she told us it was almost 6.00 p.m. we really panicked. We suddenly realised that our parents would be frantic by now, wondering why we hadn't returned from Crowcroft Park by the middle of the afternoon!!! We followed the lady's instructions and got on the bus, and the tram guard made sure we got off at the correct stop at Belle Vue. We didn't have to wait long for the No. 53, and it was only about three or four stops to North Road. We must have arrived home about 7.00 p.m. My father was on the verge of calling the police by the time we got home and we were all in serious trouble from our parents for going off on such a trip without permission. We were all grounded for the rest of the school holidays. We didn't see Glenys again till school started a few weeks later.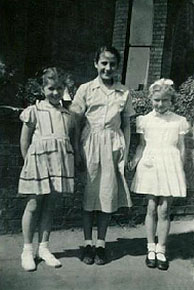 Lynda, Jean Dobson and Andrea.
Taken outside Jean's house. - 1949
Another great friend I remember from my days living in Longsight was Jean Dobson. Jean and her family lived on the corner of Norman Grove and Albert Grove. The Dobson family consisted of two brothers, and three sisters and Mr. Dobson owned a shirt making factory somewhere in Manchester. They had the most wonderful dog, which I absolutely idolised, not having a dog of my own. Her name was Peggy, a beautiful long hair German Shepherd. At one stage Peggy was expecting puppies, and one night she gave birth to 9 beautiful puppies. After a few days, as I was passing the house on my way home from school, Mr. Dobson was digging hole in the side garden. I asked him what he was digging the hole for, and he told me the smallest puppy which they named "Tiny" had died and he was burying her before the family got home from school. Jean was already at high school by then, so got home later than I did. I was so upset, and cried all the way home. I watched the puppies grow up, and when they were about three months old, various families came to take them to their new homes. The very last one was left, and the Dobson family decided to keep this one, as they couldn't bear to part with her. Before the puppies were all sold, I remember one Sunday being invited to go with the Dobson's to a relative's house in Gatley, Cheshire.
We loaded all the puppies and mum Peggy into the back of the huge van that Mr. Dobson used for his business and off we went on our day out. The house in Gately was a beautiful place, in it's own grounds, with a lovely pond in one corner of the garden. Needless to say all the dogs decided they wanted to play in the pond and ended up getting completely soaked and totally covered in mud from the bottom of the pond. What a job, washing off all of them to bring home in the van, but it was a wonderful day out. I remember getting my clothes as dirty as the puppies. Mum was not impressed to see the state I was in when I arrived home.
Jean Dobson, my friend from Norman Grove, got me interested in swimming, and I remember going to Gorton Baths every Sunday morning in the summer time and learning to swim. My Father was an excellent swimmer and had won many medals and tournaments in the Army. He always came with us to Gorton Baths, as in his younger days, he lived in Gorton, and Gorton Baths was also a place where he'd been in lots of swimming galas.
When I was a good swimmer, my mother allowed me to go to High Street Baths, on my own. I always went into the Ladies Only pool, and spent many happy hours in the water. Swimming was one of my favorite pastimes.
Another vivid memory I have whilst living in Longsight, was the day we had the most terrific thunderstorm. It was a Saturday afternoon and my father often took me as a special treat, into Manchester, on Saturdays. One of my favorite shops was Lewis's on Market Street. My Dad bought me a colouring book and some new crayons and I couldn't wait to get home to start on the book.
Whilst we were in the shops in Manchester, it started to rain, which turned into a terrible storm. It rained that hard, we couldn't get off the bus on Stockport Road to walk home. We stayed on the bus until the terminus on Kingsway, in Burnage. Then came back on the same bus down Slade Lane and Stockport Road. We got off at Dickenson Road, and started to walk in the rain, which had eased off, down Stanley Grove. When we got to under the railway bridge, we saw that this was completely flooded and was impossible to get through. We then walked back to Stockport Road, got the next bus and got off this time at Kirkmanshulme Lane. We then got the 53 bus, down Kirkmanshulme Lane, which wasn't as bad under the railway bridge, and got off at North Road. The trip must have taken twice as long as normal to get home. My mother was getting very worried by this time, and there was no way to let her know where we were. ­ No telephones in houses in those days, unless you were well off!! My Uncle Hughie, who was on his way home from work, actually waded through the water Stanley Grove, and came home soaked up to his knees.
Some of my memories of living in Longsight, were the days we used to go to Belle Vue. It was always a special day out, seeing the animals at the zoo. Going on all the rides, going on the boating lake, or just wandering round the lovely gardens. The special Fireworks displays in the Winter were something I will always remember. From the front landing window at 28 North Road, we could see most of the high fireworks over the rooftops of the shops opposite, and we always waited for the "big bang" of the special firework at the very end of the show.
Hobbies

Music played a big part in my life whilst living in Longsight, both at school and in my spare time. At school I was learning the violin, much to my father's horror. He made me practice in my bedroom, as he couldn't stand the scratchy noise in the first few months of learning. The school provided the violin. I was also learning the piano and my music teacher was a Mrs. Betty Kirkley, who lived on Farrant Road. We had a lovely old piano in our front parlor, which originally had belonged to my Grandmother. She left this behind when she went to live with Aunt Sarah as their house didn't have the room for a piano. My cousin and I were always trying to play, so that's when our parents looked round for a teacher for us.
Mrs. Kirkley was well known in Longsight, being a very talented musician of many years. She could play just about any musical instrument ­ saxophone, clarinet and the piano of course. She gave lessons in all these instruments. She also gave singing and tap dancing lessons, which we also attended. Mrs. Kirkley played in many dance bands in the 1930's and early 1940's. At one time playing in an all ladies dance band, somewhere in Manchester.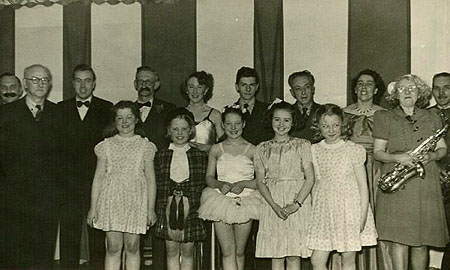 Concert put on by Mrs. Betty Kirkley about 1949, in Longsight
Mrs. Kirkley far right with saxaphone - Lynda lst left on front row
Andrea, her cousin, last on front row next to Mrs. Kirkley
We did many performances for Mrs. Kirkley as she used to put on concerts all over Manchester, mainly to raise money for under privileged children, and the aged. I remember doing one particular concert in some rooms, just off Dickinson Road, behind the shops on Stockport Road, with lots of talented singers, musicians and comedians. My Cousin Andrea and I did a dance routine and sang "Singing in the Rain" wearing lovely pink long dresses and carrying matching pink taffeta covered umbrella's, all made by my Auntie Betty. Later we wore these dresses in the Whit Walks with our Sunday school.
When I was older and living in Wythenshawe, which is where my family moved to in 1951, I learned from another Auntie, who went to the Over-50's Club in Woodhouse Park, that Mrs. Kirkley was still doing her concerts.
In 1961 the 65 year-old Mrs. Kirkley, now confined to her bed, was tragically killed in a house fire in her home in Farrant Road, along with her husband. Mr. Donald Summerfield, the coroner investigating the deaths, said it was impossible to escape the conclusion that a serious fire at the house began in a home-made contraption constructed by 67 year old Mr. Kirkley - a cabinet clothes drier. At the Inquest Mrs. Kirkley's sister, Lucy Foster, testified that she put some clothes in the drier about 6.30p.m. About an hour later her brother-in-law went downstairs to see if everything was all right and she heard him shouting: "Lucy do come down and help me". There was a thick fog in the annexe where the drier was and Lucy Foster could not get far, so she ran to the phone for the fire engine. An Electricity Board expert said that the wooden-sided drier had the wrong sort of element and the room was not up to standard. The verdict of the Coroner's Inquest was that the deaths were the result of an accident.
May Queen Day
On the lst May, it was a tradition for the little girls in Longsight to dress up in long dresses and dance around the May Pole. My Dad made one for all the kids in Norman Grove, and he got a wooden crate to stand the pole in, so we could all dance around. All the mothers made a tea party for us and brought out sandwiches and cakes and lots of goodies.
Christmas
Christmas at No. 28 North Road, Longsight was always something special. All my aunts and uncles and their families came on Christmas Day and Mum and Auntie Betty worked for days and days, preparing all the Christmas Food. I remember my father bringing home three geese one year for Christmas Dinner. He put the geese in the cellar, and one night after work, he began to pluck the feathers. There were white feathers everywhere, and I think it took weeks to finally clean them all up. The house was decorated with Christmas trees, one real one in the front parlor and smaller artificial ones in the other two rooms. Lots of streamers and balloons.

After lunch on Christmas Day, the whole family used to play cards round the huge dining room table in the middle room. The game they used to play was called "Twopence Halfpenny" My grandmother used to give my cousin and I the money so we could have a round in the game. If we won, we were allowed to keep all the pennies for that round. After Christmas the whole family came again on New Year's Eve and my cousin and I were allowed to stay up late to see the New Year in. I remember my Uncle Hughie going out of the back door, down the back yard, out of the back door, then he walked down the back entry, out onto Norman Grove, round the corner and came in the front door of No. 28. My Aunt met him at the front door with the traditional lump of coal and a glass of whiskey as he let in the New Year. Holidays were always a special family time at No. 28.
Cinemas
The Cinemas on Stockport Road hold special places in my memories of Longsight. I think I went to every one of them over the years we lived on North Road. I remember my Gran taking my cousin and myself to the Shaftesbury to see Flash Gordon. The Kings to see Bambi and the Queens, further up Stockport Road, to see all the musical films as they came out. Being so involved in concerts, and performing with Mrs. Kirkley, naturally musical films were my favorite. I just loved all the American films with stars like Gene Kelly, Frank Sinatra, Vera Ellen and Cyd Charisse. One of my all time favorites was "The Red Shoes" with Moira Sheerer and after seeing that movie, all I wanted was a pair of red ballet shoes.
Sometimes for a special treat my parents and I used to go the Apollo Cinema on a Saturday night and at Christmas we always went to whatever pantomime was playing the Ardwick Hippodrome.
Parks
Special Parks I remember were Crowcroft Park, Birch Fields near my grandmother's house and of course Platt Fields, where we used to have days out, boating on the lake and having special picnics in the summer. In Birch Park I remember there was a huge rock that was supposed to be a piece of a meteorite that had fallen from outer space. I often wonder if it is there to day!

Now after all these years, I often wonder what Longsight is like to day. I have lived in Adelaide, Australia since 1970 so I don't get the opportunity to take a trip back to Longsight. I have a good friend in Dukinfield who recently took some photos of places where I lived in Longsight. The row of houses where 28 North Road once stood, are now demolished and an old people's home called "Bougainvillea Gardens' stands on the same ground. Further down North Road, which I believe is now called Northmoor Road; the Co-op Building is all boarded up, so I suppose there has been many changes over the last 50 odd years since I lived there.
I will treasure my memories of my life in Longsight, for the rest of my days, as it was where I spent many happy years of my life.
Lynda Jones
Adelaide, South Australia