Graham Todd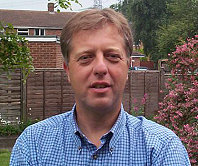 grahamtodd@btinternet.com

38 Santley Street - My childhood memories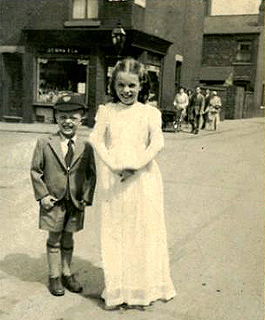 This is where John and Ida Todd lived from 1947 until 1991, when they moved to Selby in North Yorkshire. I lived with them at number thirty-eight from June 1948 when I was born, until I left to go to university in 1967.
My dad worked for James Stewart & Sons of Ardwick Green, as a tailor's cutter for many years; whilst my mam worked for a number of employers, including Ready Radio of Levenshulme and the Manchester Royal Eye Hospital.
My dad's parents, Herbert and Annie Todd, used to run the grocer's shop on the corner of Santley and Sherrington Streets, and when they retired, they moved to 27 Sherrington Street. The last occupier of the corner shop whilst still retaining its identity as a grocer's shop was Mrs Dresser. On the corner of Patey And Santley Streets was Barnett's, where I used to call on my way to Crowcroft Park School each morning to pick up two penny bars of Cadbury's chocolate, each one wrapped at a leisurely pace by Mrs Barnett in a piece of greaseproof paper. At the bottom of Patey Street was Irwin's fish and chip shop that sold Holland's pies. These were a real delicacy, my favourite being the cheese and onion pies. During school holidays I had to do the shopping for what seemed to me to be a veritable "army" of pensioners, and absolutely dreaded having to pick up my granddad's starched detachable shirt collars from the Chinese laundry on Stanley Grove, at the junction with Stockport Road. I recall my first experience of entering the shop when I was quite small, as being reminiscent of walking straight into a scene out of a Rupert book, with clouds of billowing steam and strange oriental faces peering out through the gloom. Occasionally, I was asked to go to the UCP tripe shop near Woolworth's to pick up tripe and cow-heels for my grandma, which I found to be a particularly nauseating experience. Everything they sold seemed to me to look like wash-leather.
At the end of our street was Jackson's Brickworks, with William Ayrton, Textile Winders, just down Pink Bank Lane. Each morning the hooters would go off to let the workers know that it was nearly time to start work. As I recall, Ayrton's klaxon went off at 7:20, and Jackson's at 7:30. Just before 8:00, as I was getting ready to go to Crowcroft Park School, a convoy of crimson lorries laden with bricks would set off down the street, thundering past our house, rattling the windows. In the summer, there would be clouds of brick dust to accompany the noise, and soon after it had settled, there would be frantic activity as little old women in aprons appeared at regular intervals with buckets and cloths to wipe away the patina of dust from their steps and windowsills. My earliest memories recall a time before doorsteps were painted, and the surfaces were rubbed down vigorously with a type of yellow stone instead.
On a weekend, my friends and I all used to troop off down to the Kings cinema for the Saturday afternoon matinee that started at half past one. The Flash Gordon serials, starring Buster Crabbe, were an absolute favourite of mine, and I try never to miss them if there is a vintage re-run on TV. Whatever was on, a short film featuring "The Three Stooges" always accompanied it. Definitely not one of my favourites, as I always reckoned them to be just too corny for words! After a spate of screen peppering, the management of the cinema implemented a gun "check-in" system for air pistols at the Kings, which seemed to do the trick. However, it didn't stop the yobbos chucking sticky sweets and the occasional lighted cigarette from the balcony. The Shaftesbury cinema over the road from the Kings shut down first, and then the Kings was burned down in a spectacular fire. I was there, and didn't miss a crackle! It must have been almost as good as my dad's memory of when he and his pals responded to a call of "there's a dead horse in Stockport Road!" The Queen's was the last to close, situated next to the now culverted Gore Brook, at the junction of Slade Lane and Stockport Road. In the 1950's the brook was teeming with rats, and it used to be a "dare" to clamber down the side to where the rats scuttled about, then to scamper off as one came out of its hole.
Saturday night was the best night of the week, as Belle Vue gardens put on a terrific show of fireworks sometime after 10:00 pm, after it had gone dark. I had a really good view of the spectacular rockets from my bedroom window, as they erupted in a shower of coloured stars into the inky night sky, silhouetting the stark rooftops. The normally dull slates gleamed in the reflected light, as if it had been raining. The roar of the Speedway would sometimes keep me awake, especially on cool nights. It seemed so close, but it was at least a mile away.
On warm nights, I would keep my window open, and before drifting off to sleep, I would very occasionally hear someone singing as they reeled past the house on their way back from the pub. As I drifted off to sleep I could hear the steam engines shunting wagons at Longsight sheds, and if I was lucky, the distinctive chimes of a Britannia pacific engine. On just the one occasion, I remember hearing the deep blast of a ship's siren that must have carried all of the five miles from the Manchester Ship Canal in Salford. Sound always carried better, just before rain in the cool, clear air.
If I kept my window open all Saturday night, the eerie wail of screeching monkeys, baboons or whatever they were, would carry from Belle Vue in the stillness of the early Sunday morning. It seemed quite exotic at the time. I remember waking up one dark night to the sound of crackling, and peering through the curtains was shocked to see the night sky ablaze with flickering light and the glow of an immense fireball as Belle Vue burnt down. So many zoo animals died in that fire; as if they didn't have a bad enough time, as it was, enduring the appalling conditions that they had to live in.
Longsight was such an exciting place to live in the 1950' and 60's, especially if you were a kid, and before the vast expanse of Jackson's clay pit was filled in and turned into a waste disposal site. A network of narrow gauge trucks linked by a continuous metal hawser ran from the excavations at the back of Hemmons Road, and up conveyors into the brickworks at the top of our street. There was always a kid or two trying to put rocks on the line to derail the wagons. A shout of "Here's the Cocky!" would go up, and everyone would scatter as the poor chap and one of his mates would struggle to get the wagons back on the line. I remember a very deep hole like an inverted cone, filled with bright yellow water that stank terribly. We never went down there as it was too dangerous, although there were kids who "dared" each other to go to the bottom, then walk along the pipe across the foul-smelling water to the pump-house in the middle. Drowning was not an uncommon occurrence in those days.
From the top of Hemmons Road, on a clear day, you could see Werneth Low, and behind that, the long bleak plateau of Kinder Scout. To the northwest, behind the distant CIS building and Piccadilly Plaza, were the distant hills beyond Bolton and the Winter Hill TV transmitter. In the winter, the hills beyond Stalybridge regularly had a covering of snow, and when you were a kid, it seemed like having the Alps on your doorstep.
In my childhood, I can remember the time before the land adjacent to the cricket club was sold off to build Bickerdike Court flats. I used to play cricket on the rough ground with my friend Chris Wood and his mate Paul Lineham. It was usually just the three of us when we were in our early teens, but sometimes a couple of older lads in their twenties from Bickerdike would join in. It then became a bit rough, and playing with a cork ball, we never came home without a bruise or two. But it was healthy, and fun too!
I remember that there was a rickety, wooden, former stable on the site of the flats, where the groundsman from the cricket club kept his machinery; and where I suppose horses were kept before the advent of petrol mowers. One very windy day, as I was watching the Longsight 1st eleven, there was a tremendous crash, as the entire structure blew down. Luckily nobody was hurt, but a couple of kids were playing nearby a little earlier. Peter Smirthwaite came scuttling out from the back having been startled as he smoked a quick fag out of sight of everybody.
The cricket club used to incorporate a fantastic black and white Victorian pavilion of enormous proportions that was replaced when part of the ground was sold to build the flats. In the rubble of the old changing rooms I found a tatty cricket bag containing a sepia photograph of what I believe was the first Australian touring side to visit the UK in the 1880's, when they played at Longsight. Being an honest lad, I gave it to Bill Davies, a long time stalwart of the club, and I guess it is pretty valuable now. The steward at the time was Len Riley, and if you were a kid, you never got on the wrong side of him, as he wielded absolute power. On some days his complexion was purple, but if he had had a winning streak on the fruit machine, you could get away with murder! However, nothing would get him down from his upstairs flat on a Wednesday afternoon, his half-day off. The cricket team in those days seemed to be full of great batsmen, Arthur Sutton in particular being a very big hitter. Ken Howard and Jimmy Coombs were both prolific wicket takers; later playing for Lancashire.
In Crowcroft Park, there were still the remains of a Summer Shed, where the teenagers used to congregate, and just in front of Crowcroft Park School, what little was left of a bandstand. At the bottom of the Park was Crowcroft nursery, which was pulled down several years ago. There were two bowling greens. The top one for the experts like my dad, whilst the bottom one was reserved for the novices like myself.
The park used to be full of bowlers in the summer, usually all men, but I remember a formidable, stout woman called Mrs Lennard who seemed to be quite proficient at it. My dad always seemed to be in the final of something or other; and there was hardly ever a summer without him winning a trophy at either the park or the cricket club. Each green was kept in an immaculate condition, and there was no need for a six-foot stockade to protect the greens in those days. Where has society gone wrong? The tennis courts were never quite up to the same standard as the greens, but then there wasn't the same demand. There was always a "parkie" on patrol, blowing his whistle at some poor kid committing a minor transgression, but there never seemed to be anyone around if we wanted to pay for a game of tennis!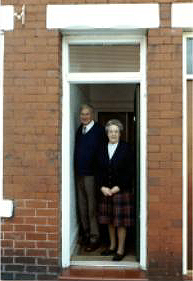 Sunday afternoon was Sunday school time. Nearly all the kids from the neighbourhood went to North Road Methodists. I tried to get out of it whenever I could, but never managed to. Stalwarts such as Bertha Bradley, Dorothy Jackson, and the Towlers put in lots of hard work as I recall, and there were always the jumble sales. I joined the "cubs" with a lot of my friends, but never graduated into the scouts. There was also a sizeable band of brownies and guides, with Dorothy Jackson in control of the latter. From what I hear, she still has a very strong interest in keeping the community spirit alive in that part of Longsight. The cubs and scouts eventually disappeared, to be replaced by the Boys' Brigade, who paraded once a month down Santley, and the surrounding streets, accompanied by massed bugles and drums. This always reduced our dog Dandy, to a shivering wreck as he barked the house down in terror. I was once unlucky enough to be caught on the upper deck of a bus with Dandy on Hyde Road, en route to Werneth Low, when we became stuck behind a slow moving parade. I think we had to get off in the end, when the rest of the passengers complained about the noise. In some ways, it came as quite a relief when he went deaf in his old age!
Inevitably, most of the older generation has now passed on; and my parents have moved to Selby to be nearer to me, and to have more time with their grandson. However, we all still retain fond memories of that particular part of Manchester that we still refer to as "home", - Longsight.
Graham Todd
grahamtodd@btinternet.com