James Darlington's Longsight Memories.
My name is James Darlington, I was born in Dennison House Private Nursing Home Victoria Park, on the 26th. July 1932. My home was at 39, Old Hall Lane, where I lived for 25 years, from where I married and moved to live in Sale for the next five years, then emigrating to Australia. Dennison House was close to Smallman's Caterers where my twenty-first birthday party was held, Frank Swift the Manchester City Football Club goalkeeper was then a director of Smallman's.
The first school I attended was Birchfields Infants where the headmaster was Mr Roberts, followed by Openshaw Junior Technical College on Grey Mare Lane, headmaster R J Fullard. A keen scouter I was a member of Roby Congregational troop under the leadership of "Scoutmaster" Mrs Horridge, who kept the troop going whilst her husband was on active service in the Navy.
Longsight during my youth was at war, and one of my jobs was to check the wooden erection standing at the corner of Beresford Road and Old Hall Lane that looked like a bird table. It was provided to show any evidence of some chemical change that would inform us of an impending Mustard Gas attack.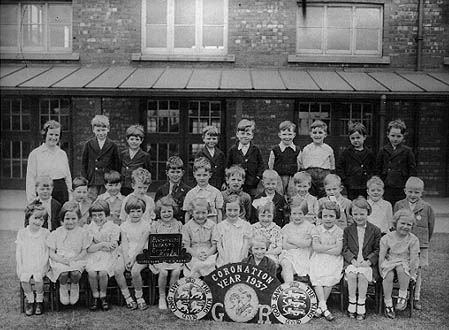 Birchfield Road School, Coronation year
I am aged five, second row with the fair hair and fringe fifth from right.
Today I can just about name all the children pictured.
The teacher was Miss Rowbottom.
Slade Hall was the home of our family doctor and where the consulting room of Dr. Charles Brown was located, a little further down was where Pastor J. Nelson Parr ministered at the Bethshan Tabernacle.
Until I acquired my first motorcycle like everyone else I walked or cycled, long summer evenings were made for long walks and I knew every inch of Longsight. Tuppence on the bus took me to Hands Reynolds to fish in the clay pits, I used to think I was well out into the countryside there. There were so many young fellows like myself who lived in the neighbourhood and I knew them all and their parents, we were one big happy family.
My Father owned and operated a successful road haulage business, J.Darlington and Son (Transport Limited), with premises in Harpurhey. He bought the Old Hall Lane house new about 1931 for three hundred pounds, our telephone number was RUS 3475.
More Longsight Memories.
Old Hall Lane Longsight where I grew up from the thirty's to the fifty's was as I remember it, a very pleasant place to live. Apart from a short spell as an evacuee first to Blackpool with the school and later in the Cheshire countryside, I resided there for almost twenty-five years. Characters I remember who patronised the area are still clear in my memory.
As a young boy the Rag and Bone man who had a small pony and an old two-wheeled cart intrigued me. He exchanged donkey-browning stone or coal briquettes for an assortment of discarded household wares, but why did he have the white cloth tied about the front of his face reminiscent of a doctor in an operating theatre. No answer was forthcoming to my repeated questions until I was older, when I learned that the effects of venereal disease had ravaged his face.
Mr Harcourt was a different matter, a retired schoolteacher he had acquired a commercial type box tricycle, which he pedalled about the neighbourhood selling sweets, mostly in the shape of small dinners.
We all had our favourites; mine was pie, chips and peas, followed by a fruit selection, which included bananas, always a special treat. Mr. Harcourt was a military style looking gentleman with a handlebar moustache, very straight posture, he cycled around looking more like a sergeant major than a retired geography teacher, a quiet man, well respected by all the children.
There were many trades' deliverymen who called in those days, the milkman, the coalman, and the grocery boy. The window cleaner, who always insisted that his bucket be filled with warm water. The insurance man who rode an old motorbike and wore his cap turned back to front. The house always seemed to have people calling, most of whom became friends, but especially when the neighbours gathered to celebrate an occasion such as November the fifth, Guy Fawks night.
Behind the back gardens of Old Hall Lane houses, was a collection of allotments, areas used to cultivate produce and where we would build a large bonfire. Along with the traditional fireworks, we enjoyed eating Parkin, a spicy kind of ginger cake, and eating sticky Treacle Toffee home made by the neighbourhood families.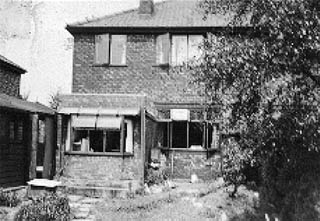 Rear view of 39, Old Hall Lane showing the attached air raid shelter.
It stood there for fifteen years.
The allotments was a popular place to build an Anderson shelter, we had ours there where my parents and my two sisters and I spent nights during the air raids. Later we had a small building constructed at the back of the house with access from the kitchen; it had a solid concrete roof, which I remember was about eighteen inches thick to provide protection from bombing raids. When completed the verdict was that it should do the job all right, but it was always so darned cold in that room.

The M&S Dairy had a depot on Beresford Road, and from there a small fleet of electrically powered delivery vehicles would glide noiselessly along, the shops along Beresford were the meeting places for shoppers who joined the war time queues for whatever was on sale. Bottomly's greengrocery and fish shop always had a gathering of customers immediately news went round that fish was in. Further down the row was Dickman's Newsagency Sweets and Tobacconist, it was there I bought my very first ball point pen. Two doors down was a personal favourite shop of mine, Davis's Bread Shop, ah the smell of baking bread. Mrs Davis a portly woman, with her son David who was a classmate of mine at school, ran the business. However it was Stanley who fascinated me the most there, he was a handicapped person who walked with a limp and had a pronounced speech impediment. Stanley ran the bakehouse at the rear of the premises and frequently would emerge into the shop, dressed in whites wearing his tall bakers hat and smothered in flour to ask Mrs Davis some question or other, I could never understand him, only Mrs Davis could. My party piece at around seven or eight years of age was to do an impersonation of Stanley, but in the benign thirty's, no offence was ever intended nor was any taken.
My Grandparents who lived in Glebe St. just off Stockport Road near the Kings cinema, was a frequent calling place for me. My cousin lived a few doors away and we were good friends, many times Grandma, my cousin and I went to the Shaftsbury or the Kings cinema, taking with us sticks of celery to crunch whilst watching the film. Perhaps at times to the annoyance of others, but to us youngsters it was good fun.
Just down from Grandma's house was a gent's barbershop run by a character called Alf Russell, he was a chain smoker with the inevitable ginger moustache that was heavily stained with nicotine. It was my misfortune to be his customer from time to time when I had to stand behind the chair whilst he tugged and pulled with a set of manual clippers. The hot ash from his endless cigarette fell on to my neck and then descended down my shirt where it irritated the small of my back, I couldn't wait to run home and free my self of this obnoxious feeling. It seemed to me even then at a tender age, that Russell felt aggrieved at the lot life had dealt him and he intended to get his own back, even if only on a seven or eight year old boy.
On the corner of Glebe Street stood Papa's Ice cream parlour, it was there one Sunday afternoon that my cousin and I tasted the first ice cream on sale after rationing was removed, I believe the owners full name was Vincentio Papa.
Longsight was full of shops and sometimes I think I have been in every one of them, although I was turned twenty before I managed to get into the snooker hall at the bottom of Slade Lane.
Just behind our house ran the Manchester, Wilmslow railway line, it was a branch of the main line that ran through Stockport and on to Crewe and the South. The nine o'clock goods train passed by each evening often having to halt with the clanging railway wagons noisily coming to a halt, then laboriously pulling away again. Yet to me as I lay in bed listening, it was the sound of music, long before I was to hear that phrase again.
Australia has been my home now for over forty years but I have made several visits back to Longsight, each time there are fewer familiar faces, the place looks different, many of the old ways have changed.
But in my mind a young boy still walks the footpaths of Longsight. A boy who was polite, well mannered, respectful, a boy who was so fortunate to know those days, a boy who became a man that is proud of his upbringing and would not have missed it for worlds.
James Darlington.
10, Robsons Road,
Keiraville,
N.S.W. 2500.
Australia " 22.09.00.